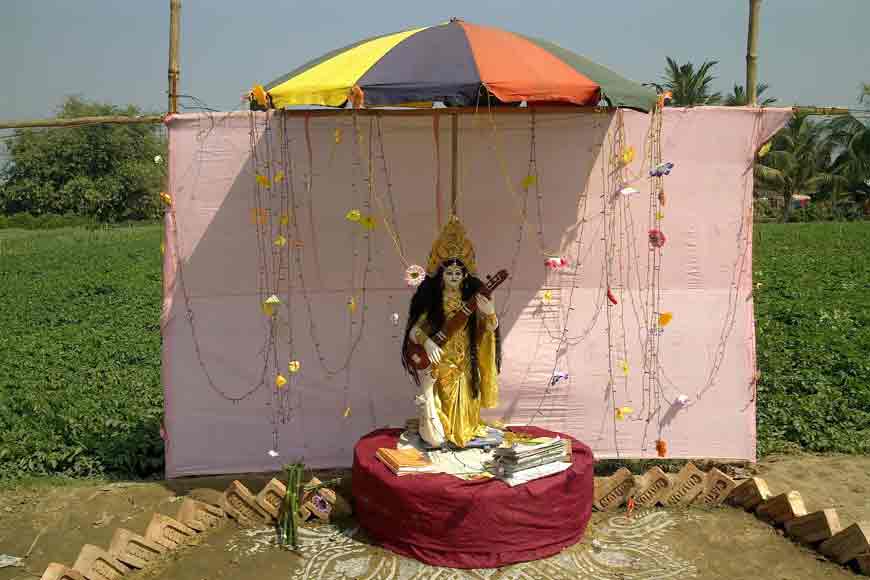 Nihar Ranjan Adak, is Principal, Sargachi Ramakrishna Mission Ashrama PTTI​
I lived in a village in the middle of nature, where every season came with a difference and in full view with trees changing colours, ponds and rivers brimming with life and even the agricultural fields carrying the message of wonder. Spring was always welcome, specially after the chilling winter. The yellow mustard plants swaying in the breeze, the cabbages left in the fields, the flowering mango trees, all carried the fragrance of love.
During those days, other than school, Saraswati Puja would be at times organised by the children of the neighbourhood. Our primary aim in those days would be praying to Maa Saraswati for her blessings, so that we could do better in studies, and also to go around a bit collecting the prasad. I used to offer pushpanjali at school and only those who had vegetarian food the day before, could offer the Anjali. Not just that we also had to go without food since morning till the Anjali was over. So, our mothers used to cook aloo dum the night before and before breaking of dawn we would be offered the aloo dum with muri, so that once the day started we would not feel hungry till the Anjali was over.
We used to be whisked out of bed and with sleepy eyes gobbled the aloo dum and again go off to sleep. And then when we woke, we had to bathe in the cold pond water and go for the pushpanjali. One memory that haunts me is that of kul khawa (eating kul) that was forbidden from being eaten before Saraswati Puja. But it was very difficult for us to retrain ourselves and we found a way to do some penance. We were told by senior students that if we bit a banana tree nearby and took a dip in the cold waters of the pond, then we would be saved of committing a sin. And we undoubtedly did it with a great fervour in full view of our elders who would enjoy it.
Most of the preparations for the puja was done by our elders. And the priest came pretty late, mostly after 12.30pm. Yet, we stayed up for the Anjali, despite the terrible hunger pangs that we withstood. After the puja once we returned home, we were usually treated to hot khichudi and kuler chutney. Well, it was from that day that our official kul eating would start!