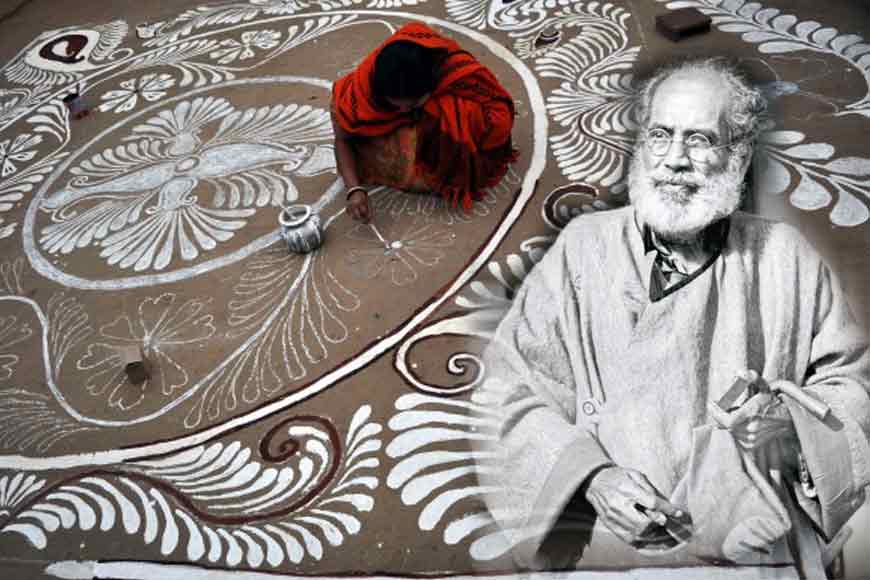 Remember the opening scene of French cult filmmaker Jean Renoir's The River, filmed in 1950 at Barrackpore? That intricate drawing on the ground created by women huddled on a courtyard creating an alpona. Their hands move swiftly and elegantly and each deft finger-stroke etch out petals of a lotus to perfection. Credit for introducing the exquisite art of alpona on screen goes to another iconic filmmaker, Satyajit Ray, whose trained eyes and aesthetics often zeroed in on this rural art form that represented Bengal and millions of its unsung women artists.
But then there was another person who was equally passionate about this dying art of Bengal and went all out to promote it. He was none other than Abanindranath Tagore. We know Aban Thakur, primarily as an artist and author who wrote timeless children's classics like Khirer Putul, but he was also a man who largely endorsed the unique art form of Alpona. Abanindranath Tagore was fascinated by the artistic sensibilities of the rural women who could create magic with their bare fingers. To expose the talent of these unsung artists and bring to the Western audience, this rich indigenous art form, he even wrote a book, Alpona: Ritual Decoration of Bengal in 1921 that was published from Paris. The alpona designs published in the rare book is a visual treat to the eyes.
For Bengalis, alpona is an integral part of any auspicious occasion. The word alpona is derived from Sanskrit alimpana, which means 'to plaster' or 'to coat with' and refers to intricate motifs, sacred art or painting done with hands using a paste of rice and flour. Traditionally, alpona are associated with brata (rituals) performed by women during festivals and this unique art form has been handed down generations in decorating their daily lives with motifs drawn from objects around them.
The motifs the women draw, include farming tools, kitchen objects, sun, stars, divine feet, swastika, a rice stem, ladder, lotus flowers, tree, fish, birds, abstract human and animal figures, mango, betel leaf, palanquin, grain baskets, conch shell and shankha-lata(a snake). Circular alpona is used as a holy pedestal during festivals like Annapurna Puja, Durga Puja, Kojagori Lakshmi Puja, Basanti Puja, Saraswati puja (Vasant Panchami) and Diwali.
However, this unique art form is slipping into oblivion and is being replaced by brush strokes of acrylic paint or worse still, stencils or plastic stickers.