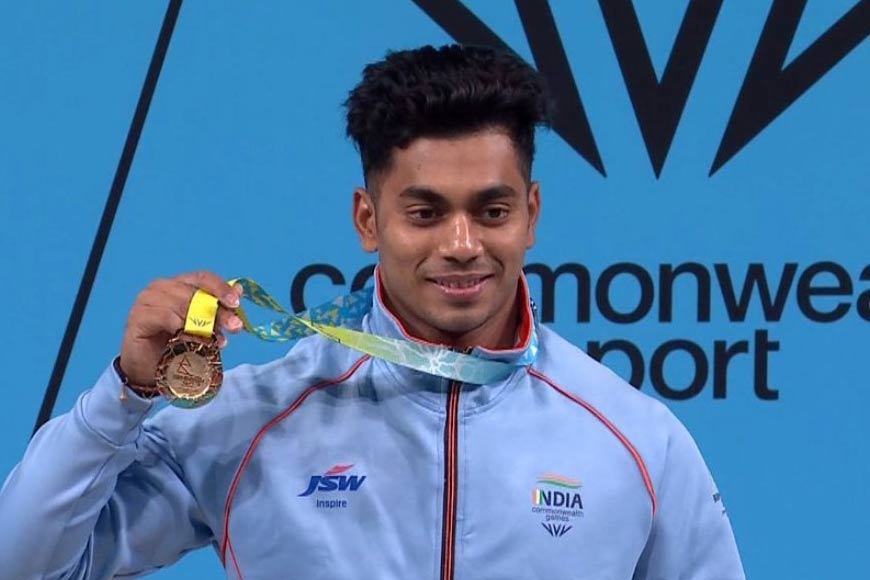 As the nation watched double Olympic medallist P.V. Sindhu and men's hockey captain Manpreet Singh lead the Indian contingent out at the 22nd Commonwealth Games which was declared open on July 28 at the Alexander Stadium in Birmingham, UK, not too many would have noticed shy young weightlifter Achinta Sheuli. The residents of Howrah's Deulpur village being the exception as they cheered for their boy, a 20-year-old havildar in the Indian Army.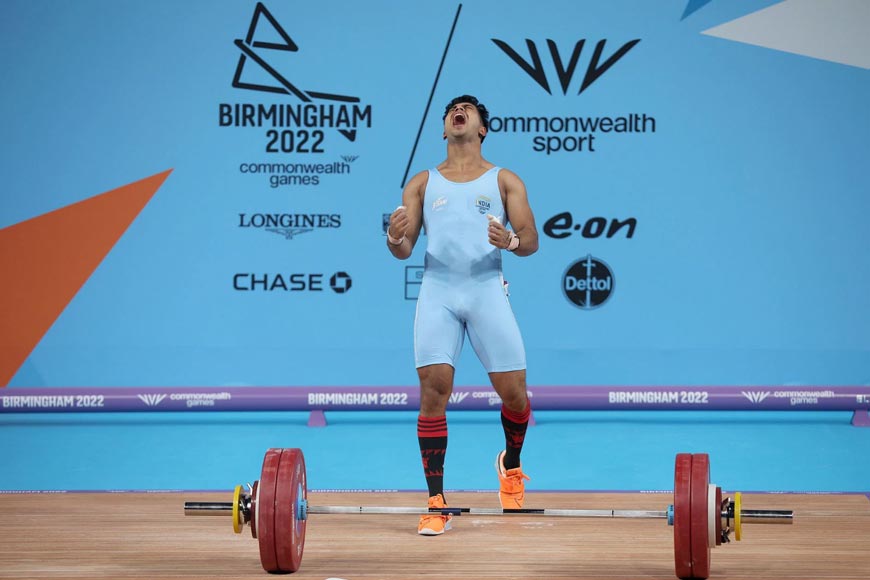 After last night, those residents will be joined by millions of Indians as they celebrate Achinta's gold medal in the men's 73 kg division with a total lift of 313 kg (snatch 143, clean and jerk 170), a games record. This brings India's medals tally to three gold, two silver and one bronze so far.
Truly a proud moment for all of us as the young #AchintaSheuli from West Bengal wins the third gold medal at CWG, 2022.

Heartfelt congratulations to him. Your success will serve as an inspiration to countless others in the country. All the best for your future endeavours!

— Mamata Banerjee (@MamataOfficial) August 1, 2022
The Indian contingent at the games, comprising 215 members, is competing across 16 disciplines. Before Birmingham, Achinta would have been just another member, though his coach and those who have witnessed his prowess know he is a powerhouse of strength, stamina, determination and hard work.
The shy youth with the unassuming smile has always been confident but rooted. One look at him - all brawny and barrel-chested, with strong shoulders, muscular forearms, and legs - and you know for certain this man has to be a power sport athlete.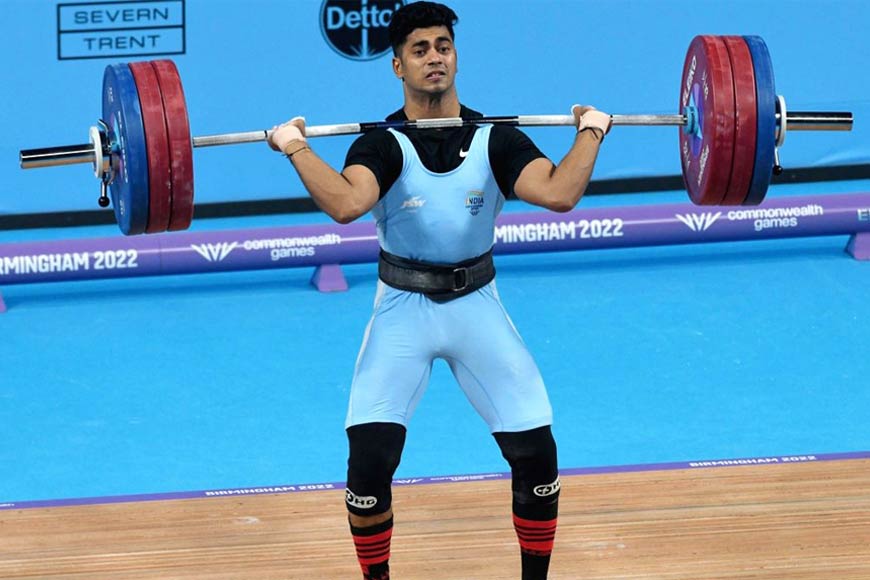 Indeed, Achinta has made waves in the Indian weightlifting circuit in the past few years, building up an impressive medal collection in his relatively short career - gold at the India Youth Games, gold in the Junior Commonwealth Championship, silver at the World Junior Weightlifting and gold at last year's Commonwealth Championships. It was his brilliant performance at this last tournament that paved the way for him to join the national team for the Birmingham Commonwealth Games.
Not bad for a boy whose introduction to weightlifting was quite accidental. When he was around 10, he happened to be chasing a kite which landed close to the local gym. As Achinta rushed to collect the kite, he could see into the gym, where he spotted his elder brother Alok training as a weightlifter. The youngster was transfixed as he watched the training regimen, and decided to follow in his brother's footsteps on the spot. Within days, he had joined his brother and begun training.
The decision was particularly tough in the context of his poverty-stricken family, so much so that the child had worked as a zari artisan, his fingers weaving intricate embroidery on sarees. His father Jagat Shiuli plied a cycle-rickshaw and in his spare time, looked for odd jobs to keep the home fire burning. However, tragedy struck the family in 2013 when Jagat died suddenly following a massive stroke, when Achinta was in Class VIII. At about the same time, the small poultry farm at home was attacked by wild foxes.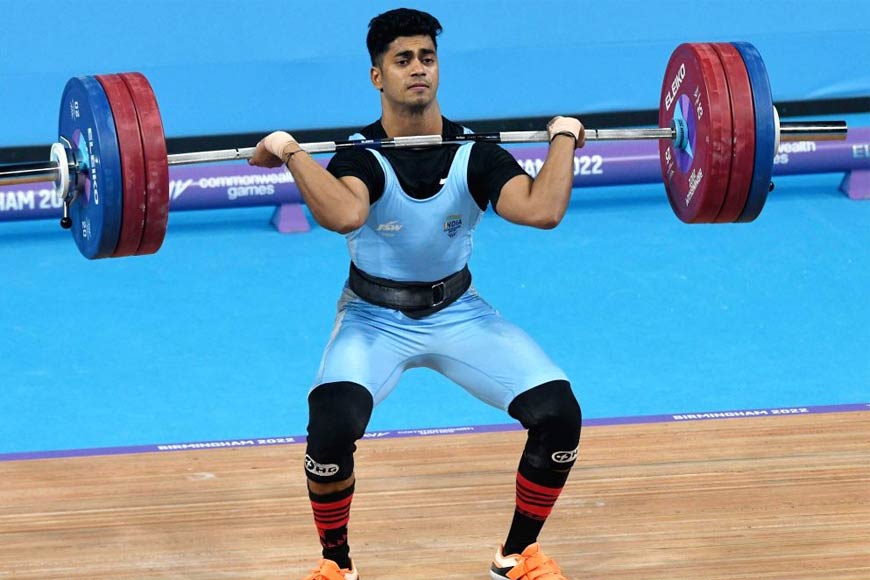 Alok, who dreamt of becoming a professional weightlifter, had to quit the sport and learn embroidery to make a living, while their mother Purnima took up odd jobs as a tailor to put food on the table, even as Achinta started to show the first signs of his ability as a weightlifter. He won a silver medal at a district-level competition in 2012 and a year later, finished fourth at the Sub-Junior Nationals in the 50 kg category, his first national-level competition.
Rising at the crack of dawn daily to go for a long sprint, Achinta would come back home to his needles and thread, then go to the local gym for a morning practice session, and rush to school. He would train again in the evening after school. Once back home, he would stitch again until dinner time.

Alok saved whatever money he could to give his brother a better diet. The young boy was training at a makeshift facility on a local farm, where the equipment was basic at best. Nevertheless, Achinta continued to progress in leaps and bounds, making his first major splash by winning silver at the Commonwealth Youth Championships in 2015 in the 56 kg category. Three years later, he won silver at the Asian Youth Championships, followed by gold in both junior and senior divisions at the Commonwealth Championships, and another gold in the senior age group at the SAF Games 2019, and he was still barely 18. The weightlifting community was captivated by his potential when he won gold in the senior national category in the same year, although he was still a member of the junior squad.
In 2019, Achinta was selected to join Reliance Foundation Youth Sports (RFYS), the newly-introduced elite athlete scholarship programme for young and talented sportspersons. In 2020, the Central Government also launched the Target Olympic Podium Scheme (TOPS) for promising junior athletes bound for the 2024 and 2028 Olympics, with Achinta becoming one of the 258 athletes shortlisted by Sports Authority of India (SAI) as part of the 'Mission Olympic Cell' (MOC). Since then, he has been following a structured training schedule, proper diet chart and physiotherapy at the national camp. The handsome monthly stipend he receives also keeps financial worries at bay.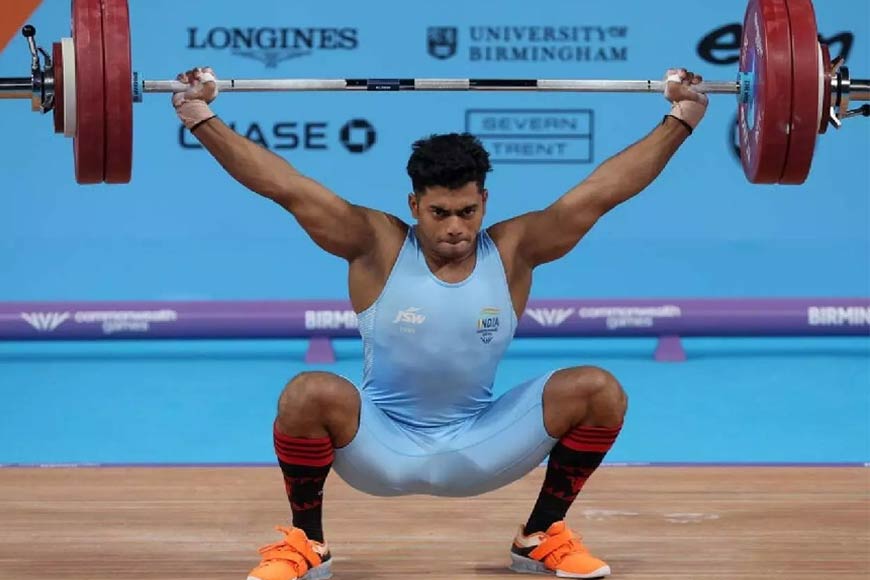 Chief national coach Vijay Sharma is full of praise for the young weightlifter. He is sincere and committed to the sport. He is very disciplined, both on and off the field. He is also a quick learner and is able to grasp suggestions and implement it on the platform in training and competition. Achinta is also ambitious and raring to succeed and bring glory to the country.
Like any other young man, Achinta enjoys films and riding motorcycles in his spare time, but thanks to his Army job, his focus now is on alleviating his family's financial situation. Alok has been a pillar of strength so far, providing all possible support to Achinta in fulfilling his dream. Currently a contractual employee with Howrah Fire Brigade, Alok's meagre income helps run the family. However, the brother he worked so hard to support has now snatched international glory, and the road ahead can only get wider.