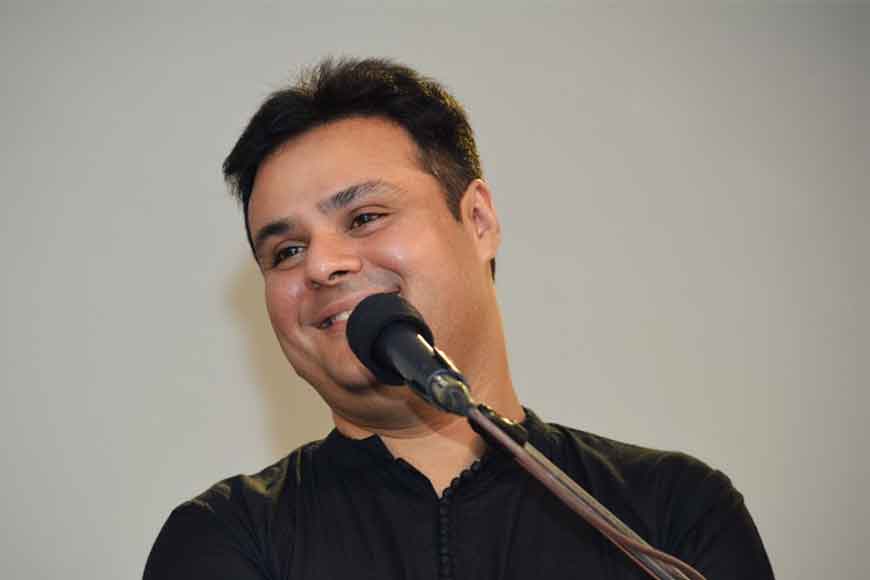 Only an artist has the capacity of enlightening a human heart even in times of despair. It has been 20 long years since multi-talented actor and performer Sujoy Prasad Chatterjee has been relentlessly working to add that new touch to the world of creative thoughts. His multi-faceted work has been thoroughly appreciated in every part of the world.
Sujoy Prasad Chatterjee is an interdisciplinary artiste who is not restricted to poetry, theatre or films. He believes in expressing himself through various mediums. And now comes his new form of expression, the soulful music of Tagore. His album is coming up soon, featuring poignant renditions of Tagore's songs. The album might be interesting as the music has been arranged by Indrajit Dey who has also incorporated European music into the soundscape which is expected to bring in a different dimension to the songs. The album will comprise of songs like Kotobaro Bhebechinu, Premero Phand Pata Bhubone and Jokhon Eshechile.
Satrajit Sen is the man behind the production of the digital bouquet of songs. Though Sujoy Prasad calls himself a 'bathroom singer,' it was Satrajit Sen who was touched by the actor's eloquence and sensitive portrayal of Tagore's songs. Sen came up with this idea of recording this digital bouquet of songs and could finally persuade Sujoy to agree. The album has Indrajit Dey on the keyboards and Ishani Nag on the guitar.
The video was shot in an old mansion near Maddox Square. The quaint and antiquated appeal of the mansion serves as the perfect backdrop to the songs. Sujoy Prasad Chatterjee recorded the song on the death- anniversary of his father and has dedicated the song to him. Sujoy's father used to take him to music classes every Sunday and developed this interest towards music within him. Sujoy's album is a tribute to his father.
Image Courtesy: Sujoy Prosad Chatterjee Facebook profile.