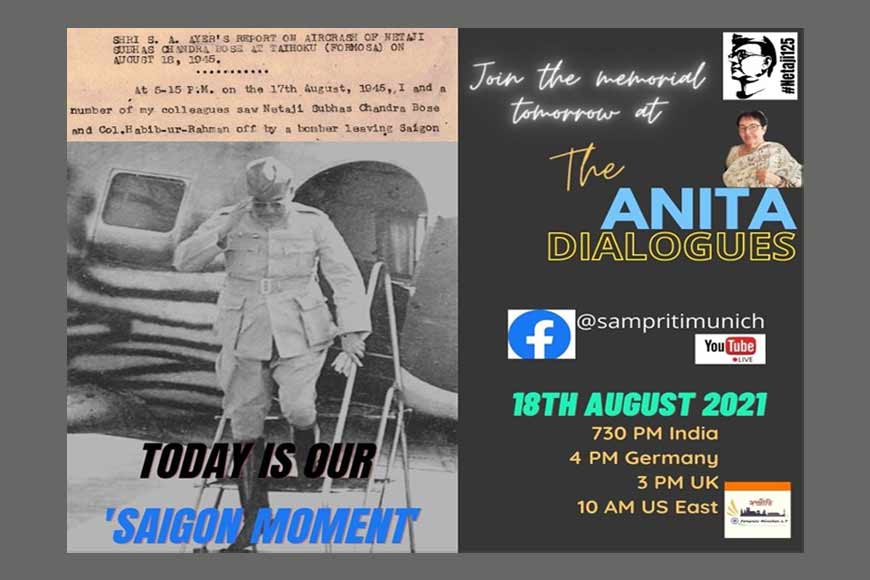 History is often controversial. Some incidents, however, have more of an impact than others. On August 18, 1945, an incident supposedly occurred that still arouses fierce passions among Indians, and has remained one of the most discussed chapters in modern Indian history. It is this incident that forms the basis of this month's edition of 'The Anita Dialogues', a series of monthly conversations with Netaji's daughter Dr Anita Bose Pfaff, aired on YouTube and conducted by Sampriti, an organisation of Bengalis in Germany, to mark the 125th year of Netaji's birth. The conversations, which will continue until February 2022, are being moderated by the Sampriti's founder and current president, Shaibal Giri.
The current edition of 'The Anita Dialogues' features a stellar panel comprising internationally renowned historian and Netaji expert Prof Leonard Gordon, veteran journalist and politician Dr Swapan Dasgupta, and architect Sumeru Roy Chaudhury, a Netaji scholar by passion.
Shortly after 2.30 pm local time on August 18, 1945, the Mitsubishi bomber Sally supposedly took off from Taihoku Aerodrome in Japanese-controlled Taiwan and crashed almost immediately, owing to a left engine malfunction. Among its passengers were high-ranking Japanese officials and Netaji Subhas Chandra Bose, who reportedly incurred third degree burns and passed away later in the evening.
However, details of what happened during that fateful flight have become murkier by the day over more than seven decades of incomplete disclosure, bickering, and fantastic conspiracy theories. The panelists on the current edition of 'The Anita Dialogues' have attempted to simplify Netaji's death controversy and bring clarity to the topic.

As Prof Gordon says, "I never met a single Japanese Army officer who didn't believe that Netaji was not killed in that plane crash." He also provides minute details of what occurred that day, as per written records, and is fairly disparaging of retired Supreme Court judge Manoj Kumar Mukherjee, who headed the commission set up in 1999 to probe Netaji's death. He also challenges anyone with any documentary evidence to challenge the sequence of events leading to Netaji's death to produce it.
Describing how the news of the plane crash broke, Roy Chaudhury says that though the Japanese Army told the world about the incident only on August 23, senior officials of the Indian National Army, the militia founded by Netaji, were informed immediately after the crash. The British-Indian government, eager to confirm the death of one of its greatest opponents, got in touch with General MacArthur, the Supreme Commander for Allied Powers in Japan, with Admiral Mountbatten asking MacArthur for an enquiry into the death. World War II was winding down, and Japan had surrendered to the Allied forces on August 30, 1945.
Dr Dasgupta points out that news of Netaji's death was greeted with disbelief by both the political establishment as well as ordinary people because he had proved so adept at escaping out of seemingly impossible situations, such as his thrilling getaway from house arrest in his Elgin Road residence. Plenty of people seemed to think that the plane crash was one more ruse which Netaji had used to escape the British, and he was staying away from India until the time was right for him to return.
Without giving too much away, we would urge all those who are truly interested in gaining an insight into the mystery of Netaji's passing to watch the episode in full, including the details provided by Dr Pfaff about how the family dealt with the death. Perhaps a lot of the conspiracy theories can now be laid to rest.