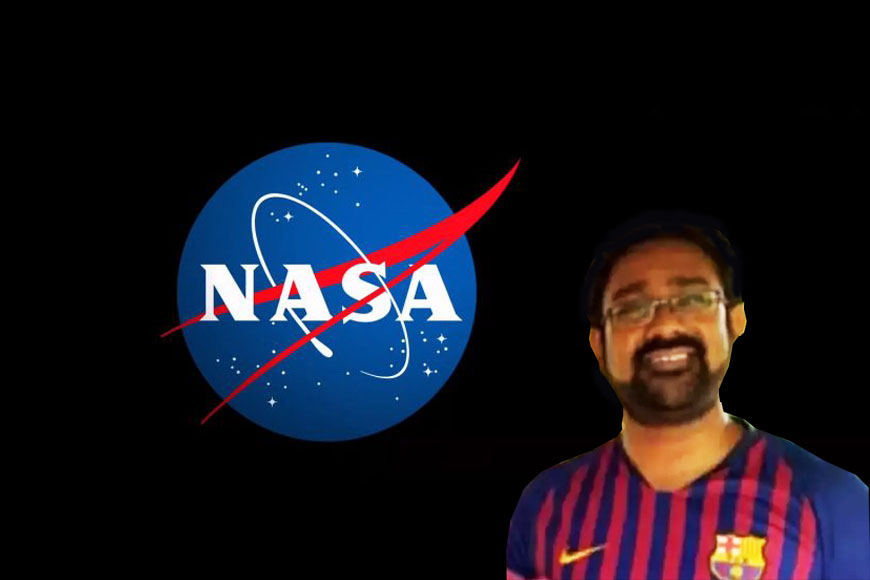 Nestled in the foothills of the mighty Himalayas, on the banks of the Kajlani River, the sleepy ancient town and district headquarters of Alipurduar sits like a picture-perfect postcard. The getaway to Bhutan and the Northeast, Alipurduar is historically a part of the famed silk route, traces of which can still be seen in some parts of this stunning little town. And now, Souvik Basu, a young brilliant scientist who hails from this picturesque town, is all set to head for California, Los Angeles for doing specialized research on sun particles. He has been invited to work as a Research Scientist at the prestigious Lockheed Martin company.
Lockheed Martin is at the forefront of innovation. Its missions are some of the most important and challenging in the world—from protecting citizens to advancing the boundaries of science. Its client list includes the US Department of Defense, US Department of Homeland Security, the National Aeronautics and Space Administration (NASA), and the US Defense Advanced Research Projects Agency (DARPA), among others.
Souvik's entire family as well as his friends and neighbours are elated and pitching for his success. Basu, a resident of Newtown Durgabari, Ward number 2 under Alipurduar Municipality, had manifested sparks of brilliance from a very young age. He is a gifted scholar who completed his schooling from a local English medium school and then moved on to pursue higher studies from Burdwan University and from there to Saha Institute of Nuclear Physics in Kolkata. He was invited by the University of Oslo, Norway, to do his PhD. He completed his study and research on the Sun and received his PhD degree this year from the Norwegian institute. Soon after his return, he received an invitation from the National Aeronautics and Space Administration (NASA), USA, to work there. The 30-year-old scientist is gearing up for his journey to the US early next year. He will be researching on sun particles at California.

The sun releases energy in two ways: the usual flow of light that illuminates the Earth and makes life possible; but also in more violent and dramatic ways--it gives off bursts of light, particles, and magnetic fields that can have ripple effects all the way out to the solar system's magnetic edge. Scientists are studying the sun to better understand how its ever-changing conditions can influence Earth, other worlds, and even space itself.
The source of potentially hazardous solar particles, released from the Sun at high speed during storms in its outer atmosphere. These particles are highly charged and, if they reach Earth's atmosphere, can potentially disrupt satellites and electronic infrastructure, as well as pose a radiation risk to astronauts and people in airplanes. In 1859, during what's known as the Carrington Event, a large solar storm caused telegraphic systems across Europe and America to fail. With the modern world so reliant on electronic infrastructure, the potential for harm is much greater. To minimise the danger, scientists are seeking to understand how these streams of particles are produced so they can better predict when they might affect Earth.
Basu will be joining the team of scientists who work at NASA and study the sun for numerous reasons. For one thing, its influence on the habitability of Earth is incredibly complex, providing radiation that depending on the amount can be either a boon or hazard to the development of life. Second, this radiation, and the accompanying energy and magnetic fields that the sun sends out -- is intense and dynamic, with the ability to create changes in the space weather around us, and interfere with our space technology and communications systems.
There is a worldwide study of solar flare damage. A large number of man-made satellites are orbiting the earth and these are vulnerable to unpredictable solar storms that can damage or destroy these satellites. Till the recent past, scientists had no idea to tackle the problem and avert the damage and destruction. But now researchers like Basu are concentrating on intense observation and study of solar storms, the amount of particles that the sun emanates during a storm, if an advanced mechanism can be developed to predict solar storms in advance which can be then used to save the fabricated satellites from getting destroyed in the outer space etc. If scientists succeed in their venture, it will be a landmark discovery for us all living on Earth.
Although Basu's work has been hailed by the scientists' community abroad, he is very focused and plans to return to India and work here after completing his Plan for Academic Enrichment (PAE) abroad. Souvik's parents, Soumen Basu and Chandra Basu are very happy to see their son getting global recognition for his brilliance. They knew he was very bright but had never envisioned a future on such a mega scale for him.