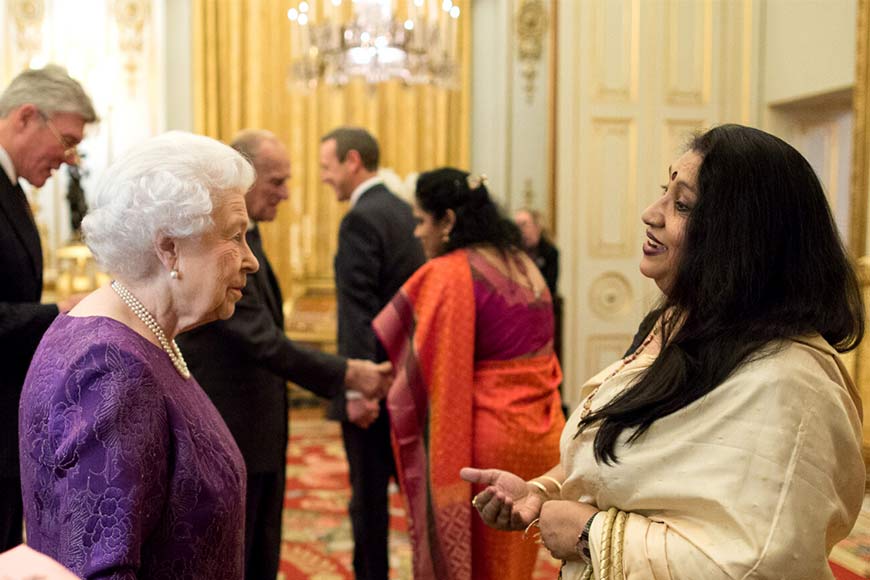 Bengal-born Piali Ray is Director of Sampad, a leading national agency for the development of South Asian Arts and Heritage

, based in Birmingham. Piali was conferred an OBE in 2002, falling in line with stalwarts like JK Rowling and Keira Knightly. She was also given Outstanding Business Person of the Year award by Birmingham Chamber of Commerce in 2009 and the British Indian Award for raising arts and culture awareness in 2015. Piali featured among the 100 most influential persons in the UK-India relationship in 2019.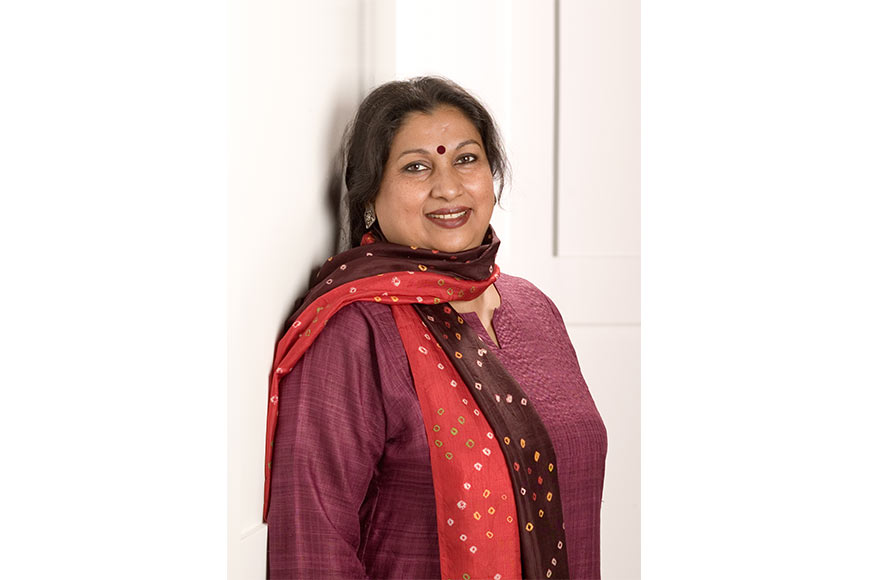 Piali Ray
• You have been known as a performer, teacher and choreographer in UK since 1982. Were you trying to bridge UK and India through cultural ties since then?
Yes definitely. Within a month of my arrival in the UK, I toured the country with a performing group from India, led by Mrs Shubhra Mukherjee as part of The Festival of India across England. Next I was appointed the South Asian Dance Animateur by The Arts Council to introduce Indian dance across communities, schools and colleges in Leicestershire and later in the West Midlands. For next 7 years, as a freelance artiste I travelled across UK, visiting innumerable schools, art centres, galleries and theatres introducing our culture and arts through performances, lectures and workshops. This was also an invaluable learning period for me to truly develop an understanding the gaps in popular perception of Indian art. As a proud Indian armed with passion and a wealth of experience as an artiste, I was compelled to conceive my organisation Sampad Asian Arts and Heritage in 1990 aiming to establish significance of Indian arts and artistes and thereby build bridges between diverse cultures that co-existed in contemporary Britain.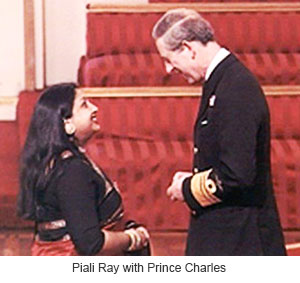 • You are a student of History and India has a long colonial past under British rule. Do you still find that British influence, particularly in Bengal?
A tangible legacy of British rule is evident in the many architectural constructs left in India. Some of the most iconic buildings in Kolkata such as Victoria Memorial, St Paul's Cathedral, the Marble Palace, Town Hall and the National Library are impressive feats of structural design built by the British, which still attracts tourists and more importantly are in use. The intangible impact in urban parts is with spoken English, lifestyle, clothes etc. Particularly in Bengal, to remain informed of world politics and social trends, we are more aware of developments in the UK. However, the long-term historic link between the countries, the socio-economic impact of colonial rule and its effect, needs further scrutiny to ensure historical accuracy for future generations.
• In 1990 you set up Sampad. What does your organisation stand for?
In 1990 surrounded by a small group of artistes and friends who believed in my vision, Mark Fisher MP and then Minister for the Arts, lit a lamp in the little courtyard inside Midlands Arts Centre that remains our home until today. Eventful 3 decades down the road, Sampad has evolved as an Arts and Heritage organisation with a commitment to engage with artistes and communities across all backgrounds and barriers. From multicultural to intercultural we have seen how our artistic voice has resonated across cities and countries often flagged as a model of good practice. We passionately believed that arts in its multifarious forms have the capacity to educate, entertain, provoke and trigger change where needed. To remain relevant we are constantly learning from our environment, colleagues, audience and through the gigantic social media machinery. Sampad has been acknowledged for its imaginative and inclusive approach to creating and presenting the arts of the Indian sub-continent to audiences in the UK and internationally.
• Till date which was your noteworthy collaborations?
Our partnership with Midlands Arts Centre where Sampad is based, remains our closest partner and we have produced several collaborative shows and projects. Some memorable ones include Philip Glass written opera 'Satyagraha'; two largescale outdoor productions on legendary love stories 'Heer Ranjha' and 'Layla Majnun' bringing together a cast of 80 performers plus creatives.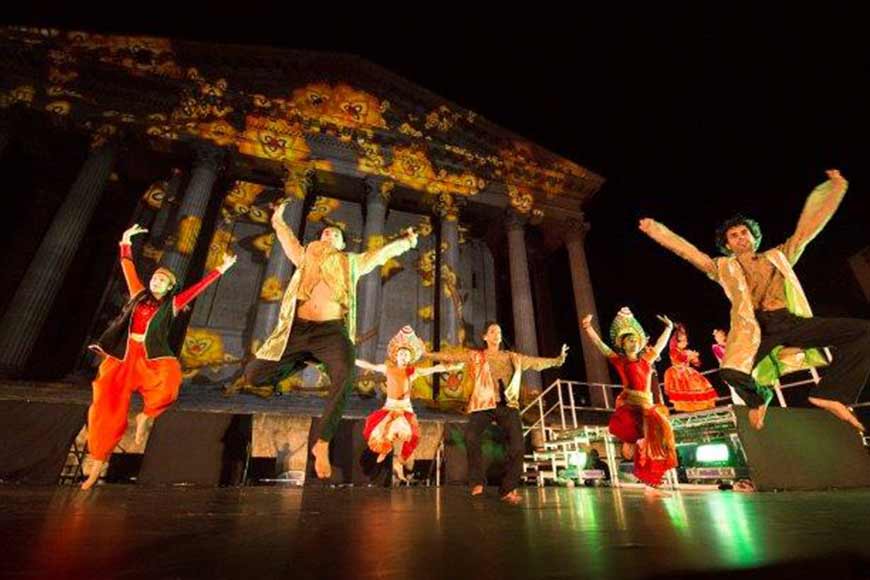 A shot from a Mandala performance
Choreographic lab projects create exciting collaborations. We brought together celebrated dancers Akram Khan and Mavin Khoo to work on a project named 'No Male Egos' which led to new commissioned tour. With Birmingham Royal Ballet we collaborated with renowned dancers Nahid Siddiqui (Kathak) and Marion Tate (Ballet) to explore shared narratives and movement. Invited by City of Birmingham Symphony Orchestra I choreographed for Gustav Holst's short opera Savitri set on a tale from the ancient Indian epic, the Mahabharata. It was described as ' A night at the opera with a real difference!' 'What made this performance really special was its union of music and dance... Piali Ray's expressive choreography, drawn from various Indian classical forms, gave each solo singer its dancing mirror..." Geoff Brown, The Times.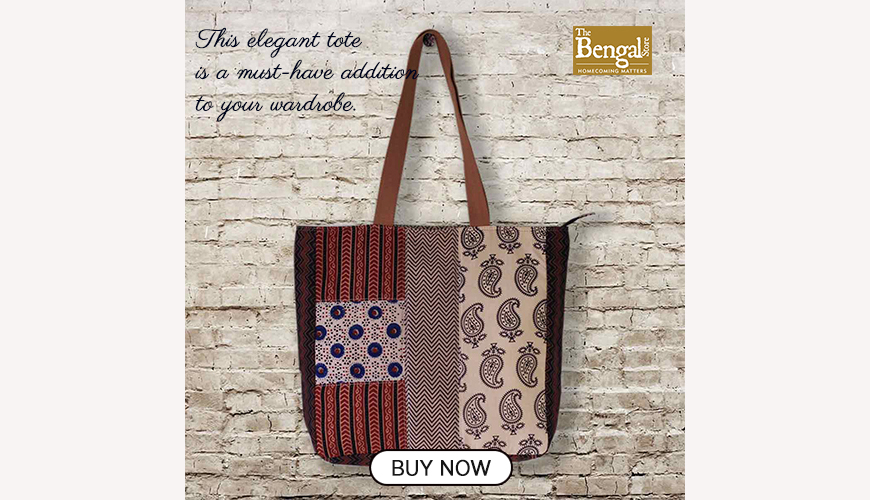 On a different note a collaboration with local Women and Theatre we produced 'Unkahi, a non-verbal theatre on domestic violence. I continue to believe that the future must lie in creative connections and crossovers. Finally, in partnership with Digital designers Seeper, our production Mandala, a multimedia spectacle, provided the dramatic celebrations for the final weekend of the prestigious London 2012 Festival, to celebrate the London 2012 Olympic and Paralympic Games.
• Mention some cultural projects through which you promoted Indian diasporic influence
International writing competitions provided opportunity for aspiring writers from across the globe to connect with the immensely philosophical and influential thinkers and leaders from India. These include 'Inspired by Tagore' and 'Inspired by Gandhi' that attracted over 3000 writers from 40 countries. Produced in partnership with the British Council, the publications were launched in the UK and in India.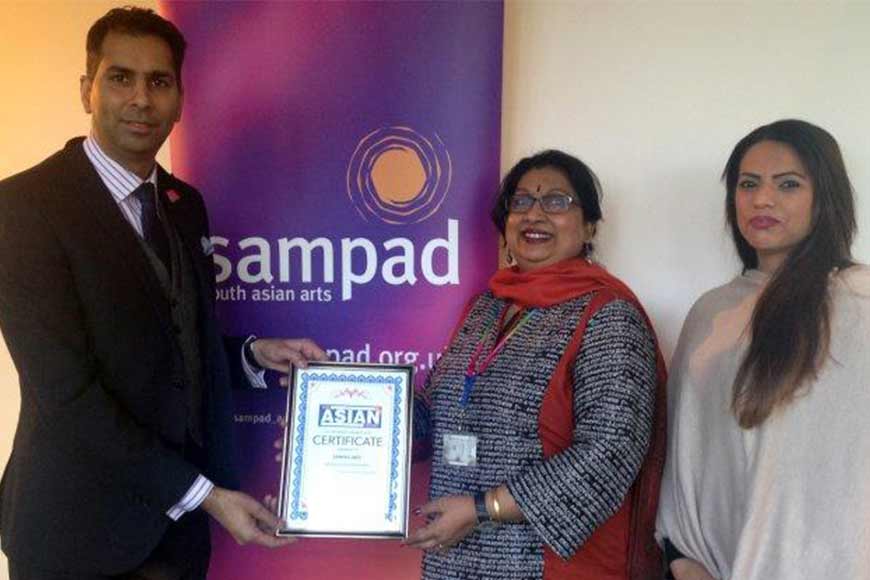 A special recognition given to Sampad
Another project that connected with the Indian diaspora was DanceIntense, an intensive professional development programme for dancers trained in Indian dance forms. The seeds of DanceIntense were sown when I attended a number of conferences and dance festivals in the USA, Canada and India around 2002 and 2003 and saw many emerging professional group of dancers who needed opportunities of development and performance. DanceIntense was a two-week residency program that started in Birmingham, UK, in 2006, and later at the Vedic Village in Kolkata in 2008 co-organized in partnership with the Ananda Shankar Centre for Performing Arts. In 2009 it was co-organized with Lata Pada's Sampradaya, in partnership with York University in Toronto, Canada. DanceIntense enabled a network of dancers to forge international connections and partnerships in countries where diaspora Indian communities have developed Indian dance practice. The programme attracted participants from Singapore, Australia, USA and Germany.
• You were conferred OBE in 2002 and you are in the same league as stalwarts like JK Rowling or Keira Knightly. How important is this to you?
This recognition was an acknowledgement of my services to the Arts but in essence, I feel it was also a recognition of the invaluable contribution that our country's arts make in the UK. It was an appreciation of my identity, my culture and the value that brings to the multi-diverse society of contemporary Britain.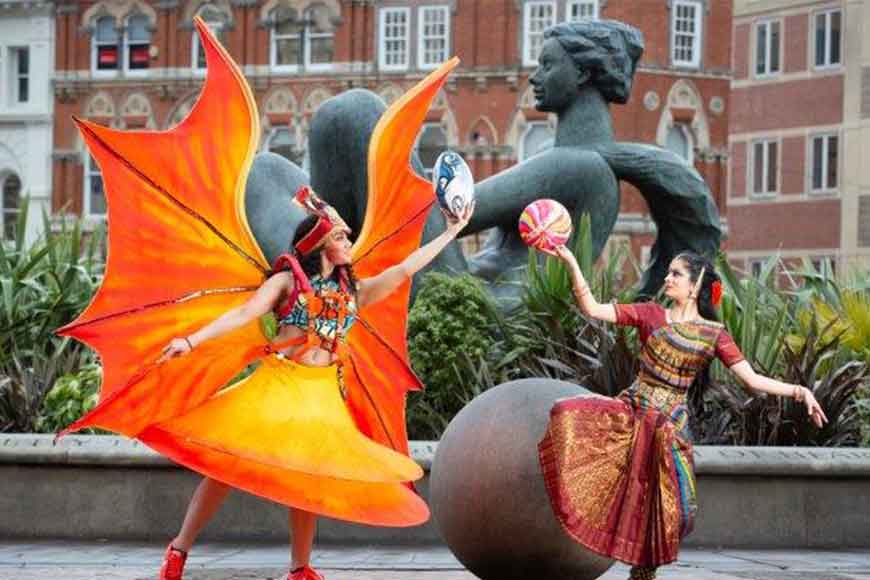 One from the launch of Commonwealth Games
• Mention some choreographic directions close to your heart
Choreographing for the Opera 'Savitri' written by Gustav Holst was challenging to begin with. The style and musicality of opera scores and the emotion of the singers was alien to what we are used to. I had to keep listening to the lines over and over to be able to grasp the essence, rhythm and emotion for myself before I could shape the movements on the dancers. It was equally important for the dancers to also understand and feel the music and emote appropriately with the Opera singers. The final piece was very well received by the audience and Paul Fulford of Birmingham Evening Mail wrote: 'There have been many East-meets-West musical experiments, but few can have worked as seamlessly as this... the test, I guess, is how closely the audience identified the dancers with the songs and, in my case, that association was very close indeed...'
I did choreograph after that for other operas such as Purcell's 'Dido and Aenaes' and Philip Glass written 'Satyagraha'. My love for opera has grown from these experiences.
• While working on cross cultural ties did you build any Calcutta connect through your initiatives?
The Kolkata connect has been there throughout my work in the UK and remains the source of my energy and vision. Some notable projects were dance-theatre production 'In The Further Soil' inspired by a text from Rabindranath Tagore "To study a banyan tree, you not only must know its main stem in its own soil, but also must trace the growth of its greatness In the further soil for then you can know the true nature of its vitality". Alongside UK artists Shelley King, Soweto Kinch, Anusha Subramanyam we had Ratul Shankar Ghosh, Dibyendu Mukherjee and Sanjukta Ray from Kolkata.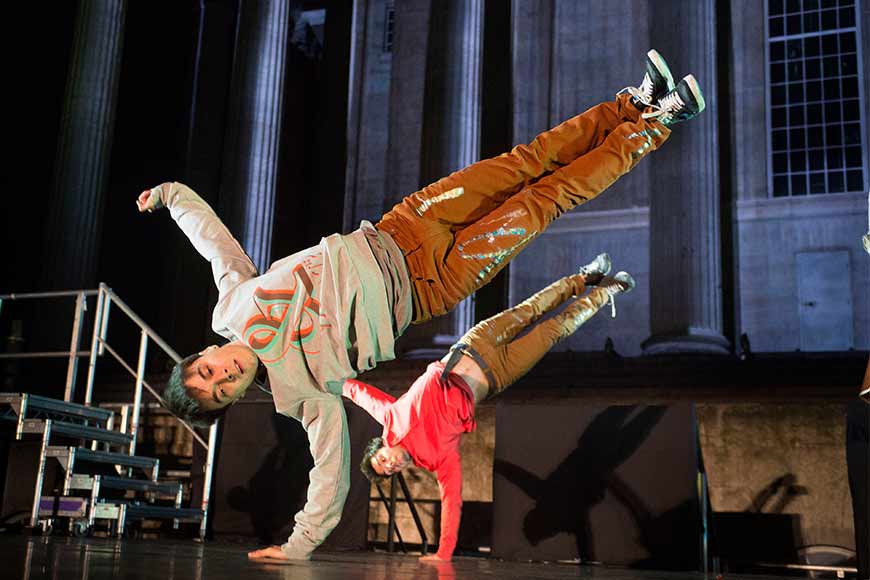 Mandala Dance Production
Over the years it was a privilege to promote some stalwarts from Kolkata to the UK audiences. They include my Guru Amala Shankar, Ananda Shankar, Soumitra Chatterjee, Ajoy Chakraborty, Rudraprasad Sengupta and Keya Chakrabarti, Chaitali Dasgupta, Luna Poddar, Srikumar Banerjee and productions from Mamata Shankar Ballet Troupe and Tanusree Shankar Dance Company and more recently Goutam Ghoshal and Sudip Chakraborty among many other artists. Recently we have connected with the Kolkata based Prabha Khaitan Foundation and are promoting new and established writers in Birmingham and Oxford.
• What are your future plans with Bengal and UK?
The last few months with the Covid-19 crisis have shown us that we never know what life has in store. Looking ahead and the 'new normal' I would like to make connections between peer groups in Bengal and the UK – especially with young and emerging professional artistes and networks that can sustain and influence future direction for collaborative learning and distribution. Birmingham is planning for the Commonwealth Games in 2022 and I would love to work in creative partnership with artistes from Bengal and UK towards re-telling of tales of the two cities.