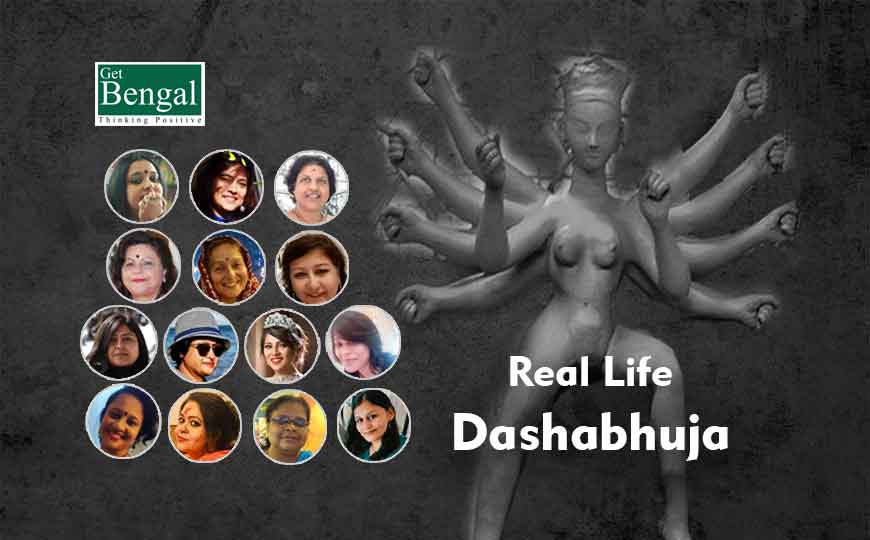 And Still We Rise! Yes, we do, beyond gender, caste, creed, education and status. Powered by the power of a pen and encouraged by the courage to overcome several challenges in daily life, let alone the hammer of fate, GB Real Life Dashabhujas happen to be our inspiration this year! Yes, they are simple women, like you or me, like your wife, daughter, sister, mother, aunt or even your maid. Yet, they are no less than the Goddess of Clay, who you all worship most ardently every year, forgetting you have one of flesh and blood in your own home.
This idea encouraged me thus to make such 'ordinary' women from Bengal to share their simple stories, that are nothing short of extraordinary. For that's what they all are! They have either fought failed marriages, raising children single-handedly, or looked after families in the face of financial disaster, or just supported their spouses to be where they are today. Some even travelled continents, adjusted to new lives to be a dedicated family woman! These are tales of everyday life, yet each tale brings out the modern, multi-tasking woman, who pursues her passion with all her heart, while giving her soul to work and family.
Their undying spirit to live life on their own terms as well as making all happy by performing every family duty is a heady concoction of courage. They do not have ten hands, yet they do ten different kind of duties impeccably. And well, that is what Dashabhuja is all about. My special thanks to all of them – from Indrani Chatterjee, Rhiti Chatterjee Bose, Gopa Bhattacharjee, Mousumi Sengupta, Supriya Roy, Rakhee Ghosh, Monisha Dutta, Sanjukta Dutta, Urvashi Basu, Neline Mondal, Swarnali Chattopadhyay, Joie Bose, Paula Ray and Ena Ray Banerjee who took out time from their super busy schedules to pen down their thoughts.
Their real-life stories will be carried on Panchami, Shashthi, Saptami for we wish our readers to Celebrate Durga Puja 2019 with REAL LIFE DASHABHUJAS other than pandal hopping!
Let the Goddess of Clay truly descend on Earth and take the shape of GB REAL LIFE DASHABHUJAS 2019!
Happy Puja to all our readers
SAHELI MITRA
Content Head, GetBengal (P&M Communications)