After a two-year disruption owing to the Covid-19 pandemic, the eighth edition of India's first Bengali literary festival, Apeejay Bangla Sahitya Utsob (ABSU) curated by Oxford Bookstore, will begin tomorrow, November 25, and end on November 27. As always, the three-day festival will feature some of the most prominent names in Bengali literature and culture.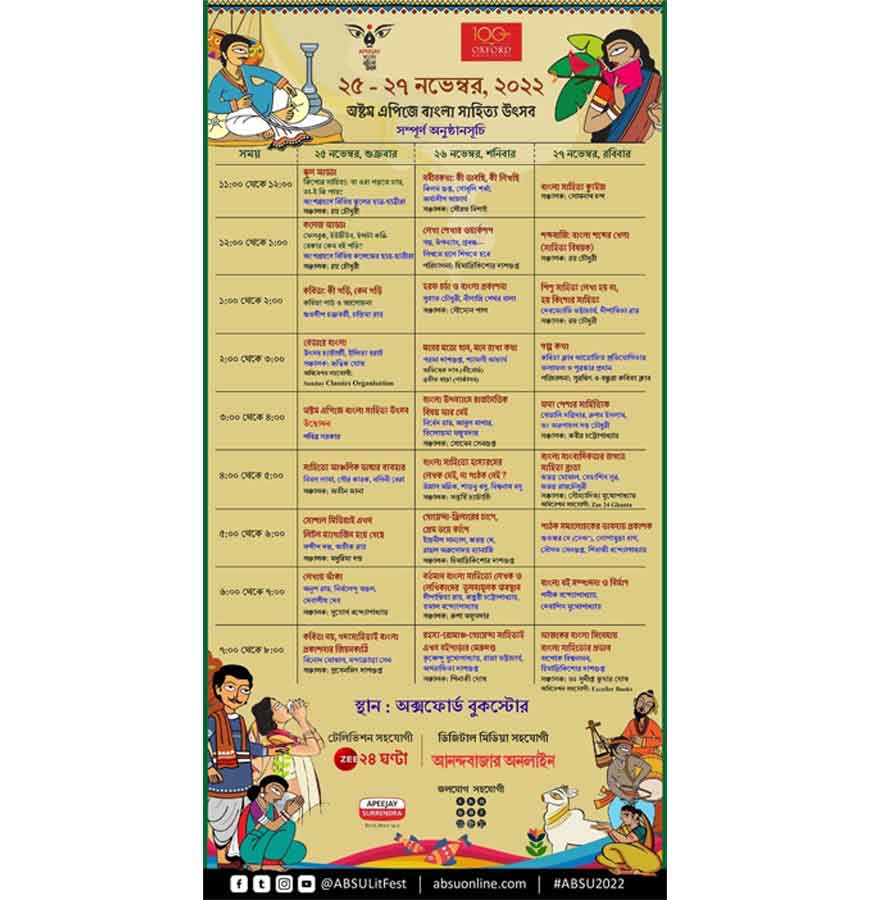 The sixth edition of ABSU was held virtually, while the seventh took on a hybrid online-offline format. This year, ABSU is back in its usual offline avatar, with Oxford Bookstore, which turned 100 in 2019, once again serving as the venue.
Swagat Sengupta, ABSU Director and CEO, Oxford Bookstores, said, "To mark more than 100 years of Oxford Bookstore, we have chosen it to celebrate books, music, art, film, and more with the finest creative minds of Bengal. After the unprecedented two years of Covid-19, this year the festival will be held completely on-ground, to support, promote and strengthen Bangla language through 27 specially curated sessions on topics such as poetry, little magazines, illustrations, use of dialects, politics, youth literature, thriller, book publishing and editing, journalism and cinema in Bangla literature."
Among the delegates this year are Pabitra Sarkar, Himadrikishore Dasgupta, Ashoke Viswanathan, Samik Bandyopadhyay, Abul Bashar, Rupam Islam, Sujog Bandyopadhyay, Binod Ghosal, Kheyali Dastidar, Rahul Arunoday Banerjee, Biswanath Basu, Jayanta Ghosal, Snehasis Sur, Tilottama Majumdar, Debasish Deb, Mandakranta Sen, Ullas Mallick, Krishnendu Mukhopadhyay, Raja Bhattacharya, and Dipanwita Ray.

Keeping the global Bangali in mind, ABSU 2022 will stream live on the official Apeejay Bangla Sahitya Utsob Facebook Page and YouTube channel on all three days. "We are also keeping in mind ease of access, active participation, flexibility of viewing the sessions as per convenience and interacting with the delegates through the live streaming," Sengupta added.