Firecrackers are symbolic of celebration, of extravagance, and good luck and remain an integral part of Kali Puja and Diwali and this year, the entire country is gearing up to celebrate the festivals with gusto. Last two years had a blanket ban on all celebrations due to the pandemic and festivals were a low-key affair but this year it is going to be a no-holds barred festivity for revelers. Environmentalists are already apprehending environmental degradation after the festive season ends.
In 2020, when the world was under the spate of Covid 19 pandemic, several Public Interest Litigations (PILs) were filed in the Calcutta High Court appealing for a complete ban on firecrackers to control air pollution which was hazardous for COVID-19 patients. The High Court banned the use of firecrackers in West Bengal on Diwali, Kali Puja and Chhat Puja. Next year, Supreme Court set aside the Calcutta High Court order banning firecrackers and instead, a special bench of Justices A M Khanwilkar and Ajay Rastogi asked the West Bengal government to explore the possibility to ensure that banned firecrackers and related items are not imported in the state at the entry point itself.
This year, the High Court has sanctioned the use of only 'Green fireworks' complying with the 90 decibel (dB) noise. The Kolkata Police has already seized more than 840 kgs of banned firecrackers from traders during raids carried out in different parts of the city. The city police along with environmentalists have been conducting special drives to sensitize the masses about the adverse effects of firecrackers on the environment and public health.
West Bengal Environment minister Manas Bhuniya recently announced the West Bengal Pollution Control Board (WBPCB) would only allow green firecrackers vetted by central agencies bearing QR codes during Kali Puja, Diwali and Chhat Puja this year following Calcutta High Court's order. This decision is raising concern that the long-standing 90-decibel noise bar for crackers in Bengal will be violated again this Diwali. According to the National Environmental Engineering Research Institute (NEERI), 'green' crackers are those that are made with a reduction in the size of the shell, elimination of ash, less usage of raw materials and use of additives as dust suppressants to lower emissions. The noise level emanating from green fireworks cleared by NEERI so far are in the range of 90- 110dB, which is above the level set by Calcutta high Court.
Conservationists are concerned about this issue. For one, the decibel limit in the state has been set at 90 dB because of certain specific reasons. In West Bengal, a large number of vehicles move on narrow routes, there is very little open space here and houses stand chock-a-block. So, if loud firecrackers burst, an acoustic sound effect is created that magnifies the decibel level. Eco activist and active member of Sobuj Mancha, a civil society platform, Somendra Mohan Ghosh says, "Green crackers do not contain aluminum, barium, potassium nitrate or carbon and the level of pollution decreases by 30 per cent compared to conventional firecrackers but the sound pollution is far above 90dB, set by the Kolkata High Court. Besides, there are only 13 listed fireworks manufacturers in Bengal who have license to manufacture fireworks but not all are suitable for producing green crackers."
While India is notorious for indiscriminate use of firecrackers each year during the October-November festival cycle, the rampant use of toxic firecrackers is encouraged by influential people and overlooked by policy measures and enforcement authorities despite interventions by courts. Firecrackers add to the hazy air of Indian cities, the noisiest and most polluted in the world: A toxic mix of emissions from traffic, construction, garbage burning, industry and other 'uncontrollable' sources. Each time a colourful "rocket" goes up in the air, the concentration of dust and pollutants also increase. With each firecracker, chemicals like copper, lead, magnesium, sodium, etc. are released too, which settle on surfaces. Complemented by pollutants like sulfur oxide and nitrogen oxide, the miniscule particles affect our health without us feeling or realizing the toxic effects. Yet we choose and go for crackers with symbolic names like 'Atom Bomb', 'Thunder Bomb' and 'Saddam Bomb,' which declare their own powerful sound emissions.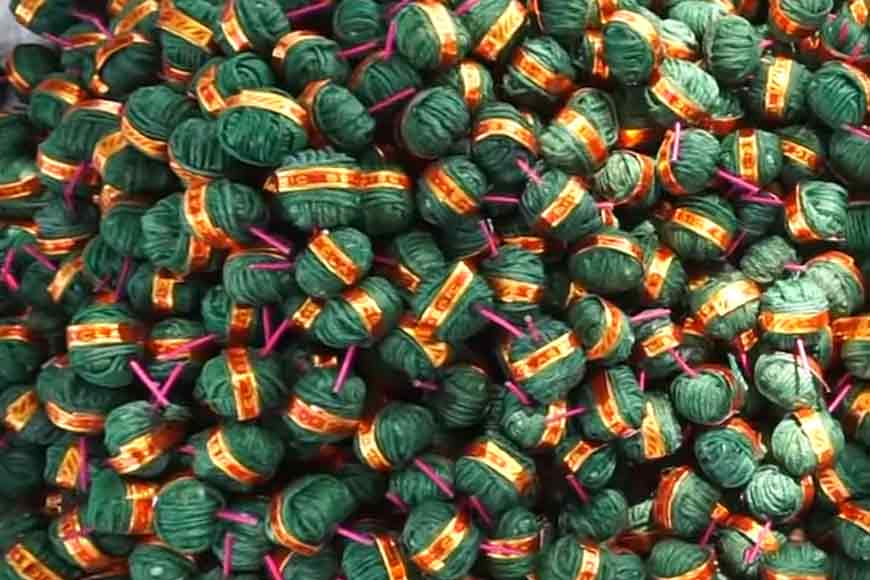 With so much pollution already hazing our cities, our respiratory tracts are weakened and when combined with the thick smoke generated from firecrackers, we're essentially infecting our respiratory tract with pollutants, especially children. Air pollution contributes to heart and respiratory issues. Smoking cigarettes is bad but just one string of 1,000 crackers or a "ladi" is as dangerous as smoking 270 cigarettes in one go. An IndiaSpend analysis also claims that the black coloured pellet, commonly known as the snake firecracker is equivalent to inhaling smoke from 464 cigarettes.
Every time a firecracker or a cigarette is lit, particulate matter of PM 2.5 concentration is produced. Such matter is considered a health hazard. A study undertaken by the Chest Research Foundation (CRF) in 2017 assessed the exposure to PM 2.5 matter caused by burning of six common firecrackers in India - the fuljhuri, charki, string-shaped sparklers, pellets (saap baji), and flower pots. Out of these, snake pellets generated the most smoke (64,500 mcg per cubic metre of PM 2.5 particles) over just three minutes.
India's Central Pollution Control Board (CPCB) maintains that the average PM 2.5 particle concentration over 24 hours should not cross 60 mcg per cubic metre. The World Health Organization's suggestion is more radical at 25 mcg per cubic metre. Firecrackers are also notorious for causing trauma to convulsing patients, elderly people and animals.
City environmentalists are deeply concerned because they have been observing for years how all rules are flouted by unlicensed fireworks factories who dot the city fringe areas like Maheshtala, Budge Budge, Uluberia, part of North 24 Parganas, Hooghly and Salkia, Howrah. "Illegal factories mushroom in the state every year before the festival season begins but if stringent action is not taken against these units, they can be misused by miscreants for acts of sabotage to brew trouble. The owners of these establishments have no quality control provisions and they involve members of the family including children to blend and assemble the raw materials in their houses. There are no research and development labs (R&D labs) in these factories which is essential for producing green crackers. The manufactured items are stored in residential houses and no safety standards are followed which often lead to major accidents and precious lives are lost," says Ghosh.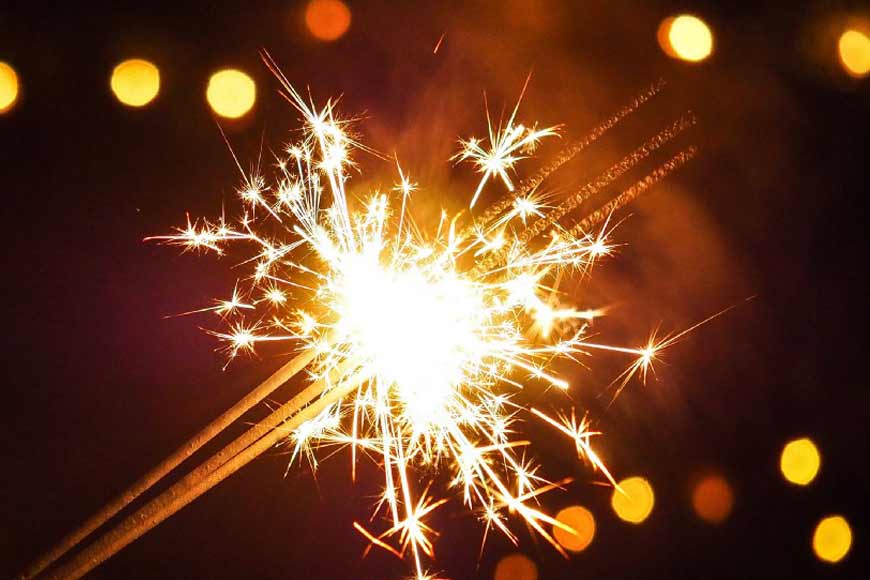 An expert committee was set up by WBPCB in 2017 with well-known ENT specialist, Dr Dulal Bose heading the panel. Based on a report submitted by the commission, the WBPCB directed that "the maximum permissible noise level of the firecrackers at the time of bursting within the state of West Bengal must not exceed 90dB (A) impulse noise at 10 feet from the source". This order of WBPCB has not been altered since then.
Mr. Ghosh points to another pertinent issue concerning using fictitious QR codes to sell spurious fireworks in the name of green firecrackers. What is the role of a QR code? "When we scan a QR code, we get specific information on 1. The name of the manufacturer; 2. The license number and other details of the factory and 3. Approval certification number to manufacture green crackers. The market is inundated with fake QR codes. When the code is scanned, the name of the manufacturer is mentioned with a fake address or no specific address and there is no license number or green approval certification number. "

Ghosh also clarifies the 'green' nomenclature as misleading. "The environment is definitely affected adversely by 'green' firecrackers, only it is lessened by 30 percent. Also, the sound emission goes way above the permissible limit. So, pollution is limited or restricted partially, but not stopped," says Ghosh.
Green activist and member of SAFE, Sudipto Bhattacharya echoes Ghosh's words. He is a familiar figure during Kali Puja and Diwali who roams the streets of Kolkata with his decibel meter (a measuring instrument used to assess noise or sound levels by measuring sound pressure). Ghosh too, travels across the entire city with his particulate monitoring (PM) device (a device that is mounted in the discharge stack of a dust collector and continuously monitors the amount of particulate discharge). They both visit different parts of the city and record all data which are telecast live via different channels.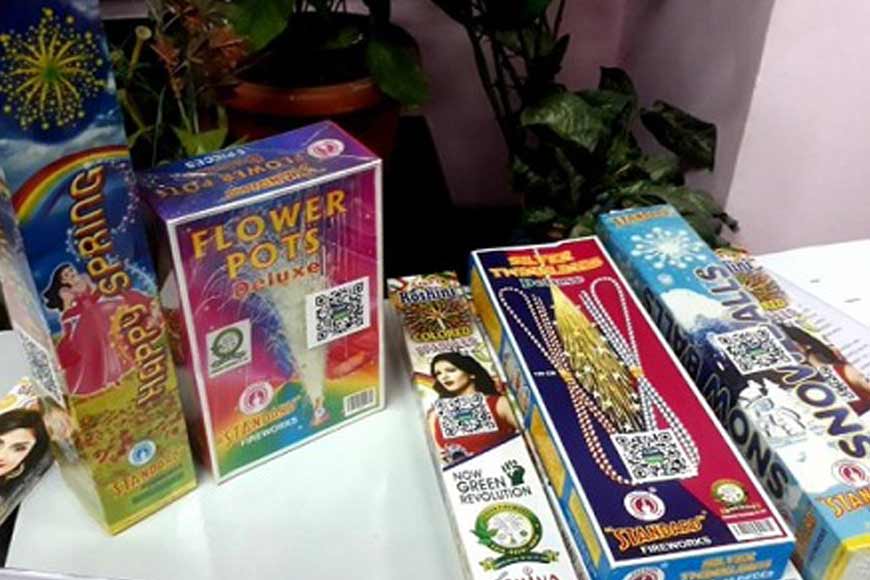 Bhattacharya scoffs at the 'green' classification of firecrackers. "There is nothing called 'green' or eco- friendly cracker. The NEERI certification ensures a reduction in pollution (30 per cent) but it does not mean that we are totally eliminating release of micro articles in the environment when we are bursting 'green' firecrackers. Different chemicals are used for manufacturing firecrackers and they all have harmful effect on environment and on all living things. "
There is practically no 'green' certified cracker factory in West Bengal and these are being imported from other states. "It is important to see the ingredients being used for manufacturing the crackers, full name and address of the manufacturers and QR code details. But the QR code is fictitious in most cases and there is no way to find out if the code is real or not. The ingredients are also not specified so the consumer remains in the dark about the quality of the product," says Bhattacharya. He surmises, "Kali Puja or Diwali is a festival of lights. Why do we make it into a noisy and toxic affair that is also harmful for us? We have been organizing street corner meets from October 18 this year to sensitize people about the ill effects of conventional firecrackers.
Every year officials of the state Pollution Control Board coordinate with the police to enforce government advisory especially in suburbs and apartments and this year is no exception but the problem is, a majority of the citizens find it exciting to break laws. High decibel bombs are hurled late at night for fun and celebration without thinking about fellow citizens or animals who have to bear the brunt of their revelry. This tendency can be curbed only if strict measures are taken at the grassroots level. Environment is still a secondary issue in our country and we have a long way to go before people realize how pollutants are detrimental for our existence on earth in the future. Once this realization dawns, we are hopeful that people will work in tandem to nurse the world back to a robust health."