Arjun, a platform destitute at Sealdah Station fights poverty and studies in train compartments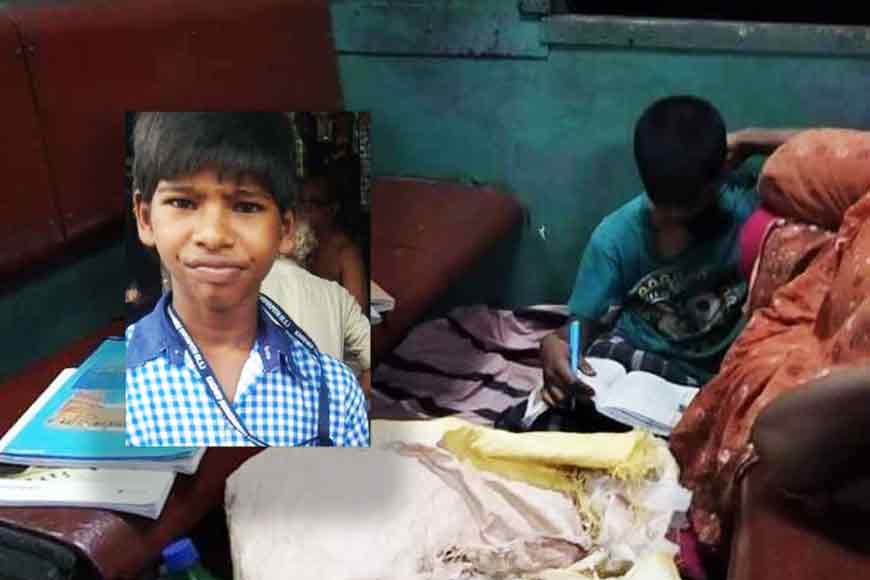 "There is no chance, no destiny, no fate, that can hinder or control the firm resolve of a determined soul." --- Poet Ella Wheeler Wilcox
Fourteen-year-old Arjun Das is a living testimony of this adage. His actions speak louder than words. He has no roof over his head, literally. He lives in the filthy, polluted Sealdah Station platform, jostling for space with other homeless destitute and nomads, many of whom are drug addicts, prostitutes, petty thieves and conmen. But what sets Arjun apart from the milieu is his 'lofty' ambition, his dogged perseverance to study and become a soldier one day.
Arjun has been living on the platform and has grown up leading his life in the hell-hole but the constant cacophony or the lure of easy cash and access to 'chase' or 'pot' sessions have not been able to lure him. He is a class VII student, studying at Gnyanodamoyee High School in Kakdwip. His mother, Arati Das sells fruits outside his school. Every day, early in the morning, he accompanies his mother and they head to Kakdwip on local train from Sealdah. After school, they return to Sealdah Station, their 'home.' During the journey, Arjun tries to complete all his homework in the running train. The little boy is a familiar sight for many commuters who encourage his sincerity, his endeavour when they witness him rote learning his lessons on the train coach or doing his math homework with utmost attention.
Arjun's plight came to light recently when his story was posted in social media. Members of Matribhumi Welfare Trust, a charitable organisation got in touch with Arjun's mother and extended a helping hand. The organisation keeps a close tab on Arjun getting proper meals and attending school regularly. The members also hand over cash collected from well-wishers to his mother. Arjun has a younger sibling named Purnima. She is six years old and for her, her brother is her inspiration. She too, wants to study like him and has already started attending a school run by an NGO at Sealdah.
Arjun and Purnima lived with their parents at Raidighi but their father was a drug addict who tortured his wife and children. Arati was a housewife and was unable to pay the rent of the house when his husband left and was evicted. With nowhere to go and two small children to feed, Arati was compelled to take refuge on the platform. She took to selling fruits to survive. She buys fruits from Sealdah and sells them at Kakdwip. Arjun's teachers praise him and say he is very intelligent and hard-working. Jagadish Payik, one of his teachers at Gnyanadamoyee High School says Arjun is an inspiration for other students. The teachers pitch in to help him regularly. He is provided lunch at school but the teachers insist he is meritorious and has great potential.
When Arjun is asked about his ambition, pat comes the reply. He wants to join the Indian Army and wants to fight for his country. His sister too, dreams of becoming a teacher some day when she grows up. Their mother nurtures their dreams with love and shields them from the sweeping winds of uncertainty and deprivation.