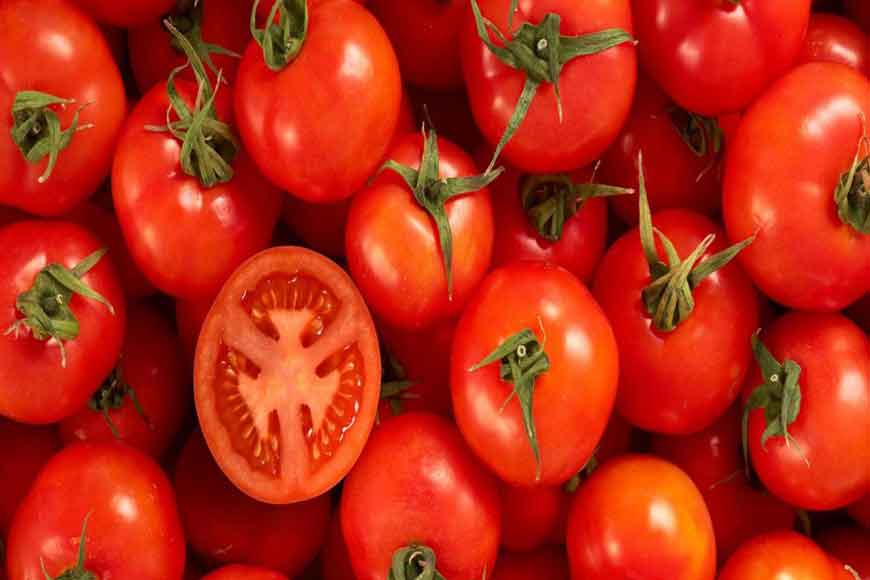 Thieves steal 300 kg tomato in Mumbai. Armed men deployed to guard tomatoes at a vegetable market in Bhopal. Well, such headlines are not telly tales, but hardcore reality sweeping Indian markets recently, as those luscious, red and humble tomatoes suddenly decided to act pricey!
With tomatoes being sold at a whooping Rs 100 per kg, city kitchens are literally going without those juicy Vitamin C laden vegetables. Even thieves have taken to stealing tomatoes and not gold. Three hundred kilograms of tomatoes were stolen from a vegetable market in Mumbai's Dahisar recently. The police have registered a case in connection to this. Now traders in Bhopal have employed armed guards with guns to protect their tomato stock.
There is no clear explanation for the price rise over the past few weeks as tomato prices shot up as much as five times. Some say it is owing to supply disruption due to poor monsoon or unseasonal rains damaging the crop, while some traders attribute it to huge stock being diverted for exports. "There has been substantial drop in supplies of tomato from Himachal Pradesh, which is the main supplier to various states and also with the Ramzan season over, exports to Middle East nations had gone up, resulting in a demand-supply gap, says Tarak Mandal, member of Shopkeeper's Union, Gholshapur Market of New Alipur.
However, market analysts believe the Tomato Crisis is somewhat man-made. Agriculture analyst Dhruba Barman points out: Agriculture ministry's data for tomato production shows the supply of tomatoes has actually gone up compared to last year. The government had projected an annual increase in tomato production from 16 million tonnes last year to over 18 million tonnes this year. That means despite bad weather, farmers, have managed to ramp up capacity.
Barman goes on to give some comparative data to substantiate his claim.
| | | |
| --- | --- | --- |
| State | This year | Last year |
| Andhra Pradesh | 20,400 tonnes | 14,000 tonnes |
| Telengana | 11,800 tonnes | 4,900 tonnes |
| Maharashtra | 1.26 lakh tonnes | 34,000 tonnes (2015) |
All the above states are leading tomato producing states of India.
Despite traders claiming the price rise was due to production drop, the above data clearly indicates it is not correct. The reason behind the skyrocketing prices of that humble tomato is still a mystery. Till the prices come down, it seems Indians will not even dream of having a Tomatina Festival and would better head to Spain instead. And thieves would look out for tomatoes rather than gold!