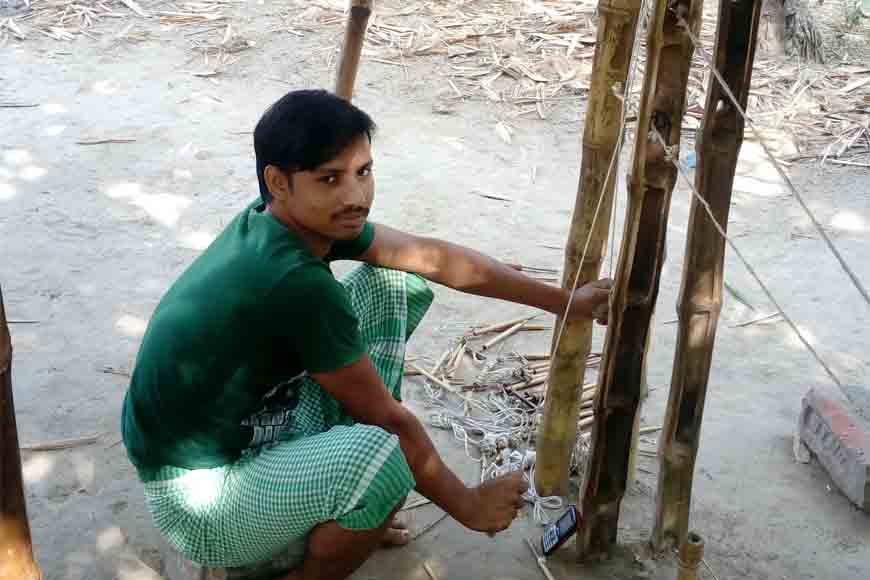 All cottage industries are not lost! Even though modern technology tries to push them into oblivion. Take for example the grit of villagers of Daihat-Beragram, a small village in East Burdwan, where villagers have stuck to their traditional craft of making ropes from jute for generations. 'Necessity is the mother of invention" is a proven adage and from time immemorial, man realized the need to bind the vast pile of wood he collected from trees or to fetch the animal he killed, so the need for a devise to tie and bind his booty was felt. He learnt to twist leaves and barks of trees and discovered the method of making ropes. Making rope is a skill that has been around for thousands of years.
Gradually machines replaced the drudgery artisans and use of electricity enhanced production and provided the much-sought-after relief to them. But, there are trades like rope-making, where artisans have stuck to ancient form of production, they learnt from their forefathers. Villagers of this quaint Burdwan village make different types of ropes: Dara rope,a thick and sturdy one to tie cattle, one for installing taps is kachhi, for weighing machines is rosa, and thin but sturdy ropes, dori, used for making cots.
The process is painstaking, yet the villagers refuse to give up this traditional craft. Jute is peeled to extract thin strands, then starts the weaving process. A ladder-like instrument, moi is installed, a hard piece of wood is placed atop it. This is called makashi, which is vital for making rope. Other instruments used for making ropes of different thickness include kamranga, a star-fruit shaped gadget that is required to make dara, while phiniki is a thick iron bangle-shaped device with a five-inch long stick (dando) that is used to give shape to the rope. A 10-15 ft long rope is called juti. After weaving the ropes, they are sold at Kolkata's wholesale market.
Jute prices have shot up in recent years and this has compelled many to give up this profession. Former rope makers are migrating to cities to assist masons at construction sites. Some have turned rickshaw pullers or toto drivers to eke out a living. At present, there are around 50 artisans who are still involved in rope making. Women have also mastered the art and some like Rehana Bibi, Zarina Bibi, Samina Khatun work in tandem with Moksed Sheikh, Khorshed, Bokul, Zakir. Most of them live in abject poverty and rope making is their only livelihood which is again directly linked to the price escalation of jute. This year, the cost of jute has remained stable, so artisans have fared better and managed to make some profit in lieu of their hard work.