Sanatan Dinda is a four-time World Champion in Body Painting. Yet, very few of us know of this achievement of his. Is body painting and nudity still a taboo in India? What does Dinda say?
• How are you popularizing the art of body painting in India?
Body painting is popular in Europe, but in India the awareness about this art form is minimal. Despite being a World Champion four times, how many national or regional media covered the news? That shows no one is much interested in this exclusive art form. I usually put up my work of body painting on social media, but it definitely needs to be publicised more to reach out to the masses.
Action Body Painting
• Do you think Indian audience are comfortable with this art form?
I feel people out here are still not ready to accept this concept. There is hardly any awareness about nudity in our country which makes it difficult to practice this kind of an art form. I have seen people doing body painting here, by covering the upper and lower body parts. But body painting is body painting and not hand painting, bra painting, panty painting or undergarment painting and it doesn't work this way. We should look at it from an artist's perspective and learn to appreciate the same.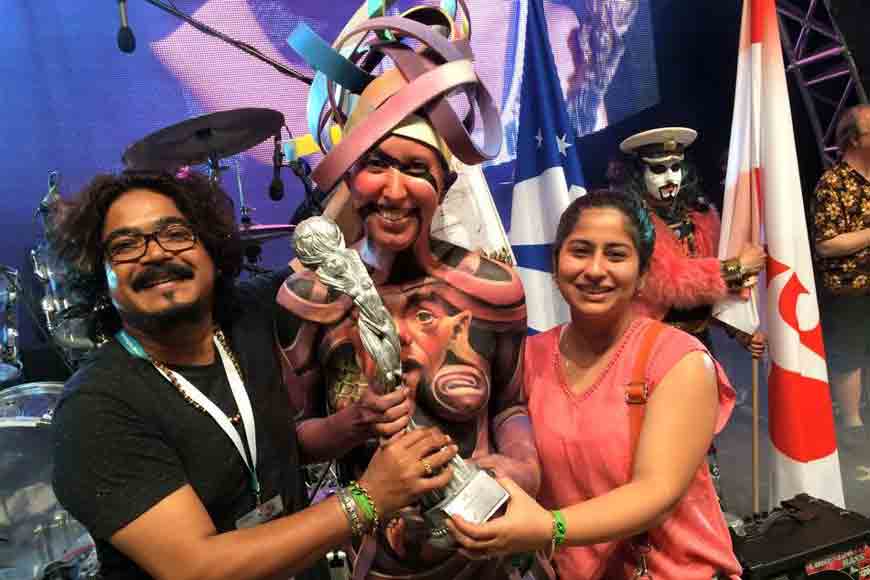 Award winning at World body painting championship
• You have extensively worked on body painting in the West. In which countries have you worked?
I have mainly worked in Europe. I just participate in World Body Painting Championship. Have not got into any other contests. I had been to South Korea as a judge for the same. This year also, I intend to go, but as a judge and not a participant. I have been doing workshops in Paris, Germany, Holland and even in USA. I will also attend this year as a judge to the Arnold Classic Sports Festival, which is organised by none other than Hollywood body building pro Arnold Schwarzenegger. He has added body painting to this show and I will go there as a judge.
Body painting competiton at Maidan, Kolkata
• Do you use any special technique for body painting?
Yes, the technique I use is different from the paintings on canvas or paper. I might be a very good painter, but body painting is tough. Different body parts have different texture, gesture and vibrancy. It took me almost 4 years to learn this art. I still do not know which colour will come out in what way on a particular body.
• Can body painting be done all over the body?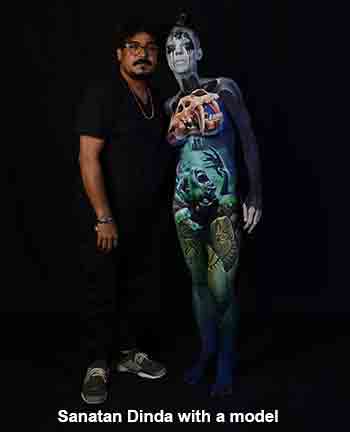 A: Yes, body painting artists like us have been able to do it. We have come out of the body shaming part and it could be any part of a human body, be it a female, a male, transgender. A person can be tall, fat, dark, short, anything. I practise body painting on any kind of subject.
• Any upcoming projects or plans?
I do not have any important or specific projects coming up. But I want to do a study on my drawings and a research work on it. I haven't done any show in the last 8 years. I do not wish to do so. Being a part of the Durga Puja installations and working for it, is not an extension of my work but something which I consider to be an event and love to be a part of it. Even body painting, I consider it to be an event and I have taken it up very seriously. A lot of preparations are required before being a part of such events.