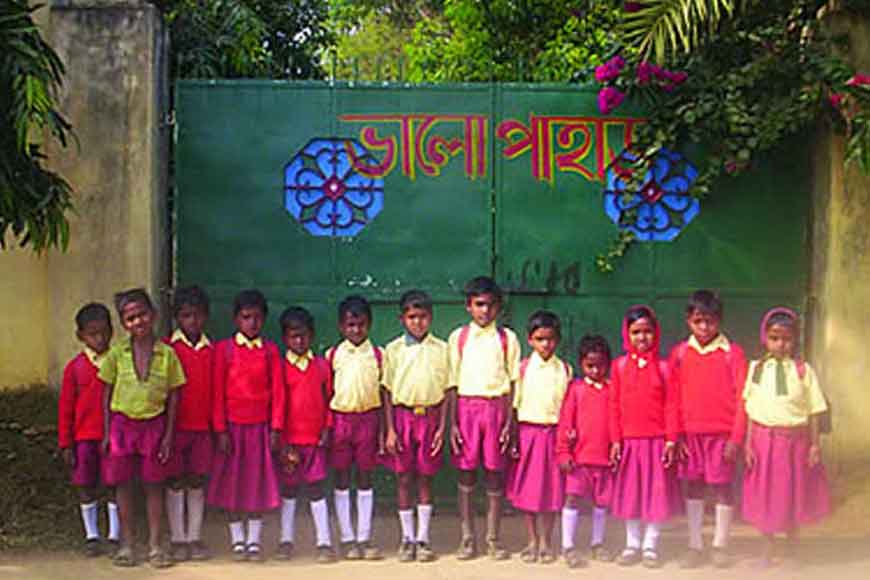 The name of Dangorjuri village is lost from the collective consciousness of Bengal. Instead, they feel more comfortable to identify themselves as residents of Bhalopahar. Situated close to Bandoan in Purulia district, this hermitage was created by a group of dedicated nature lovers from Jamshedpur, who dared to dream big and took up cudgels against an orchestrated move to encroach and destroy forest land on the pretext of development. They took a resolution to put up a war against industrialization and 'development' and do whatever was to be done to preserve the natural environment and help the aborigines to continue to live and pursue their livelihood, their language, their rituals and everything they did for hundreds of years.
How to reach:
Bhalopahar can be reached from Calcutta by road via LodhashuliGaludi or else one can avail a train and get down at Galudi. From there it is a 45-minute journey by auto. You can also board the Ispat Express early in the morning from Howrah station and get down at Ghatshila. From there hire an auto to reach Bhalopahar.
The youths even taught villagers to value their tradition. They gradually penetrated deep into the interiors of Purulia and procured land gradually. The task was not as easy as it sounds. They literally spent days in the open, under tree sheds to befriend the locals and convince them of their intentions. Slowly the locals accepted the youths as their own and joined them in the project. Work continued, despite the turmoil created due to political unrest in the district.
I had heard about Bhalopahar earlier and when Kamal Chakraborty, poet and founder/ chief functionary of Bhalopahar sent me an invitation, I immediately decided to make the trip. It was March, Purulia was then a riot of colours and forests displayed crimson Polashand Ashok flowers blooming in abundance.
It takes about five to six hours from Calcutta to reach Bhalopahar. We reached around noon. Surrounded by the mighty Dolma ranges, Bhalopahar merged perfectly with the surroundings. A two-storied simple house was so very welcoming as was a circular shady area in front, built for addasessions. Nothing was frilly or pompous. The building, its décor and everything seemed to be in sync with the natural surroundings. Kamalababu gave us a warm welcome and made Darjeeling tea for us. We were allotted a room on the first floor with an adjoining balcony from where we could get an uninterrupted view of the vast forest stretch, with date palm trees, peeping from obscure nook and corner and the flaming Rokto-Polashtrees blooming in abundance.
Kamalbabu narrated how work started in the initial days of this project. This part of Purulia was a rugged terrain, where no vegetation other than thorny bushes grew. Kamalbabu and his friends worked rigorously and planted saplings of Sonajhuri and other flowering plants and fruit trees. These trees have now grown and the place looks like a natural forest land. In the evening, we went for a stroll in the heart of the forest. We spotted long stretches of paddy fields and vegetable gardens where succulent tomatoes, cabbages grew in abundance. We were told they produce crop and vegetables without any chemical fertilizer and pesticides. The indigenous produce at Bhalopahar is oraganic. They have explained to the villagers the ill-effects of chemical fertilizers and have encouraged the use of natural manure. They are also growing rare original paddy varieties of Bengal, Kalo-nuniya and Kalo-bhaat, which are now on the verge of extinction.
The school was very close to our room. Adivasi students from far-off villages make it to Bhalopahar to study. Hostel facility is available for those who cannot commute daily. These children have their meals with the guests. Food is cooked for around 150 students regularly, but there is no commotion or disorder. They perform their assigned duties religiously.
During our walk through the jungle, we encountered a cow shed that houses around 40 cows. Ducks and hens are also reared here. We got a taste of all these, when we sat down for our meal: Kalo-nuniyarice, fresh organic vegetables from the farm, fish from the local pond and heavenly sweetmeat (payasam) made from cow's milk – what else can one ask for?
Intoxicating fragrance of Mahua fruits emanating from the ground below, the Duarsini river moving rhythmically over boulders, as it hurries towards its destination are some of the attractions. During monsoon, the river becomes aggressive and fearsome. The temple of Dooarsini Devi stands next to the river. Kamalbabuinformed us of another picturesque spot. This was at the far end of the village from where the hills rise. A natural white-stone gallery has come up at the spot that is ideal for watching the sunset.
We returned with some unforgettable memories of Kamalbabu's dedication and hard work to give shape to his dream. He brought to life a vast stretch of arid fallow land and taught the mantra of self- sustenance to locals. His warm and cordial behavior, his eagerness to make the guests feel at home and attend to any problem they have, the genuine love and care of all the workers of Bhalopahar and the innocent, benign smile on the faces of the children will remain etched in our memories for ever.