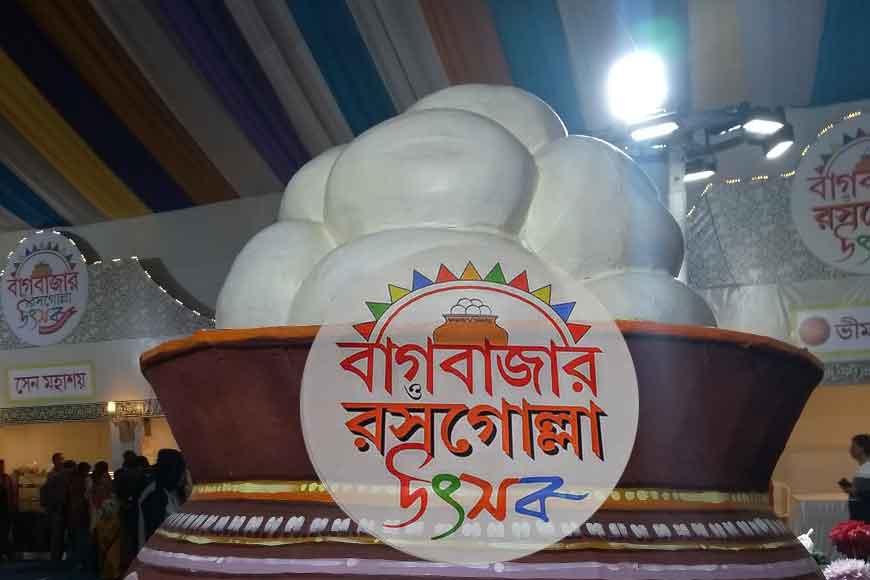 Here is some sweet first to the New Year! If you mix the extravagance of rosogolla with that of a piece of vintage Kolkata, you produce one of the most visited food fests of the city. So, do not miss the first ever Bagbazar O- Rosogolla Utsav this weekend. The crowds, young and old converging on at the venue, shows Kolkata still holds on to the rich heritage of the round-shaped cheesy syrupy sweet, that the world over connects Kolkata to. 150 years have rolled by since Nabin Chandra Das invented Bengal's rosogolla, and we have already won the GI tag for this exclusive sweet.
Keeping in mind the inventor, a statue of Nabin Chandra Das has been unveiled and a postal stamp dedicated to him will be published. But why the festival at Bagbazar? Because Bagbazar has a strong connection with rosogolla. In 1864, Nobin Moira had opened a sweet shop at Jorasanko in North Kolkata, but he became successful after he shifted his business to Bagbazar. The Rosogolla Utsav is not only about rosogolla but is an effort to uphold the rich culture, heritage and history of Bagbazar.
This is a place that has played an important role in Bengal renaissance, a locality where stalwarts like Bhagini Nivedita spent her days, where thespian Girish Ghosh lived. Bhola Moira also had his sweetshop here. The first Baroari Durga puja started here. This was the budding ground of art movement. Be it in terms of culture, religion or festivities, Bagbazar is the citadel of Bengali heritage. No matter, where you live in any corner of the world, if your roots lie her, your heart will have a strange longing for Bagbazar.
The Rosogolla festival highlights how this one place has contributed enormously to the growth of Bengal in every aspect. This connection comes out at 'Roshe Boshe Bagbazar,' as authors Ranjan Bandopaddhay, Shankar and director Kamaleshwar Mukherjee speak about the rich culture of the area along with performances of Jagannath and Urmimala Basu, Dohar and Aditi Munshi.
The festival has different flavours of rosogollas to tickle a variety of taste buds, along with other state sweets such as Krishnanagar's sarbhaja, sarpuria, Bardhaman's Mihidana, Doi from Raiganj, Jalbhara of Chandannagar and a lot more. The fest committee comprises of Suvaprasanna as the chief advisor and Nabin Chandra Das's heir Dhiman Das as members who have arranged cooking competitions. A quiz contest on sweets was conducted by Dr Partha Saratha Mukherjee who says, "Rosogolla will become the talk of the town for the next few days and we believe that will be an overwhelming experience for the mishti lovers of Kolkata."