The century-old sherbet joint Paramount has witnessed many a storm, from surging prices and customer base complaining at times of fall in quality, to that of well-known revolutionaries from Bengal who used the joint as an undercover location for hatching plans against the British. Yet it waded through rough waters and is still popular, so much so that after 100 years it gets the Heritage Eatery tag.
Paramount was the adda joint from where Satin Sen started Swadeshi Anushilan Kendra and freedom fighter Jatindranath Mukherjee popularly known as Baghajatin raised a verbal storm over a glass of cold sherbet. Yes, you got it correct, we were at Paramount Sherbat joint last week, that is celebrating its 100 years of grand history. The shop was established in 1918, by Nihar Ranjan Mazumdar of Barishal. It was then called Paradise and served as a joint for selling sherbet, to co-er up the Swadeshi activities that continued in its backyard.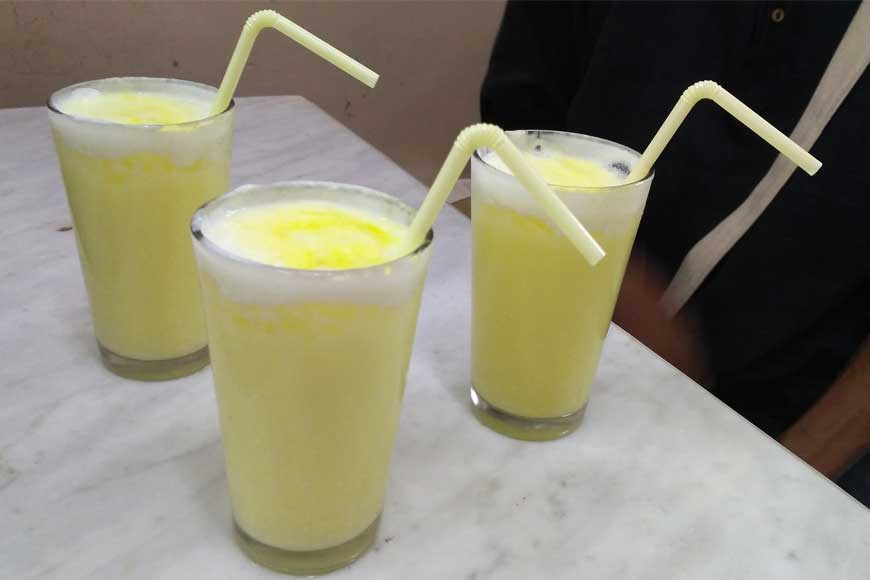 Have you ever imagined a sherbet joint acting as a cover up to freedom struggle of a nation? Many revolutionaries frequented this joint, including Netaji Subhash Chandra Bose. Sitting with a glass of sherbet as a façade, they held their secret meetings and discussed plans and course of action against the imperial rulers. However, the British got inkling of the radical activities and ordered to close down Paradise. After years, the shop was re-opened in 1937 and was renamed Paramount.
The shop was not only the den of radical leaders, it was also a favourite haunt for 'rebel-poet' Kazi Nazrul Islam. On its list of regulars were also famous film director and author Satyajit Ray, matinee idols Uttam Kumar and Suchitra Sen. It is said most of the celebrity customers loved Daber Sherbat, a drink made from tender coconut water, recipe of which was handed down by none other than Bengal's famous scientist Prafulla Chandra Roy.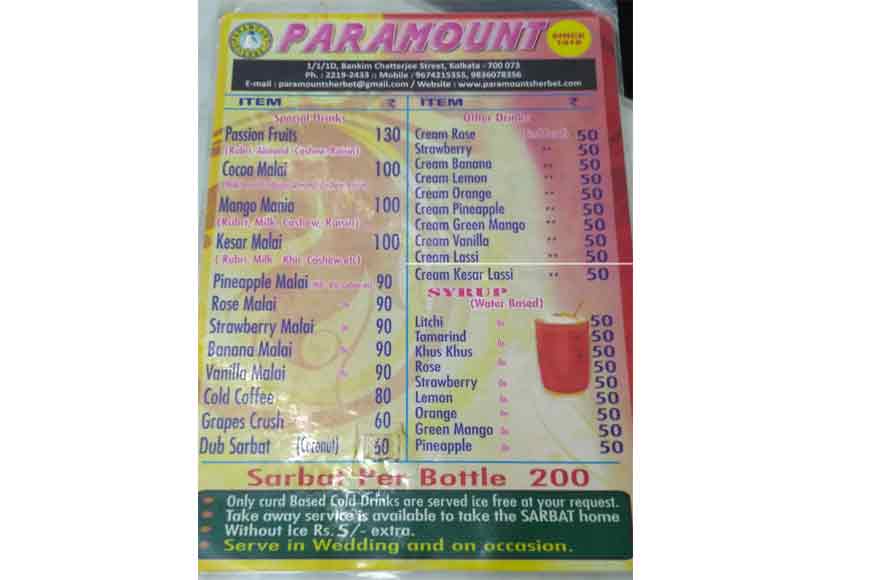 The varieties of sherbets available at Paramount is mind-boggling, some of which have reached cult status for the sheer taste and the kind of ingredients used. From Grape-crush to Mango-mania, no artificial colours or preservatives are added to the sherbets. Paramount is a name that is part of the city's heritage and the shop doesn't go for any advertisements. People's faith in their sherbets and their word-of-mouth is enough to keep the shop going even after 100 years.