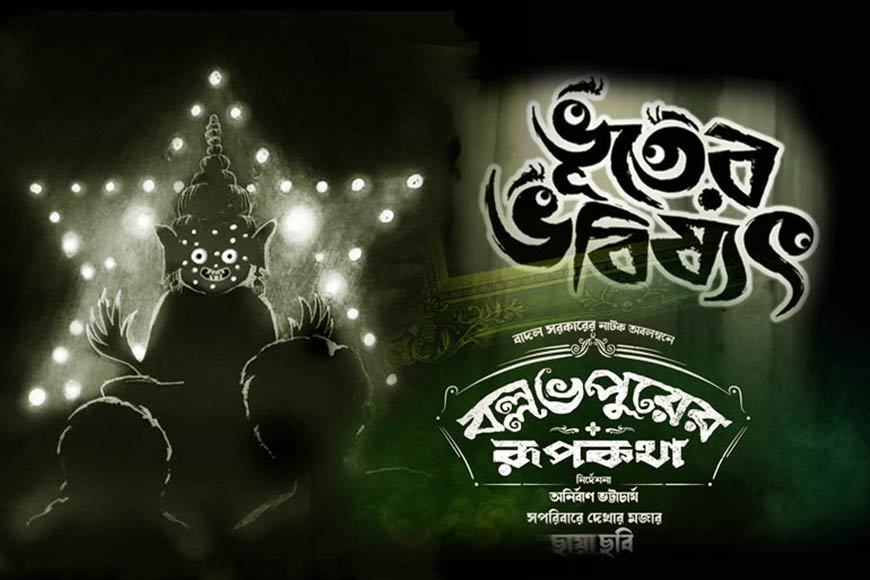 Horror comedy is a literary, television, and film genre that combines elements of comedy and horror fiction. Horror comedy is categorized into three types: black comedy, parody, and spoof. It often crosses over with the black comedy genre. Horror comedy can also parody or subtly spoof horror clichés as its main source of humour or use those elements to take a story in a different direction. Satyajit Ray was one of the foremost directors who introduced horror comedy in Bengali cinema. 'Goopy Gyne Bagha Byne' (1969) is a fantasy adventure inspired by a story written by Ray's grandfather, Upendra Kishore Roychowdhury. Before that, he made a short but intense horror flick – 'Monihara' (The Lost Jewels) – which was a part of a film trilogy based on Rabindranath Tagore's short stories. The tragic story centers around a lonely housewife obsessed with her jewels.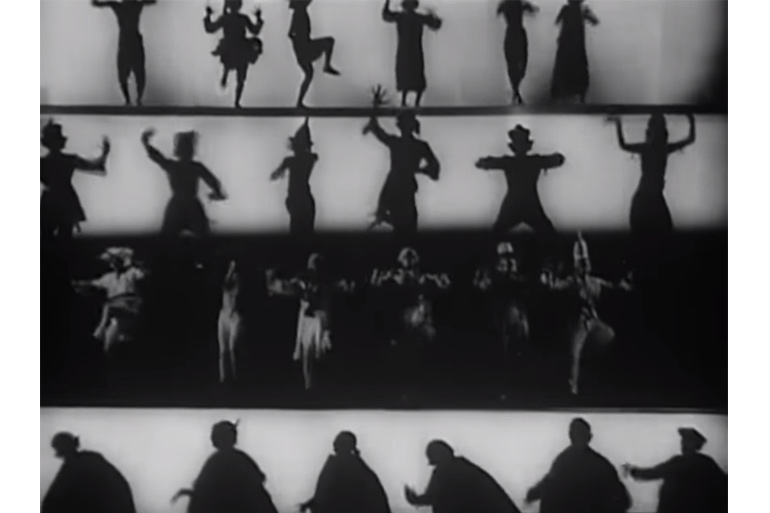 Goopy Gyne Bagha Byne
Once Ray set the ball rolling, expectations arose and the audience expected a deluge of horror comedies. However, strangely enough, that did not happen. A couple of films were made now and then but there was a vast chasm that needed to be filled. After a long hiatus, horror comedy as a genre has again come into the forefront with Tollywood film directors like Tapan Sinha (Banchharamer Bagan in 1980), Abhijit Chowdhury (Patalghar in 2003, based on Shirshendu Mukhopadhyay's novel), Sandip Ray (Jekhane Bhooter Bhoy in 2012, a trilogy of ghost stories based on Sharadindu Bandopadhyay's Bhut Bhabishyat and Satyajit Ray's Brown Saheber Bari and Anath Babur Bhoy), Aparna Sen (Goynar Baksho in 2013) and Anik Dutta (Bhooter Bhabishyat in 2012, Ashchorjjyo Pradeep in 2013) exploring the genre. Abir Sengupta made his directorial debut in 2015 with Jomer Raja Dilo Bor, a horror comedy flick. These contemporary film directors have more than whetted the appetite of horror comedy movie fans.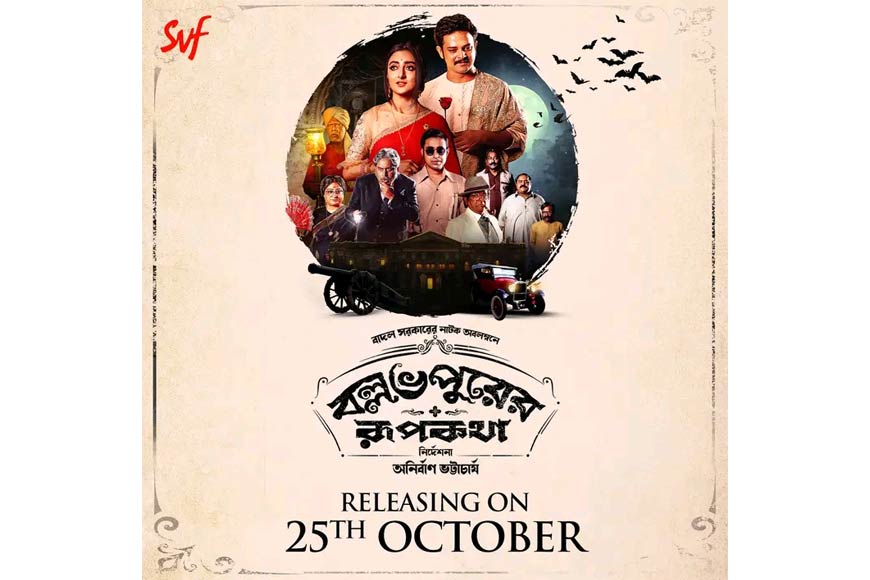 And now, the latest to join the league is Anirban Bhattacharya with his first horror comedy film, 'Ballavpurer Roopkatha.'
Bhattacharya has attained cult-like status with his vast range of acting prowess. He has already won accolades and awards for his histrionics and is an extremely popular actor/singer who seamlessly shifts from one medium to another. Although he started his professional career as a theatre artiste, he has made the transition to the silver screen effortlessly within a very short span. This time, he has stepped out of his comfort zone and directed a feature film, Ballavpurer Roopkatha, based on renowned thespian Badal Sarkar's play. Prior to directing Ballavpurer Roopkatha, Bhattacharya had made his foray into direction with 'Mandar,' a web series inspired by Shakespeare's 'Macbeth.' The series won rave reviews after it was streamed on the OTT platform. Now Bhattacharya makes his directorial debut in films with Ballavpurer Roopkatha. The film has been running to packed houses ever since it was released and the audience is just lapping up the experience. Bhattacharya has experimented with the form without going overboard and has succeeded in his endeavour.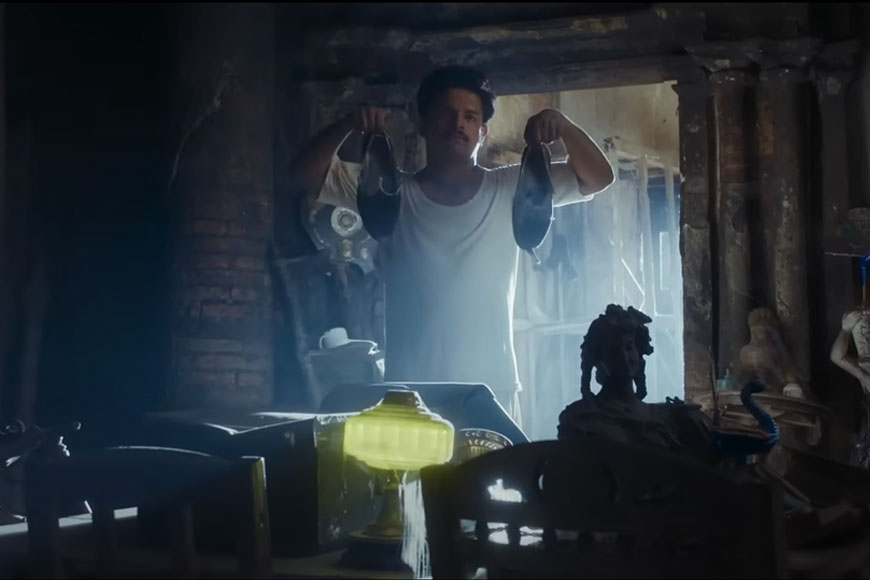 What is so special about the quirky horror comedy? To begin with, the film is based on Badal Sarkar's play of the same name, written in 1954. The screenplay and dialogues have been jointly written by Bhattacharya and Prateek Dutta and set to music by Subhadeep Guha and Debraj Bhattacharya. Ace cinematographer Soumik Haldar has weaved magic with his camera.

The storyline is simple: Royal descendant Bhupati Roy decides to sell his crumbling 400-year-old dilapidated palace and seven acres of land in a sleepy town in Ballavpur, to repay his debts and move to Calcutta. He prepares to impress a buyer who is fond of heritage and haunted buildings, but confusion ensues when a cursed ghost appears.
Badal Sarkar wrote this play inspired by French director René Clare's English film, 'Ghost Goes West'. This was 70 years ago, but Bhattacharya and Dutta have worked on the script deftly and made it relatable for the audience. The film's theatrical roots are apparent – most of the action unfolds in one location. Yet the director pulls off the difficult task of merging the disparate elements of comedy, romance, and horror with elan. He has stepped out of the safe zone and made a film that is sunny and entertaining and weaves a simple fairy tale that touches the hearts of the audience.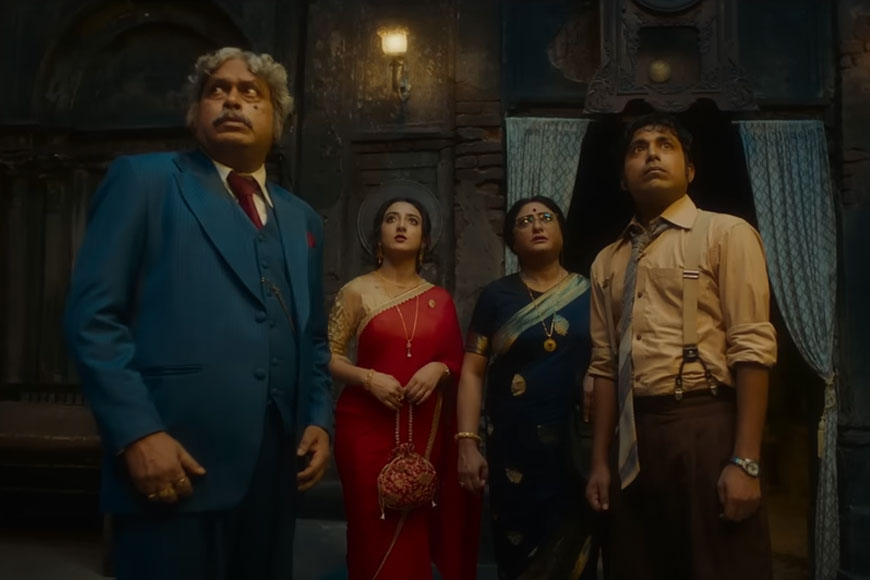 The story revolves around the dilapidated palace and the action is restricted to the 'Rajbari,' but Bhattacharya uses editing as a tool to move across spatial distance and take forward the narrative without hampering the pace of the film. An amazing ensemble cast performance takes the film to a different level altogether. Bhattacharya has cast his actors from the theatre world. This had been a long shot but he was confident, and it is evident now that the risk he had taken has worked in his favour and he has passed with flying colours. The actors introduce a whiff of fresh air. Satyam Bhattacharya as Bhupati, Debraj Bhattacharya as Sanjeeb, Shyamal Chakraborty as Manohar, and Sandeep Bhattacharya as Haldar have breathed life into the roles. Surangana Bandopadhyay is a familiar face and she has essayed the role of Chhanda. Jhulan Bhattacharya as her mother is impressive.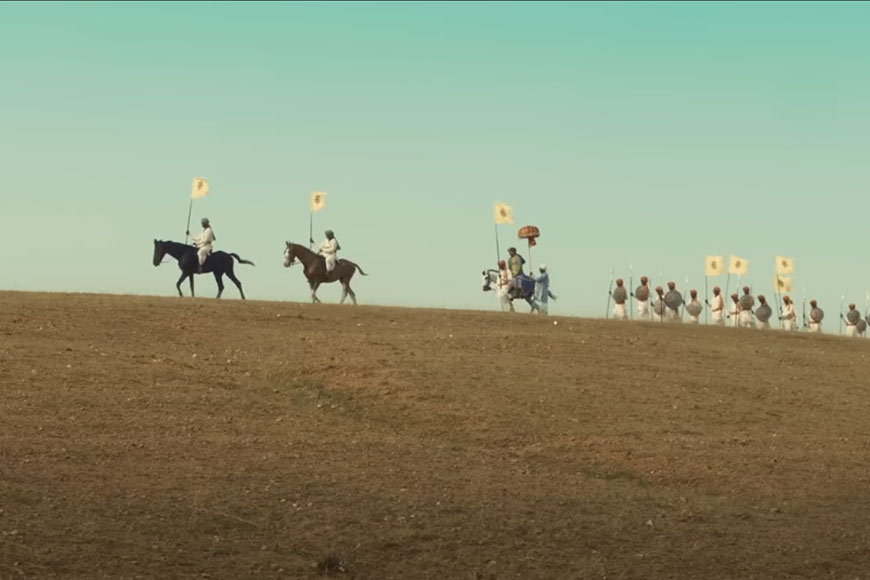 The opening credits of the film feature a wonderful tribute to Badal Sircar through a song. Produced by Shree Venkatesh Films, this movie has once again raised the bar for filmmakers of the horror-comedy genre. Only time has to decide who all will rise to the occasion to make a complete package like Bhattacharya. An immensely enjoyable storyline and a cast that breaks the stereotypical notion of a sure-shot formula ensuring a 'hit' by casting well-known film and television stars in lead roles. Ballavpurer Roopkatha is a light-hearted, feel-good movie that assures the audience that this world is a forgiving and benign place and that, there is mystery and magic in life only if one can perceive them in the ordinary humdrum existence.
All said and done, Bhattacharya deserves a round of applause for his brilliant directorial debut.