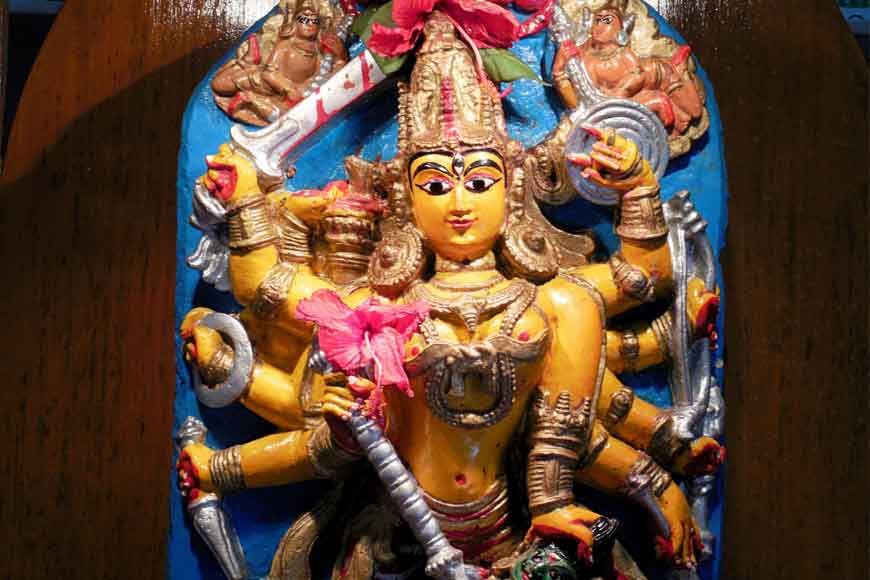 Dr Mukherjee is a well-known nephrologist of Kolkata and a history and art enthusiast
While Sharadiya Durga Puja is celebrated with greatest reverence all over Bengal, many Bengali households also celebrate Basanti Puja during Spring. According to Markanda Puran, King Surath lost his kingdom and was hiding in the woods when he came across Samadhi Vaishya who also had lost the kingdom. Megha Muni asked them to perform Basanti Puja to gain back their kingdoms. Since then, Basanti Pujo came into existence.
Bagbazar Haldar Bari is one such house of Kolkata that still celebrates Basanti Puja during spring every year. Haldar Bari has been creating history by worshipping the deity continuously, what we call 'nityapuja,' without any interruption for the last 440 years. It is the oldest preserved Hindu idol which happens to be a heritage idol. This idol was made approximately before the Islam rule 1000 years back, according to the time dated by historians. If you notice carefully, the idol has Mahakal above which is an embodiment of Shiva. It is the only idol where you will see Devi killing Mahishasura with her own hands unlike the other Durga idols where Devi is seen destroying Mahishasura with a trishul or her legs. This idol is very different from the usual idols that we come across, which makes it a national treasure.
But it is essentially a property of Haldar Bari. During this period, similar idols were created out of which one is still present in the French Museum of Chandannagore and the other is in Indian Museum but these are in disfigured conditions. The idol present in Haldar Bari is the only idol which belonged to an unknown Hindu king. During the advent of Islamic age, he had buried the idol of Devi to save it from the hands of Muslims. However, the journey of the idol for the next 550 years is not known.
Approximately 448 years back, Haldars were the subedars or Jagirdars of Chandannagore and Chinsurah which was a Dutch colony. Islamic age was about to come to an end while British Raj was just about to begin. It is told that the scion of Haldar Bari went out for 'Mrigaya' near Rohonpur, Orissa. He had a dream in which Basanti Devi appeared, asking him to unearth her by digging 14 feet of the ground of a fisherman's room. He followed the dream and surprisingly found the idol of Devi there and that, automatically became a property of the Haldars. Since that day, the idol has been worshipped every day by the successive descendants of the Haldars. This puja became overtly popular during the time of Pran Krishna Haldar who was the proponent of Babu culture in Sutanuti and erstwhile Kolkata. This idol, Ma Mahish Mardini has no 'abahon or bisarjan'- It does not arrive or depart. After the Aswin Durga puja is over, the ghot is immersed (bisarjan). The deity is again worshipped during spring time as Basanti pujo by the Halder Bari with grandeur even today.