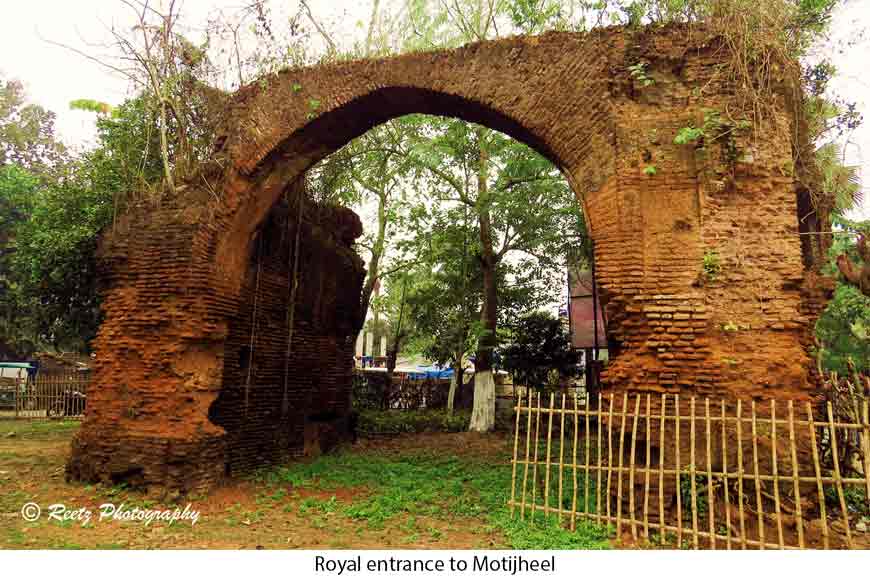 Centuries ago, white lotuses bloomed on this serene lake water, which owes its name to the etymological history of the waterbody. Yes, white lotuses on the Lake of Pearls, Motijheel, still blooms. Motijheel is an artificially excavated lake on the southern banks of the Bhagirathi River constructed by a Nawab centuries ago. It took us close to 6 hours by road to reach Murshidabad and another 15 minutes to reach the lake. The final 5 km stretch driving by the Ganges will undoubtedly take your breath away.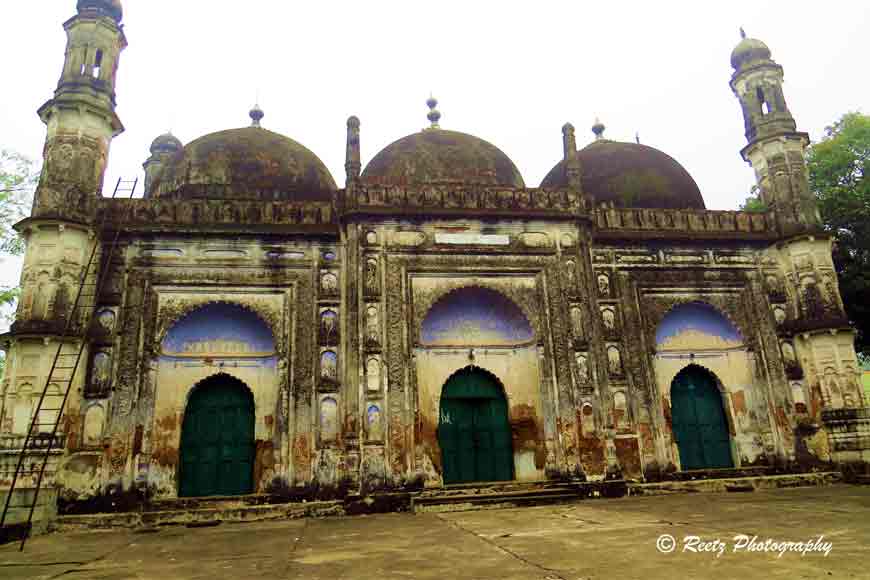 Kali mosque
The shape of the lake resembles a horseshoe, gardened with flowers along the shore. It is surrounded by waters on all sides except a narrow collar at the north which connects it with the mainland of Murshidabad. In 1740 AD, within the inner core of the lake, Nawab Muhammad Ahmed Khan had built a palace with deluxe amenities exclusively for his beloved Ghaseti Begum. The building was raised using special basalt pillars brought in from the ruins of kingdom of Gour and was hence called the Stone Palace or Sang-i-Dalan.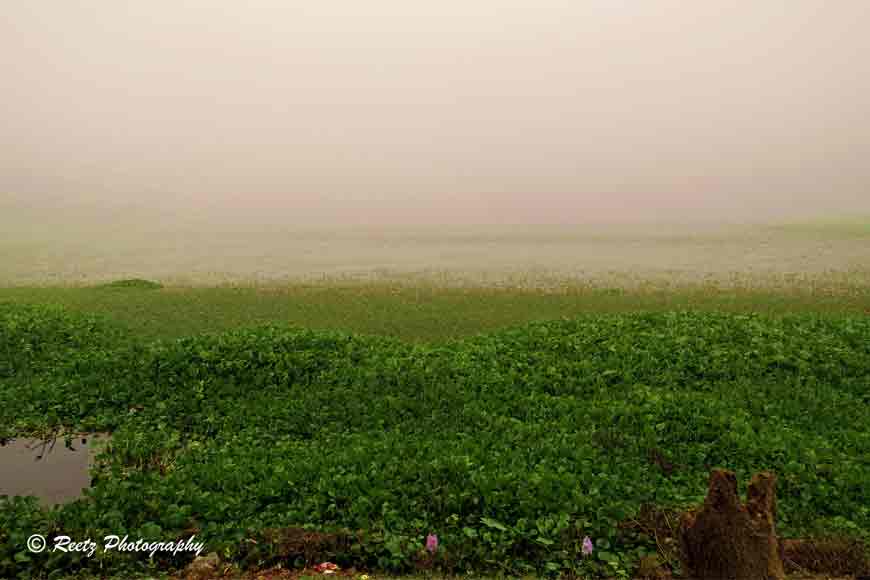 Motijheel lake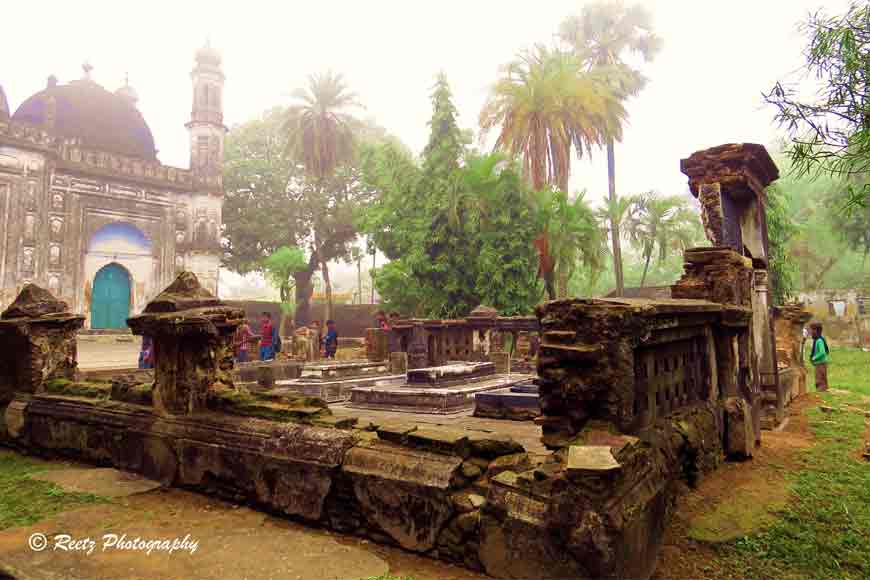 Ruins of mausoleum
The palace has two ornate porticos, a lofty hallway, crafted pillars, a huge seraglio on the second floor, a splendid lawn, a romantic garden, a deep quarried pond called 'Shanti Pukur' dedicated for Ghaseti Begum's hot bath. There are also few outhouses, official halls, a mausoleum for his adopted son, a mysterious enclosed chamber and a designated area planned for the entombment of his family.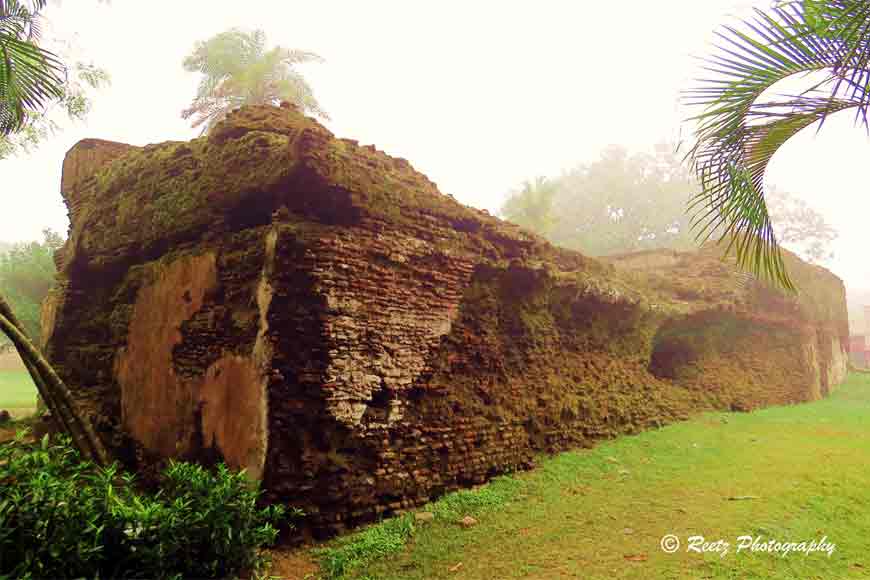 The mysterious chamber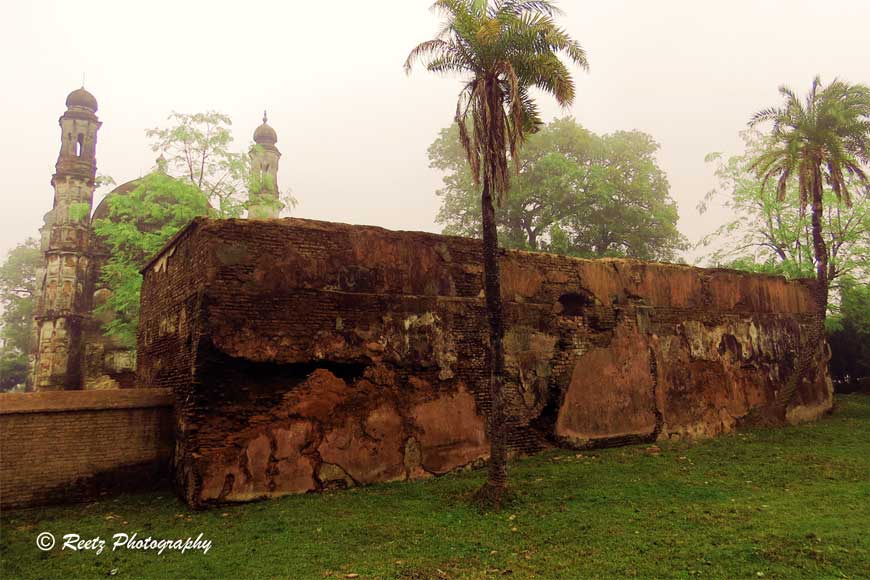 Ruins of motijheel palace
Ahmed Khan was a very religious man. His palace without a prayer hall was thus totally unimaginable. Just beside the lake, he built a huge mosque made of black stone and named it Kala Masjid. He also caligraphed a copy of the holy Quran in Persian script and engraved it on the walls of the mosque. You will get to know these scintillating stories of its rich past but sadly, nothing much exists today except the outer skeleton of the mosque, ruins of the mausoleum and a dilapidated royal entrance with ransacked walls on all sides.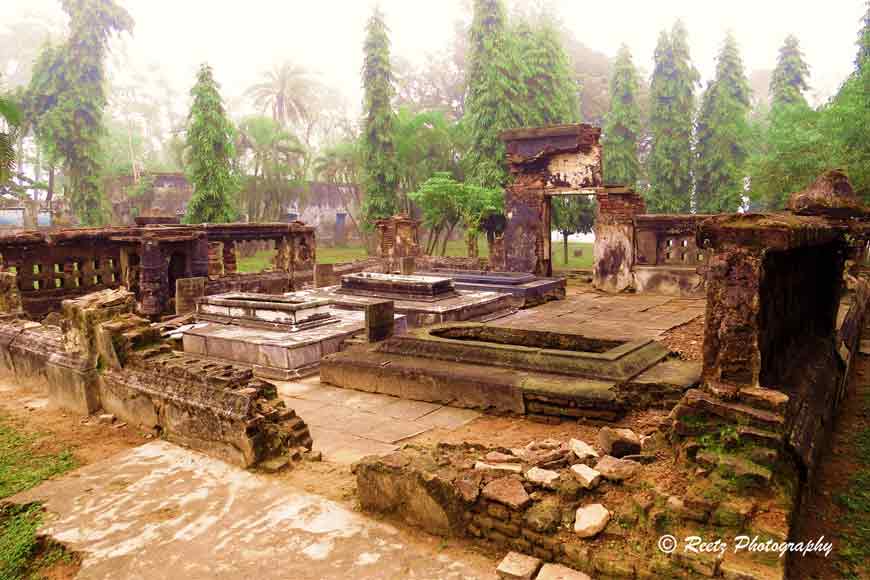 Royal cemetery at motijheel
The beautiful lake is however worth a watch. The garden behind is well maintained as part of this heritage site. At dusk, the mystic beauty of the palace and the lake adds to a charm beyond words.
How to reach:
Best way to reach is by train from Sealdah. By road, it takes around 6 hours (200 kilometers) via NH34. Road conditions are not conducive for long drive.
Where to stay:
Government tourist lodge is available at Berhampore, around 10 kilometers away from Motijheel.
What to see around:
Hazar Duari Palace, Katra Mosque, Jahan Kosha canon.