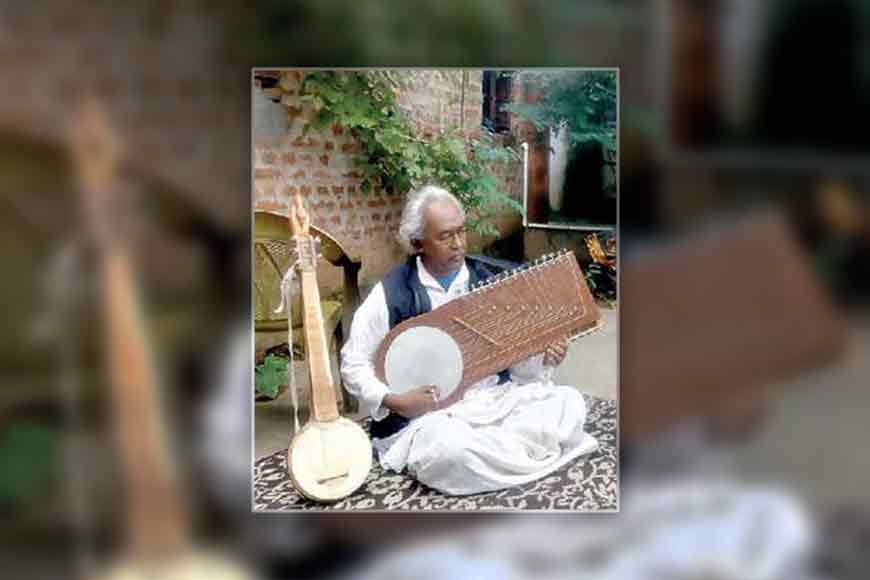 Here is a new musical instrument for all music lovers. It is called Taramandal and is a fusion of Dotara and Surmandal. A stringed instrument this new Taramandal can be used for both folk and classical renditions. It has around 20 strings and the music produced is not just sweet but mellifluous.
From Siuri if you travel down to the village of Kalipur, you will come across a baul community. 66-year-old Netai Das, who is the inventor of this new musical instrument belongs to this community. Das is a respected Baul and is a disciple of famous Purna Das Baul. He comes from a family of baul singers of Siuri and is well-known in the locality. But Netai Das wanted to leave his mark even post 60, and started experimenting with instruments. Before embarking on this new instrument, he had also made a massive Tanpura and a special wooden instrument. Then he wanted to make a fusion instrument and that's how Taramandal was born. He has used a wooden frame and ply for the instrument.
Netai Das has travelled to countries like Japan with his troupe and wishes to use this new instrument on his foreign trips too. Incidentally Das is not just a baul singer, but also sings classical vocal. He has fused Kheyal with Baul and has received several awards for his unique renditions and work on fusion music. Hence Taramandal will help him in his journey with fusion music for sure.