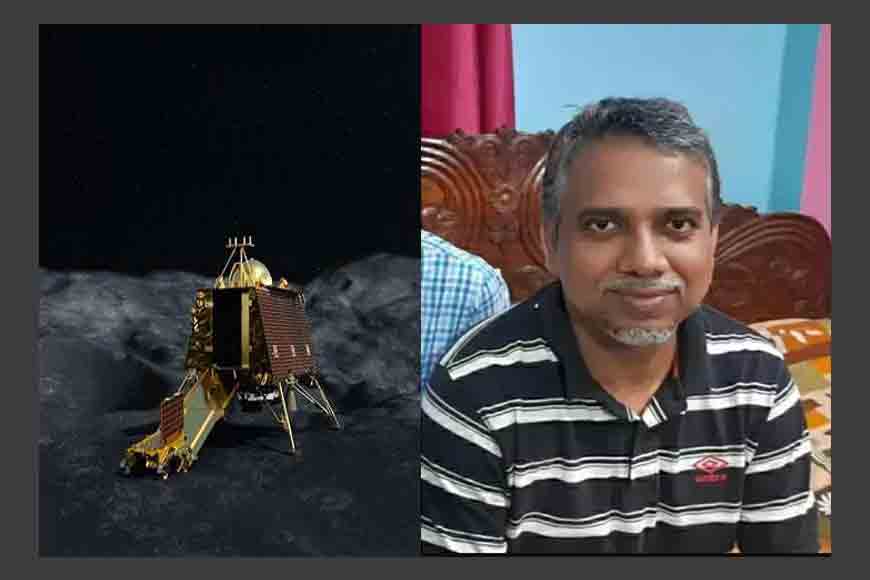 Chandrayaan-3 camera designer Anuj Nandi
While the world and India celebrated yesterday's space miracle with Chandrayaan 3 successfully landing on the moon's south pole, making India the first country in the world to land there, a family in West Bengal's Islampur was ecstatic. Their son and well-known ISRO scientist, Anuj Nandi, was not just part of the Chandrayaan-3 mission ISRO team but played a significant role as the chief designer of the cameras attached to the primary body of Chandrayaan 3. Chandrayaan-3 was launched from the Satish Dhawan Space Centre in Sriharikota at 2:35 p.m. on Friday, July 14.
Nandi's 70-year-old mother told the media yesterday that she is now praying for the equipment designed by her son to work flawlessly on landing, and take rare and never-seen-before photographs of the South Pole of the moon. Every family member was basking in the glory while watching the event on television. Nandi's younger cousin, Animesh Nandi, said that although he does not know much about the subject or the mission, he could only understand that his cousin achieved "something very big". His 15-year-old son Aritra was also glued to the television set when the spacecraft was launched. Anuj Nandi grew up in the small town of Bengal and did his schooling and college here.
Anuj Nandi's family members are residents of Islampur's Ashrampara. He was a student at Ambagan Primary School and later studied at Islampur High School. He completed his graduation from a college in the district headquarters of Raiganj and got his Master's degree in Physics from Jadavpur University. "I am very happy that a boy from a small place like Islampur has made it to ISRO and contributed to the Chandrayan-3 project. I am elated. This is a rare kind of happiness. I do not feel this way often," said Bani Prasad Nag, one of his teachers at Islampur High School.

Another Bengali scientist's name added to the Chandrayaan 3 list is Jalpaiguri's Koushik Nag. A software engineer, Koushik did his schooling at Jalpaiguri's Holy Child School and then did a BTech in Computer Science from Jalpaiguri Engineering College. Just at 29 years old, he was inducted into ISRO's Chandrayaan 3 team. Koushik's mother could not hold back her tears and said, "My son always wished to work on space research. Today is not just a happy day for our family but for the whole of Jalpaiguri town, as my son has proved that home-grown and locally educated scientists can also win and achieve world-class feats."
As Indians and Bengalis, we are indeed proud of Anuj, Koushik and all the other scientists involved in the endeavour irrespective of their nationality.