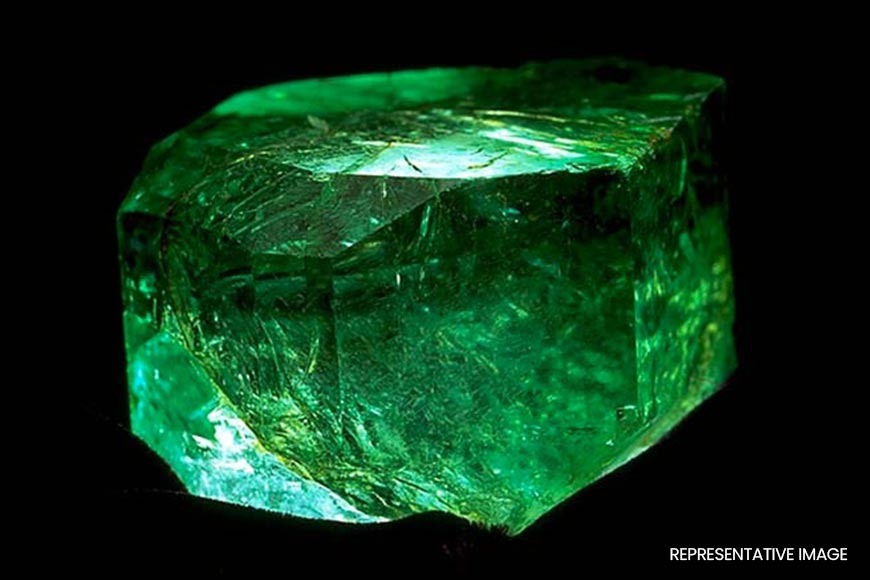 Amodest resident of Durgapur has made his town and the country proud with his remarkable discovery and now his name appears in the coveted Guinness World Records Book 2022. Geologist Manas Bandopadhyay has created quite a stir globally by unearthing the world's largest uncut emerald. The emerald, weighing 7,525 carats (1.505 kg/3 lbs and 5.09 oz) has been excavated in Zambia and subsequently made it to record books. Discovered by Bandopadhyay and Richard Kapeta and their team in July 2021, the emerald was traced to the Kagem mine located in Zambia's Copperbelt province in South-Central Africa. According to a moderate estimate by industry experts, the current market price of this 1.505 kg and 7,525 carats precious emerald is more than Rs 15 crore. The Bengali geologist has suddenly become a sensation, not only in his hometown but globally and people are talking about his feat everywhere.
Bandopadhyay hails from Sanbandha in the Bankura district but since his father was an employee at Durgapur Steel Plant (DSP), the family moved to Bidhannagar in Durgapur. Manas did his schooling at the local Kashiram Das Road Boys High School, DSP, and then his graduation, specializing in Geological and Earth Sciences, from Durgapur Government College. He completed his Masters in Geology from Burdwan University. After M Sc, Bandopadhyay got his first job as a geologist in Mumbai. He worked as a senior geologist with distinction in various mines in Congo, Senegal, and Saudi Arabia.
In 2017, he moved to Zambia. Zambia's enormous mining industry and natural resources have always been its social and economic backbone. The country is a rich storehouse of uranium, silver, cobalt, copper, coal, lead, silver, zinc, emeralds, and gold. Zambia is also a chief global producer of semiprecious gemstones. Bandopadhyay joined Kagem Mining Limited as Mine Geologist. Kagem Mining is the world's single-largest colored gemstone-producing mine, jointly owned by Gemfields and the Zambian Government's Industrial Development Corporation.
Located in the southern part of Zambia's copper belt, this open-pit mine lies in the center of a mineral-rich province called the Ndola Rural Emerald Restricted Area. Following the liberalization of mining in the early 1990s, Zambia has become one of the most valuable emerald sources in the world. Bandopadhyay's diligence and efficiency paid rich dividends and within four years of his joining the company, he was assigned to lead an important excavation project as Production Geologist. The six-member team included Zambian mining expert Richard Kapeta and two Zambian security guards. The expedition led to the discovery of Chipembele, the world's largest uncut emerald on July 13, 2021. The emerald was named Chipembele which means "rhino" in the indigenous dialect of the Bemba people of Zambia.
Before the discovery of Chipembele, two other huge emeralds were also unearthed from the same location. The first one was 'Insofu' or 'elephant' which was discovered in 2010 and another one was found in 2018 and named 'Inkalamum' which means 'lion.' Infosu weighed 6,225 carats (1.245 kg) and Inkalamu weighed 5,655 carats (1.131 kg).
Israeli-based Eshed-Gemstar, a worldwide diamond and emerald supplier, purchased "Chipembele" – the 'rhino emerald.' Gemfields noted that "Chipembele formed under near perfect conditions, allowing the combination of the elements to crystallize into large, distinct hexagonal crystal structures with glassy surfaces."
Avraham Eshed, the founder of Eshed Diam and Gemstar, in a statement, said, "We wanted to do something really special to celebrate our relationship with Africa and African gemstones and there is nothing more suitable than breaking the Guinness World Records title for the largest uncut emerald. We are here to inspire people worldwide and introduce them to the exquisite beauty and rarity of natural gemstones – especially the natural gemstones from Africa. We want to pass our knowledge and love for natural gemstones to future generations."
Bandopadhyay meanwhile, left his job at Kagem Mining Limited towards the fag end of last year and returned to India. He is currently working as a Senior Consultant at GeoRocks Consulting and operating from his home in City Centre, Durgapur. His wife, Rimi Bandopadhyay is a teacher in a private school. Manas Bandopadhyay's profession usually beckons him to distant lands, leaving his wife to take care of the home and hearth single-handedly. But now that he is back, he is chipping in his bit and enjoying it too. He is happy to note that his discovery has initiated an interest in geology among the public and that, he feels, is a positive outcome inspiring others to study geology.