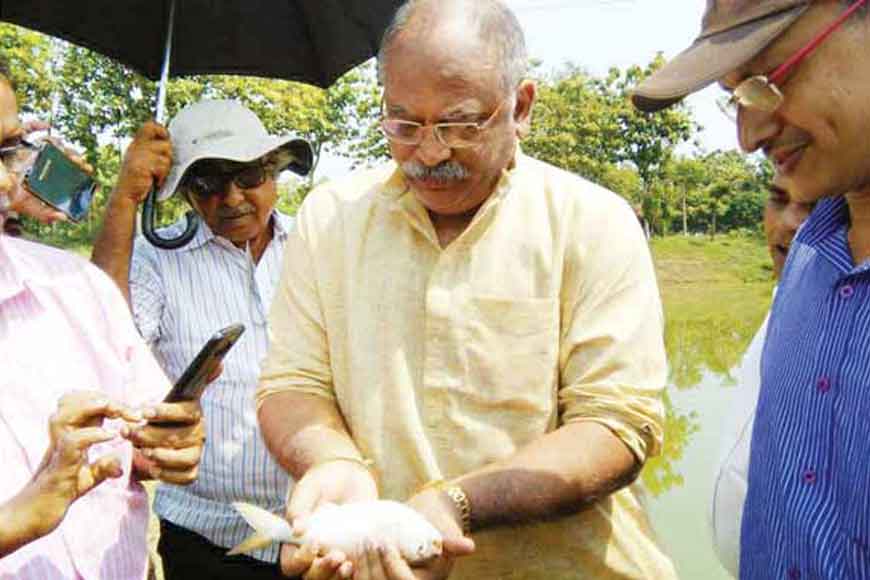 Ever heard of Hilsa or Bengal's Ilish being reared in a pond? As monsoon knocks at our doors, every household in Bengal will celebrate their love for food through Ilish dishes and restaurants through Hilsa festivals. We all know that this fish is a delicacy not just for its taste but because it is found only during the monsoons as they come to spawn in the river waters from the sea. But just two hours away from Kolkata, there is a 59-acre hatchery and fishery in Mogra where Hilsa is being reared along with Rui, Katla and Chingri have been growing up together. The Hilsa fishlings have already grown to 18 months and are almost 500 grams in weight.
This is all due to the enthusiasm of Chandicharan Chattopadhyay and his hatchery, where Hilsa eggs have been hatched under artificial conditions and they are growing. Hilsa experts of the state are surprised that our favourite Ilish is growing in sweet water. According to the sources, this hatchery has yielded around ten lakh hatchlings of Hilsa before the monsoons. These hatchlings will then be released in two estuaries of Ganga near Diamond Harbour and Kharapgur. The minister of fisheries will accompany the Hilsa experts to release the Hilsa hatchlings at Diamond Harbour on July 10. These hatchlings will grow to a kilogram in the river water.
But why did Chandicharan Chattopadhyay start off this experiment? The journey began almost three years back. He paid a visit to Meen Bhavan in Salt Lake and gave this proposal. Initially, nobody paid heed to it. But the state fishery ministry understood the potential behind this proposal and offered assistance. The journey became easier for Chattopadhyay. He took this up as a challenge and ended up producing Hilsa in a pond, much to everyone's surprise. Today, Chandicharan Chattopadhyay is truly happy because he has been able to convert his dream into reality.
Image Courtesy: https://www.sangbadpratidin.in