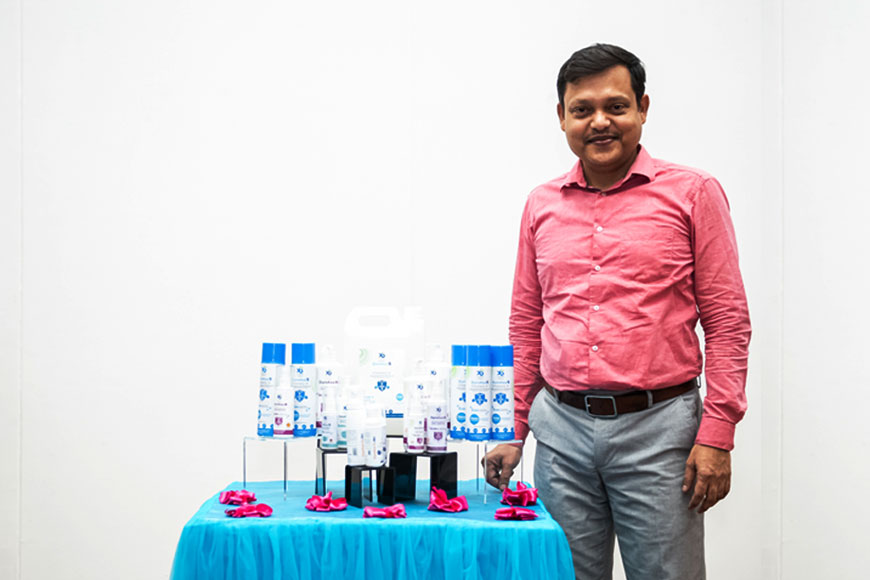 Conventional hand sanitizers do kill viruses like COVID instantly, but as soon as the alcohol dries out in less than a minute, your hands might get contaminated again. The need of the hour thus is a long-lasting hand sanitizer that can provide constant protection. Researchers at the Indian Institute of Technology (IIT), Hyderabad have come up with a new innovative, long-lasting hand sanitizer technology, titled DuroKea. Developed by Bengali scientist Dr. Jyotsnendu Giri, Associate Professor, Department of Biomedical Engineering and his team, the new DuroKea sanitizer is an adhesive nano formulation to provide instant killing of virus as well as prolonged protection against a wide range of germs including COVID-19 Virus. Dr Giri's phenomenal work has been hailed by both the scientific and medical fraternity.
Dr. Giri's research group - Engineering Nano-materials and Regenerative Medicine Laboratory (ENARM Lab) - focuses on research and innovation for effective and affordable healthcare solution in the areas of nano-medicine and regenerative medicine. The team started work on the DuroKea project early last year and developed the composition using Isopropanol/Ethanol, Mecetronium Ethyl Sulphate, Glycerol, Brilliant Blue and Fragrance (Jasmin/Clove/Lavender Oil) and followed all the standards recommended by WHO and CDC.
After completion, Dr Giri's team tested the products through extensive field trials and validation from a large number of Central and State government-accredited laboratories. The unique property of the DuroKea range is not only to ensure instant killing of viruses within 60 seconds, but to also provide long-duration protection from these viruses. How does the sanitizer work?

When you apply long-lasting hand sanitizer on your hands, the alcohol instantly kills pathogens, and evaporation leaves behind the nano-formulation coating on your hand surface for long-lasting protection. Its unique positively charged nano formulation electrostatically attracts pathogens (normally negative charges) and kill instantly (<60 sec) by synergistic action of physical disruption (similar to silane) and chemically lysis from released molecules in close vicinity of pathogens.
Dr Giri and his team have made four types of sanitizers for specific uses -- Durokea-S, which is a long-lasting surface disinfectant, DuroKea H, which is along-lasting hand sanitizer, DuroKea H Aqua, which is a long-lasting foam hand sanitizer and DuroKea-M, to be used as long-lasting anti-viral mask quoting. The product has been named DuroKea by joining two words – 'Duro' from duration and 'Kiya' is a Japanese word meaning care or protection.
Dr Giri says these nano-formulation products are the first of their kind in the country as well as abroad with superior efficacy and affordability. DuroKea products are expected to play a crucial role to combat the current pandemic and hospital-acquired infection in the healthcare sectors by acting as a long-lasting surface disinfectant and hand-hygiene products.
Dr Giri hails from Balabhadrapur, a small faceless hamlet in Contai (Kanthi) in East Midnapore district. He completed his B.Sc from Ramakrishna Mission College in Belur, Howrah. After this he did M.Tech in Chemical Engineering from Rajabazar Science College, Kolkata. Then he left for Mumbai IIT for his doctoral degree. After completing his PhD, he went abroad for his post doctoral studies. He completed his first post-doctoral studies from California Institute of Technology (Caltech) and obtained his second post-doctoral degree from National Institute of Health (NIH), USA. After he returned from the US, he took up a teaching job at IIT, Hyderabad, where he is now an Associate Professor.