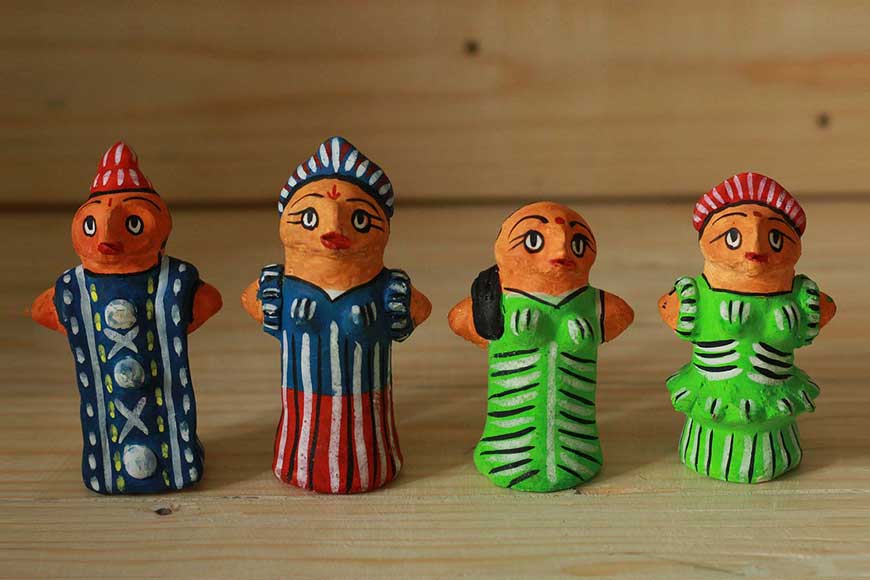 Terracotta or clay craft has been the symbol of man's first attempt at craftsmanship, just as the potter's wheel was the first machine invented to use the power of motion for a productive purpose. However, its association with religious rituals has imbibed it with deeper significance. Bengal has an ancient heritage of clay toys and dolls including terracotta figures.
Heemputul available at www.thebengalstore.com
Buy now
Dolls have been customarily crafted by women from the potter communities. Each type has a distinct local identity and is made differently. Although they are primarily toys for children, yet the technique used for creating them, the stories weaved around them and their role in the society make these dolls cultural indicators as well. Some of the well-known indigenous dolls include the Ahlad-Ahladi dolls, woman with pitcher, village belle, animals and birds, formally dressed European gentleman and lady – all created by Majilpur artisans of South 24 Parganas, Rani Putul of Howrah district, sculpted in the form of Queen Victoria, terracotta dolls of Panchmura, Hingul dolls and Tusu dolls of Bishnupur, Jo dolls of Medinipur, Kanthalia dolls of Murshidabad, Sasthi dolls of Coonoor, Manasha Pot of Dakshindari and Shiva Head of Nabadwip.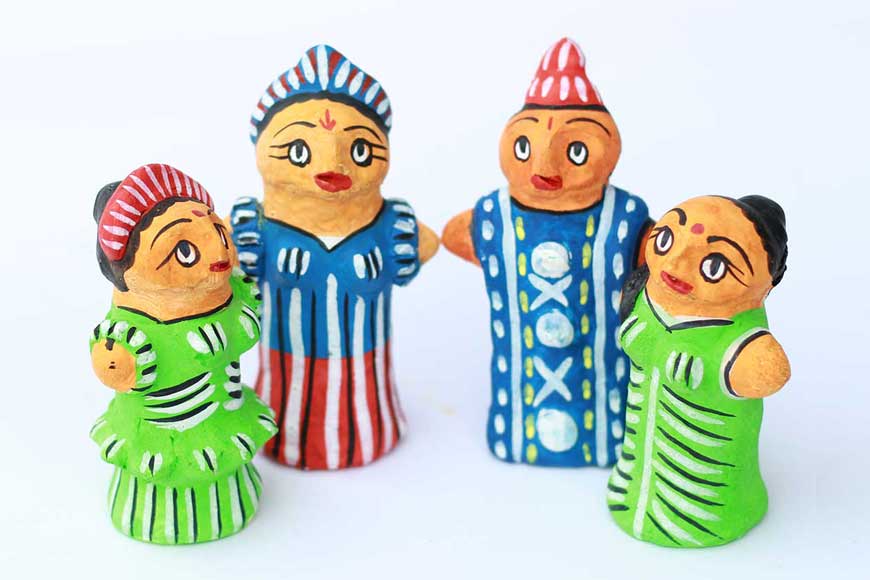 .
Since time immemorial, terracotta mother figurines and Shoshthi dolls (the Goddess who blesses motherhood) are worshiped in different parts of Bengal. Different kinds of such terracotta figurines have even been found in archaeological excavations. The ritual is popularly called Soshthi pujo (performed in the month of Jaistha). These figures vary in shapes and sizes from region to region. However, they are all made of terracotta. Praying for a child in the family, these dolls are brought into the house and worshiped by women. Usually, the women folk in the family perform all the rituals. The wife or the mother in the house reads the story/chants (bratakothaa). Once the prayers are heard and a child is born, these dolls are left under a banyan tree.
Heemputul available at www.thebengalstore.com
Buy now
Hingul aka Heemputul have become very popular these days. These dolls are the folk version of the traditional Shoshthi dolls. The basic difference between a Hingul and a Shoshthi doll is that the latter will always be shown as carrying a child. Heemputul are made of clay and dried under the sun and dyed with various herbal colours which make them look vibrant. Traditionally cinnabar (locally called hingul; a bright red mineral consisting of mercury sulphide), was used as a pigment to colour these dolls.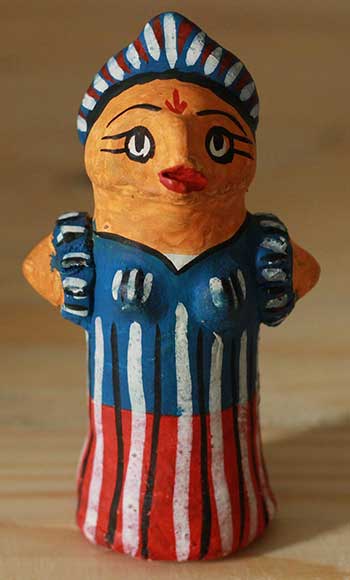 The women from Foujdar family in Bishnupur, have continued making these dolls even today. Made of clay, traditionally cinnabar is used to colour these dolls. Bankura and Purulia districts have mines of cinnabar. The interesting fact about these small dolls is their attire. Most of the Heemputul appear in frocks, hats and have a lot of western influence in their structure. Western dolls tepa putul, made by pressing the clay with fingertips have a lot of bearing on Hingul dolls.
At present, Sheetal Faujdar and his family is involved in making these dolls. He is a descendant of Kartik Faujdar, the brilliant artist who introduced Dashavatar cards to the great Malla monarch, Bir Hambhir. The family tradition continues and now Sheetal Faujdar's household, especially the women in the family carve out exquisitely beautiful Heemputul. They also paint Dashavatar cards and Durga Pata, as they have been doing for generations.
Story Tag:
Heemputul, Traditional clay dolls of Bengal