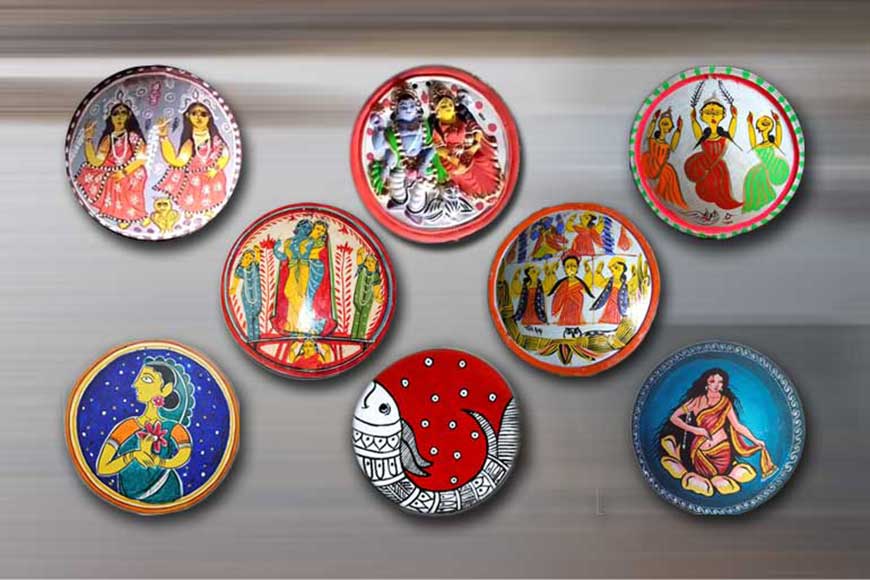 Bengal has a rich cultural and artistic heritage. Its myriad artistic diversity is manifested in traditional handicrafts, masks, painting and carving, dance, music etc. The captivating art of Shora painting has been part of this rich heritage for hundreds of years. 'Shoras' are round terracotta plates used to cover earthen pots. Later, the shoras were used as independent medium and became part of different religious rituals.
The round convex surfaces of the shora serve as excellent grounds for painting. Shora art is one of the most renowned genre of traditional painting in Bengal that thrives in the hands of the 'Kumbhakars,' or potters. The word 'Kumbha' indicates a profession that entails artistic acumen in making earthen pots and pitchers. However, throughout Bengal, there are potters who are also engaged in painting clay idols and potteries. Among the products that are granted a status equal to painting, are the painted earthenware known as 'Lakhsmi shora.' This type of painted earthenware, made on the occasion of the Lakhsmi Puja, embellishes the village homes throughout the year following the rituals they serve during the puja. Furthermore, as the surface of the shora – a concave circular pottery – is almost plain, so experts have been referring to them as 'painting,' not as painted shoras, hence the popularity of the category – shora painting.
The deities that adorn the shora surface other than Goddess Lakshmi are Narayan, the owl which is her mount or vehicle and strands of paddy, symbolizing plentiful harvest. There are shoras depicting the jugol-murti (coupled together) of Radha-Krishna, embellished with pastoral floral motifs, Sureshwar/Shureshwari shora depicting Mahadev and Devi Durga as its primary motif. There are shoras dedicated to some Ghazi (a holy fighter for Islam) or depicting scenes from Muharram which are considered sacred and preserved with piety by Muslims.
Shoras are coloured with bright, natural colours. After completion of the motif, sago (edible starch obtained from palm) or crushed tamarind seeds are boiled and rubbed evenly on the surface for a shiny texture. Shoras are not only used as part of religious rituals, but decorated shoras have gained popularity as items of home décor as well.
Shoras are classified under several heads according to their functionality like Phool shora, Dhakna shora, Mupi shoira, Dhoop shora, Aam shora, Ayeo shora, Telni shora, Ghazi shora, Antoor shora, Muharram shora etc. There are different genres of Shora painting as well . Some of the well-known styles are Sureshwari Shora, Ek-Lokkhi Shora, Teen Putul Shora, Paanch Putul Shora, Joya-Bijoya Shora etc.
Lakshmi shora is worshipped by people from erstwhile East Pakistan (Bangladesh) on the night of Kojagari Purnima (Sharad Purnima, also known as Navanna Purnima, or Kaumudi Purnima). These days, Shora art, the rustic form that originated in the villages to fulfill religious and ritualistic requirements, has evolved into an independent art form that has an ever-expanding market reaching distant shores.
Story Tag:
Shora Painting, Bengal Art