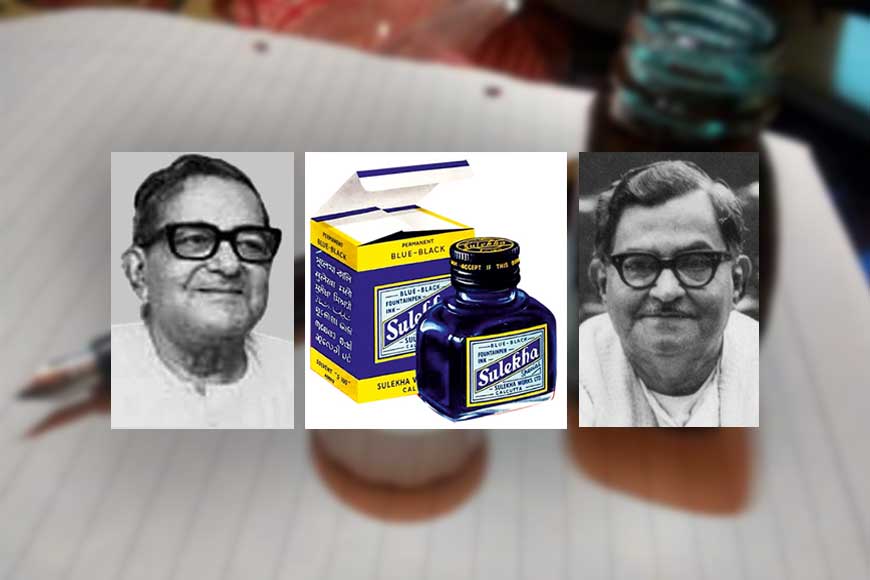 All of us at some point in our lives have been mad about that Fountain Pen! Call it nostalgia, call it aristocracy, or just a royal, colonial hangover. Even for millennial kids today, fountain pens though obsolete, have a special collective value for sure. It is a luxury item for them and a collector's pride. But what about running that golden nib on a piece of snowy white paper? Yes, the blue or black ink, that smoothly glided over letters and words, bringing out thoughts.
And here's where Sulekha Ink comes into play. Considered as the symbol of National Pride, the company was started by two brothers of undivided Bengal --- Nanigopal and Sankaracharya Maitra in 1934 at Rajshahi (now in Bangladesh). What many of us do not know however, is the Maitra brothers were ardent followers of Mahatma Gandhi and it was when Gandhi wished everything to be Made in India, and called for people to shun foreign goods, that this business idea of ink manufacturing for fountain pens came up! During the independence era, Sulekha was a symbolic attack against the British regime by breaking the monopoly of British Ink brands like Quink!

With the blessings of Mahatma Gandhi, Sulekha Ink became a pioneer in manufacturing of writing inks to boost the Self-Reliance or Swadeshi Movement. Realising the importance of the erstwhile Calcutta market, in 1939, its works were shifted to Kasba and thereafter moved to Jadavpur in 1946. In the same year, the company became public limited, ultimately having more than 1000 shareholders. In the 1960s, two other units of Sulekha were set up at Sodepur (North 24 Parganas) and Ghaziabad (Uttar Pradesh). In the early eighties, Sulekha expanded further in India and abroad with several governments from different countries of South Asia and Africa inviting it to set up their own writing ink and writing instrument-manufacturing units.
However, each business story has a rugged graph at times. Thanks to disruptive trade unions in Bengal in the 1980s, Sulekha Ink had to shut down. After closing down and going to liquidation in 1993, the owners settled their debts and were resilient to come back again. And it did turn around! They restarted operations in November 2006, by diversifying into various sectors. Other than their flagship Ink, the company is now into stationery, homecare and solar powered products sectors too. Since 2011 the company has started posting huge profits too.
The company also tried to regain its lost glory by launching a campaign on use of ink in schools to make students aware that ink pens are far more environment friendly than plastic ball point pens.