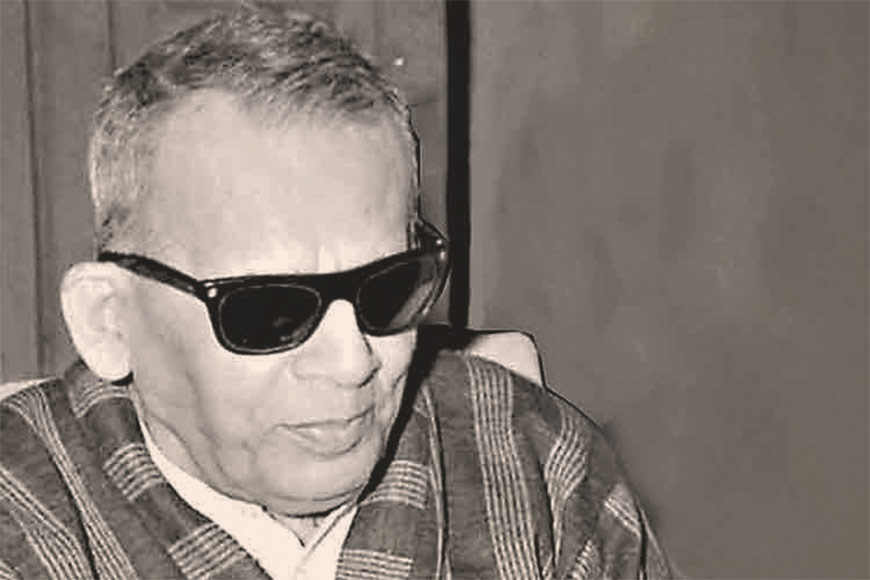 "The person who is not roused by a pulsating image, a small touch or sound, can make no sense of the word beauty. A person who neither knows, nor thinks beyond his worldly needs has no use for beauty…." that's what Benode Behari Mukherjee had once said. For someone who lived in a world of monochromes, surrounded by haze and shadows and then engulfed by total eclipse, to produce such an enviable body of works in the field of art and literature is the very personification of the afore mentioned quote. Benode Behari was one of the earliest artists of modern India to take up to murals as a mode of artistic expression. All his murals depict a subtle understanding of environment through pioneering architectural nuances.
Benode Behari Mukherjee was born into a scholarly family on February 7, 1904. During his childhood, he suffered from an illness that affected his vision, making him blind in one eye and myopic in the other. He was also a sickly child. These difficulties left him with little opportunity for conventional education. He enrolled in different institutions but he confessed to never having sat for an examination in his entire life. With little opportunity for formal education, he largely spent his time at home reading books and painting. It also meant that he spent long hours in peacefully watching the hurried life of the big metropolis from his bedroom window.
At the age of 12, Benode Behari was sent to Santiniketan. Certain rules were relaxed for him keeping in mind his poor eyesight and weak constitution. He was placed under the tutelage of Jagadananda Roy who asked him to produce a series of drawings for his book on insects. Though he made little progress in his regular studies, this small assignment earned him genuine admiration and respect from his classmates. His talent in painting was instantly recognised. Kala Bhavana was set up in 1919, even before Visva Bharati was officially established and it was during this time that Dhirendra Krishna Deb Burman insisted Benode Behari to join him in the recently set up visual arts department.
At Kala Bhavana, each student had a different temperament and artistic outlook and they were allowed to work independently. Nandalal Bose was at first a little skeptical about the prospects of Benode Behari Mukherjee. But the diligence and skills of the teenager together with the prudent advice of Rabindranath Tagore helped Nandalal to put his mind at rest. Benode Behari chiefly responded to the harsh landscape of Santiniketan and the life it harboured within its bounds. The many fascinating details around him – clusters of trees, an almost dry riverbed, women chatting and going about their daily chores, a bustling marketplace – all found their ways in his sketches and drawings of this period.
He realised early that he had no interest in creating paintings with a metaphorical bend or mythological subjects. His models lay scattered around him, hidden under various shapes and guises, alive to the artist with endless possibilities. Later he joined Kala Bhavana as a teacher in 1925 and taught till 1949, inspiring many students, who would later become celebrated artists, like Jahar Dasgupta, K.G. Subramanyan, sculptor and printmaker Somnath Hore, designer Riten Majumdar and filmmaker Satyajit Ray. During this period, along with teaching, Mukherjee also began painting and sculpting extensively, proving this to be one of his most creative period. By that time Ramkinkar Baij had already established himself in Santiniketan and the two soon became great friends.
Driven by an intense desire to gain a first-hand experience of Far Eastern art, he spent a few months visiting museums and galleries in Japan. During this time, Rashbehari Bose, who was in exile in Japan helped Benode Behari. Art historian Saichi Taki introduced him to the Director of the National Museum in Tokyo, Akiyama, who allowed him to closely inspect the sketchbooks and other items from the collection of the museum. This experience profoundly influenced the young artist who, once back in Santiniketan, worked with renewed vigour. During this time, he developed a style that veered away from overt symbolism of literary subjects and mythological descriptions to portraying simple representations of his surroundings, capturing the landscape and life in and around the university.
Apart from nature, Benode Behari took his inspiration from Chinese and Japanese art and began experimenting with murals which he felt were more expressive. He adopted different media to work on from sketches, calligraphy and water colours to tempera on wood and then gradually moving on to silk, textile block prints and finally paper cuts. From Kala Bhavan, he went to Nepal as curator of the Nepal government museum and on his return, he taught at the Banasthali Vidyapith, a women's educational centre in Rajasthan for a year after finally, settling in Missouri in 1952, along with his wife Leela. Together, they started an art training school. The mountains inspired him to make landscape his major subject once again, creating works that captured the transient aspect of nature with mountains and mists being the dominant motifs.
In 1958, Benode Behari joined Shantiniketan's Kala Bhavan again as a faculty and later became its principal. All these years, his eyesight was gradually failing and following an eye operation in 1956, he completely lost his sight at the age of 52. But as with all great artists, physical disabilities couldn't stop him from his creative pursuits, even if it was the eyesight, perhaps the most important tool of an artist. But here he proved that it is the inner vision that makes a great artist and he began to paint, draw and sculpt depending only upon this quality to see from the "inner eye".
After losing his eyesight, he started to write about his experiences. The book that brought him fame as a writer in Bengali was 'Chitrakor' published in 1979, a collection of autobiographical pieces. 'Chitrakor' was landmark work of literature that won two awards in 1980, namely the Rabindra Puraskar and the Bhartiya Bhasha Parishad Award. Satyajit Ray, who considered Benod Behari his mentor was so impressed by the latter's paper cut works called 'The Inner Eye,' that he made a documentary on this work with the same title in 1973. 'Blindness is a new feeling, a new experience, a new state of being'— Benode Behari would always say. Probably the great artist could overcome even blindness through his art.
The Inner Eye - A Documentary on Benode Bihari Mukherjee by Satyajit Ray (1972)