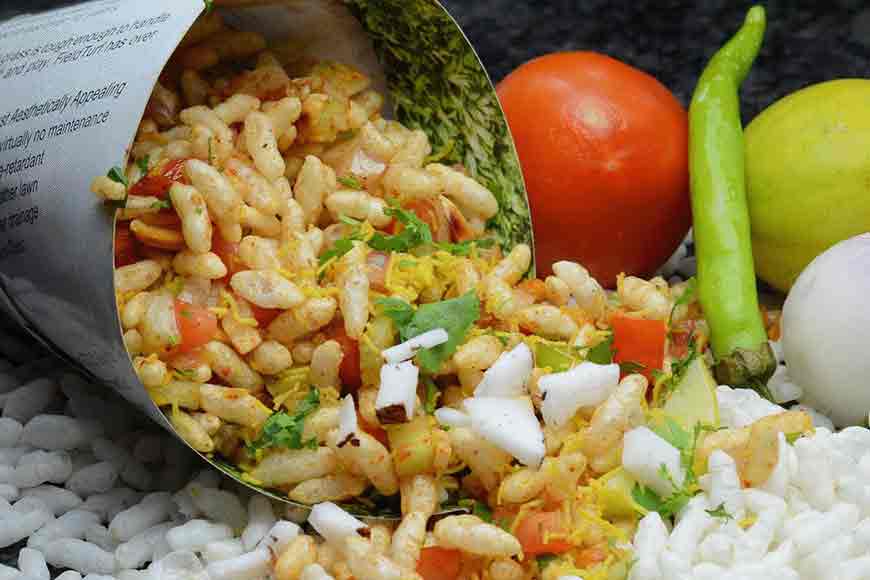 Jhalmuri-wallahs have dotted streets and lanes of Kolkata since time immemorial, precisely since World War II, when this tangy, hot and sweet nutritious street food was introduced by immigrants from neighbouring Bihar and Uttar Pradesh. These days, each Kolkata neighbourhood proudly boasts of their 'Jhaalmuri guy.' It is intriguing that such a simple mix of ingredients can demand such finesse - a little of extra something, or a little less of something, and the whole concoction is thrown off gear. There are many joints famed for making that muri so wow! And here's a list….
• Most hygienic jhaalmuri: Well, if you are on the look out for hygienic street food head to M.L. Roy shop on Rashbehari Avenue and then to the lane beside it where sits a jhaalmuriwala who washes even the tomatoes in mineral water, not to mention the other ingredients that are cleaned with water before serving.
• One of the oldest: Beside Basanti Devi College is the stall of a jhaalmuriwala who runs the shop since 30 years. His ingredients are awesome! From the matar to the veggies! He comes up with surprising concoctions, particularly what we call the jhaalmuri Bangla style.
• Shingaraa Jhaalmuri: If you want crumbs of shingaara in your jhaalmuri, head to Ram Mandir.As you proceed northwards, different pockets on Central Calcutta have their specialized joints. Customers thronging around Jhaalmuri-wallah son Muktaram Babu Street, Ram Mandir, Girish Park, Burrabazar, Satyanarayan Park could give any fast food joint a run for their money.
• Vardaan Market: Teeming with street food stalls. It is often said people hardly go there for shopping, they are more interested in the variety of street foods that are sold on the footpaths right infront. From lassi in the bhanr to dosa and chilla, to bread-toasts and phuchkas and kulfis, one gets anything and everything down this corner. But the Jhaalmuriwallahs right outside the Vardaan and at a stone's throw on Camac Street infront of Pantaloons are famous for their out-of-this-world Jhaalmuri concoctions. Their hands move deftly as they listen carefully to instructions amid the din and in seconds, prepare the Muri to perfection! Needless to say, they come at a price!
10px; padding-top: 10px; padding-bottom: 10px; padding-right:10px; text-align: justify; line-height: 30px;">
• Muri-wallahs of North Kolkata: On Beadon Street, College Square, Hati Bagan, near Bethune College and Sottish Church College near Hedua, in between Shyam Bazaar and Bagh Bazar. These areas are not the business districts and life goes on, at a smooth leisurely pace. Residents here seek more variety like the addition of amra (hog plum, wild mango), aam-ada (galangal) and star fruit to make the muri smell pungent and taste tangier.
• The kiosks just outside Rabindra Sadan Metro station, Nandan complex, near Haldiram, outside Academy of Fine Arts are renowned for their spicy Jhaalmuri. Their business graph has moved steadily upward, despite tough competition from fast-food giants like Benfish, roll corners, idli-dosa joints and momo eateries. Jhaalmuri is still the queen!
• Pavements off Citi Mart and Shreeram Arcade in Esplanade have housed some of the greatest street food stalls in the city for years now and the Jhaalmuri here is a time-tested concoction. Vendors have been selling Jhaalmuri for generations. Sometimes, an elderly father is seen instructing his young, inexperienced son how to go about it. The apprentice muri-wallahs are admonished by experienced hands who don't mind leaving their kiosks to teach the young guy how to make it to perfection.