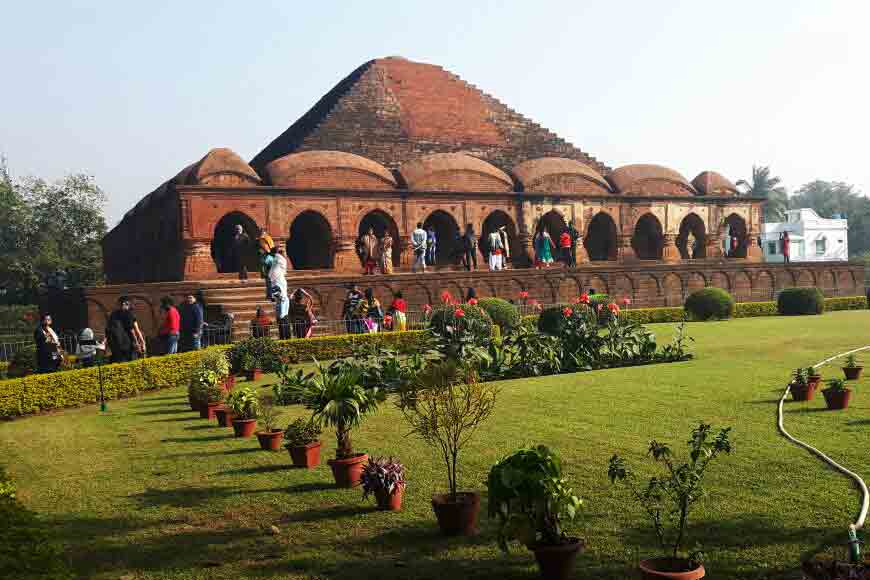 Travelling to Bishnupur, was not just walking down annals of history, but for me it was also revisiting my past. Had been to this Terracota district while I was in college, and needless to say I had forgotten half the history surrounding these structures. So, this time around I decided to take a guide, accredited by Government of West Bengal, and needless to say, he was not just well conversant with the history of the area, but also was an English speaking ex-teacher of a government high school. I was quite happy to be in company of this old man, who almost spoke like he was giving a history lecture in his class.
As I was stepping hurriedly into the famous Bishnupur Raash Mancha, he stopped me a bit. I do have a habit of rushing into things, specially when an architecture enthralls me, I just can't wait to see it from close quarters. But what he showed me from a distance, was definitely something to ponder on. A look at the Raas Mancha from a distance clearly shows the head of the temple reflecting the Egyptian Pyramid structure, a part of which was damaged by lightning. The rest of the mancha has a distinct collection of burnt bricks and clay tiles that have such exquisitely carved patterns of lotus and arches, that you are at once reminded of Rajasthan's forts.
When I mentioned Rajasthan, my guide was quick to respond. He mentioned the Malla Kings of Bishnupur originally were brought from Rajasthan during Mughal Emperor Akbar's rule. And later they converted to Vaishnava culture and started building temples primarily of Krishna and Radha. Hence, no wonder the various well-known temples in and around Bishnupur built by different generations of Malla Kings do show an influence of both Mughal and Rajasthan's Rajputana architecture.
The temples are mostly 400 years old, but they still retain the original colour and texture of the terracotta tiles and bricks intricately made by artisans of those ages. What was even more surprising were the white Rajasthani meenakari patterns. Instead of marble, on which it is easier to engrave, they are made from shell powder! I was pretty shocked at to how sea shells were crushed and solidified into a mass and then engraved into exquisite frescos!
The Bishnupur temples somehow reflect the ethos of Bengal, that has always been the meeting point of cultures. The architecture of these exquisite Terracota Temples reflect that amalgamation of Muslim, Rajputana and Bangla's very own Aatchala and even Egyptian architecture!