Blindness could not stop Sabita Haldar from becoming the Howrah Station announcer - GetBengal story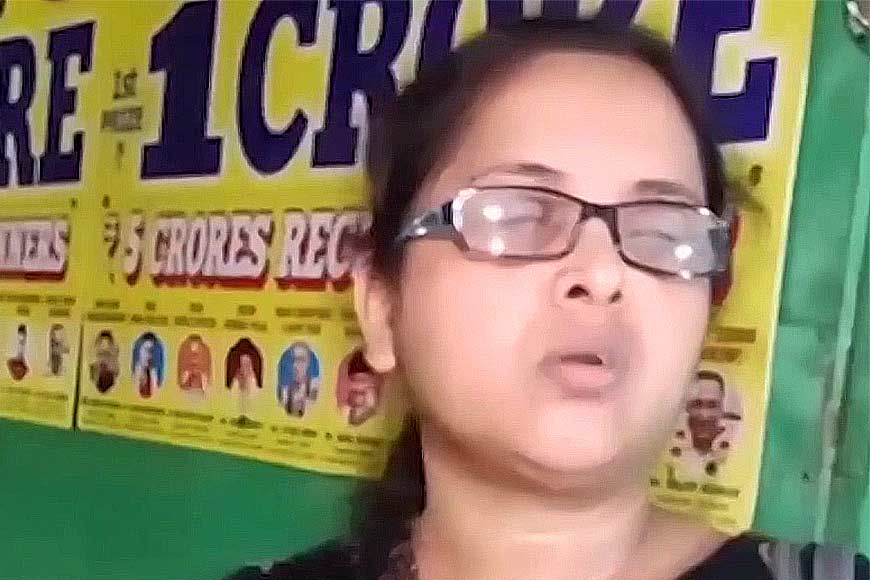 Sabita Haldar, Howrah Station Announcer
In the bustling heart of Howrah station, where the symphony of urban life plays its complex tunes, there exists someone, whose perception of the world transcends the visual spectrum. Meet Sabita Haldar, a remarkable woman who defies societal norms as a blind station announcer at the busiest railway hub of India. We know of people who have overcome several disabilities to shine bright, by going the extra mile to prove their worth, overcoming several challenges. Sabita is one such icon, an inspiration to many.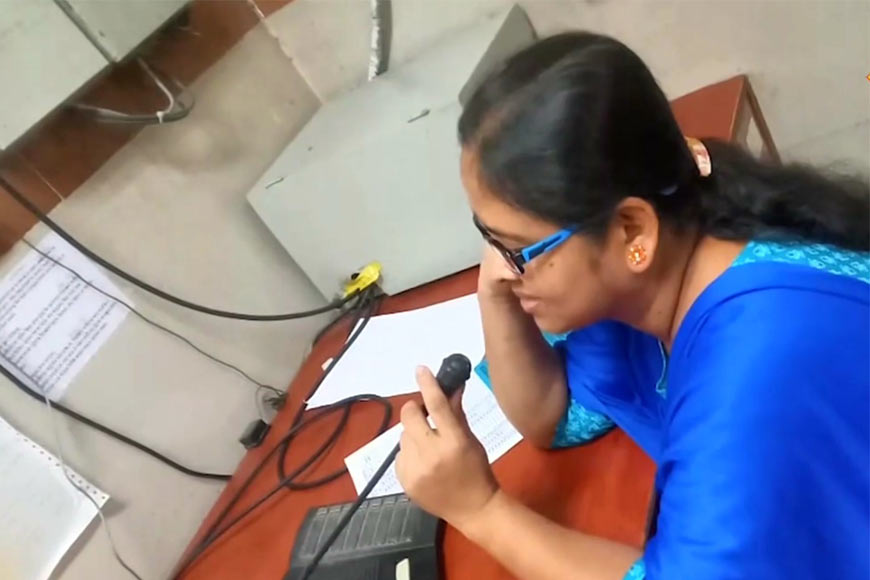 Sabita lost her vision when she rejected the proposal of a young man. She is a resident of Shaktinagar, Maslandapur of North 24 parganas. Sabita excelled in academics and passed out her secondary examination from the local Bhudev Smriti Girl's School. She rejected a love proposal when she was in class 11. A fellow young man from her neighbourhood proposed to her and when she rejected him, he wanted to take revenge. One day he suddenly burst into Sabita's house and threw sand into her eyes to blur her vision, so that she was unable to escape the situation, after that he pierced nails into her eyes and took her vision forever. Initially, she became very depressed as suddenly her world became engulfed in darkness. She experienced the horrifying reality of a patriarchal society where she was a victim to an unforeseen crime that ruined her life forever, a life that had so much promise. Her parents took her to many places for treatment, for they could no more bear the pain that Sabita was going through, but every doctor made it clear that her eyesight can never be restored. They gave them no hope.
However, Sabita decided not to bow down anymore to her blindness. Instead, she decided to live life to the fullest and brought back her vibrant spirit. Instead of succumbing to the darkness, she developed an acute sensitivity to the sounds around her and learnt to live in a new world with which she was not acquainted when she had her eyesight intact.
Sabita's father, Mannath Haldar, is a vegetable seller by profession and her mother is a housewife. After the incident, the poverty-ridden family descended into further financial crisis as they were trying for Sabita's eyesight to be restored and medical expenses were high. Gradually, Sabita started to take control of the situation and struggled to find a means of livelihood. She cleared the railway examination despite many hurdles and bagged a job. Currently she works at the Howrah Station as an announcer who helps navigate the route for the countless number of commuters who travel every day. With unwavering confidence, Sabita's voice resonates across the station's platforms, conveying vital information to passengers. Every day, Sabita reaches the Howrah Station office with her mother in a train that leaves early in the morning to start her day. She needs help to navigate through the sea of humanity, the crowds that throng. But once she is on her golden seat, she is a different person. No more the blind Sabita, almost murdered by her stalker, but a confident woman out to help thousands daily.

Every morning, as the first rays of the sun gently touch the bustling train station, Sabita, with unwavering determination, makes her way to the station office. The moment she steps inside, she immerses herself in her duties, displaying an extraordinary work ethic that sets her apart from her colleagues. What makes Sabita truly exceptional is not just her dedication but also her ability to navigate the station's complex environment with unparalleled grace.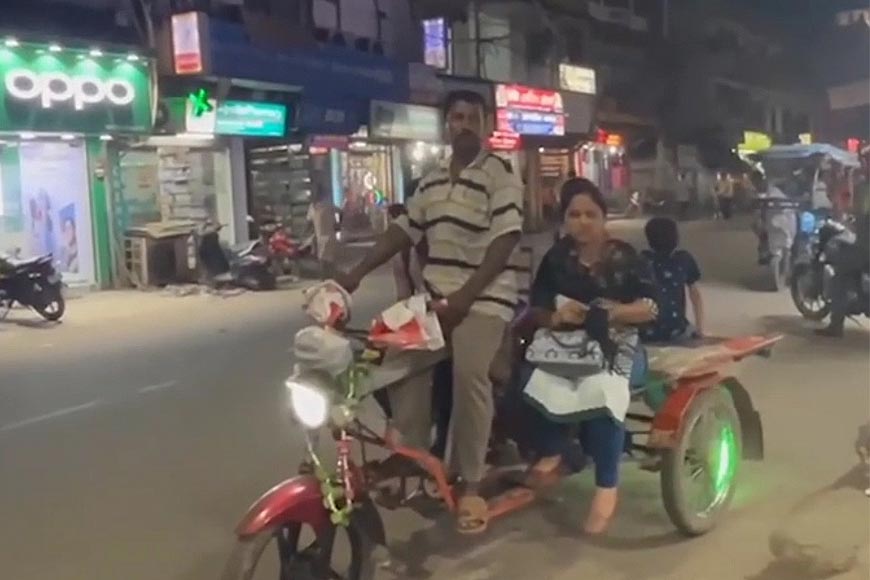 Despite the darkness that surrounds her, Sabita possesses an extraordinary acumen for adapting to her surroundings. As Sabita puts in: "I listen intently to the mobile alerts, swiftly deciphering the information they convey. Additionally, I have mastered the intricate Braille system, enabling me to access a wealth of written knowledge effortlessly." With remarkable precision, she single-handedly manages all the tasks at the office, showcasing her independence and resilience. Instead of succumbing to despair, she embraced her situation with courage and determination. Her job serves as a beacon of hope for her family, which includes her loving parents and brother. In the face of adversity, Sabita's unwavering commitment to her work has not only provided financial stability for her family but has also inspired those around her. Her story resonates with the station's bustling atmosphere, reminding everyone that strength and resilience can triumph over even the darkest of circumstances. Sabita's presence at the station office is not just a testament to her abilities but also a powerful reminder of the human spirit's capacity to overcome challenges and emerge stronger on the other side.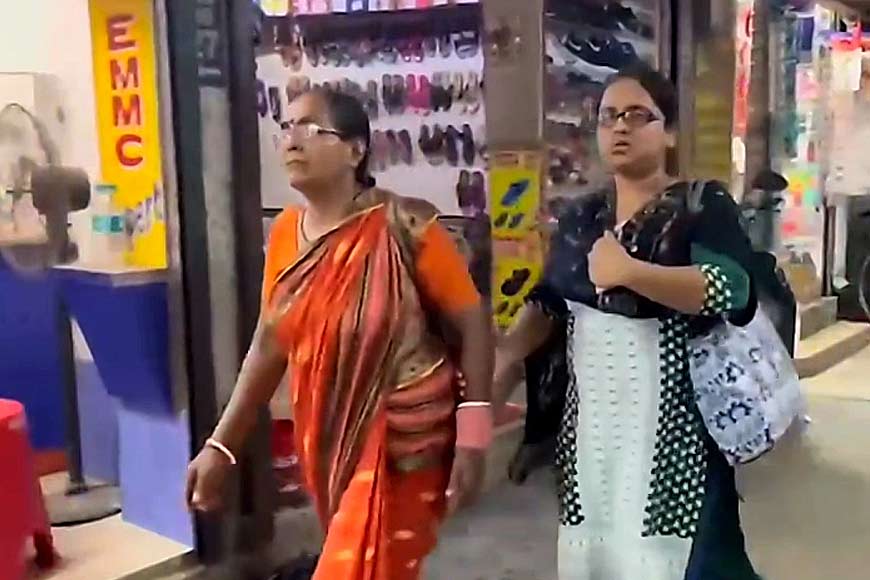 Sabita Haldar, the blind station announcer, has transformed her disability into a source of strength, proving that in a world dominated by visuals, the power of sound and human spirit can create harmony, bridging the gap between the sighted and the visually impaired, one announcement at a time. Her parents are proud of her and say: "She has immense courage and determination. Being a good student in her school days when she was not blind, we had a lot of hope that one day she would work in an office and support us. Despite being blind, she is doing the same today."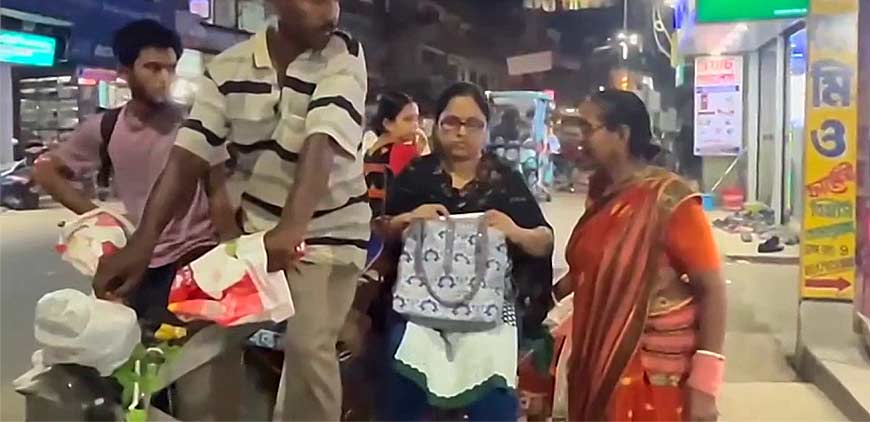 Sabita's unwavering determination and dedication have not gone unnoticed within the station office. Her colleagues, moved by her extraordinary perseverance and work ethic, extended their helping hands, fostering an environment of support and camaraderie. Together, they formed a tight-knit team, united by their admiration for Sabita's resilience. Her story has become an inspiration, a symbol of triumph over adversity that resonates deeply with the community.