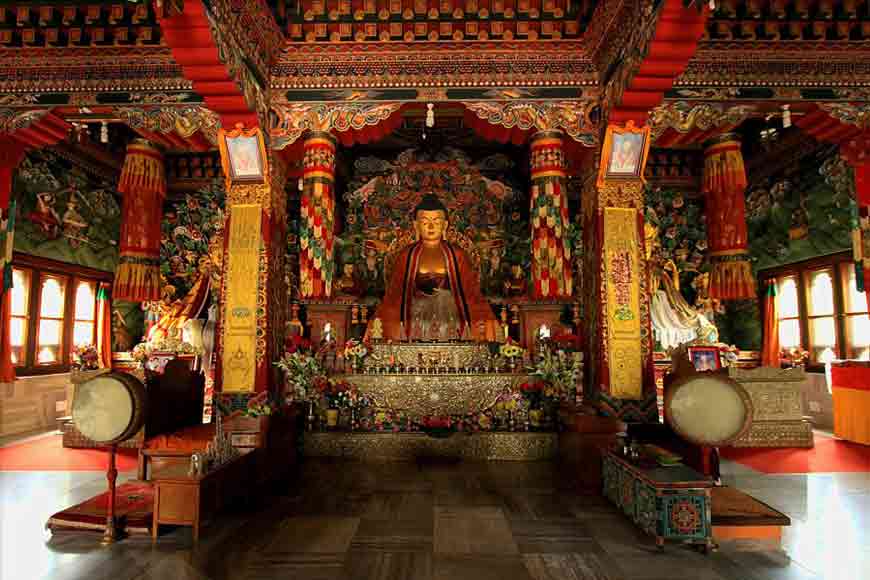 Buddham Sharanam Gachhami --- the ultimate mantra for those seeking solace. And the primary place to enjoy that peace of mind, to seek refuge under the Great One, happens to be a serene place in Bihar --- Bodhgaya. This is not just a religious or tourist spot, but a site enriched in history.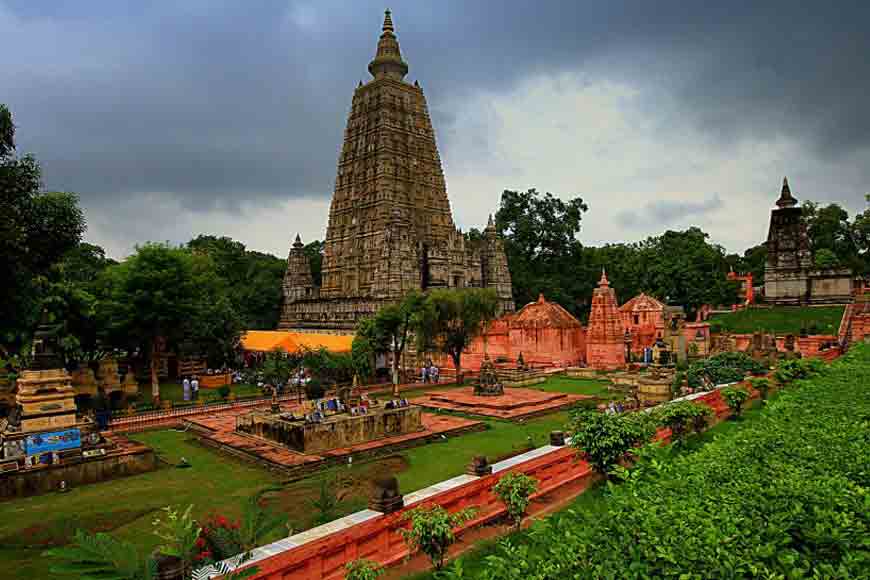 Mahabodhi Temple Complex
Close to Kolkata, this place is well connected through trains and even an airport nearby. From the Gaya junction you get round-the-clock cab services to reach you to Bodhgaya, around 17 km away. There are numerous budget hotels and luxury resorts in and around Gaya. Arguably the most popular destination in Bodhgaya is the world-famous Mahabodhi Temple Complex. 'Mahabodhi,' meaning 'awakening', is the core objective essence of Buddhism. It is a UNESCO World Heritage Site. The temple complex has a Bodhi Tree, under which Lord Buddha, according to folklore, gained enlightenment. The largest structure of the temple is more than 55 metres tall. The temple was built mostly with stones and stacco, a material used as a decorative coating on ceilings and walls. The Great Emperor Ashoka is said to be the founder of Mahabodhi Temple, though, the current architectural style dates back to 5th-6th century AD, during Gupta Empire. The temple premises has a celebrated 'Cankamana' (Cloister Walk). It is a walkway that was used by Lord Buddha during his meditation days. The Cloister Walk has a platform that contains lotus sculptures exactly in areas where Buddha's feet rested while walking.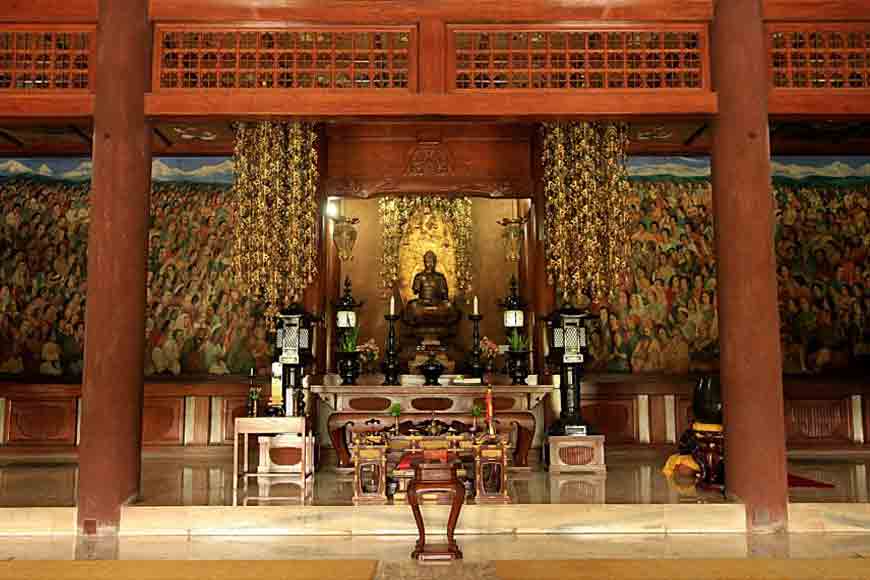 The main shrine in Budhha temple
Another place of attraction is Daijokyo Buddhist Temple that embraces the imposing 25-metre-tall stone Buddha, known as The Great Buddha. In temple precincts, statues of Ten Great Disciples of Buddha, constructed from sandstone brought from Chunar, stand with aplomb. Amidst such rich cultural heritage, you are bound to feel spiritually uplifted.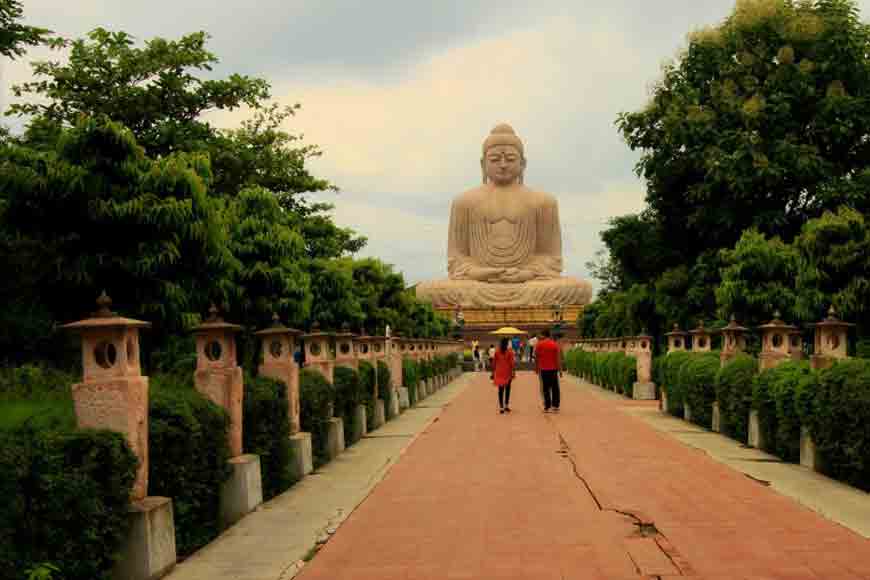 The 25-metre Stone Buddha at Daijokyo Temple
If you have the hunger to explore further, you can also visit the vibrant Thai Buddha Monastery. It was built in 1956, funded by the King of Thailand, to strengthen ties with India and popularise Buddhism. It commemorated the 2500th birth-year (Buddha Jayanti) of Lord Buddha. The sloping, curved roof edifice of the monastery flaunts golden tiles that resonate typical Thai architecture. The hall inside proudly displays a beautifully carved bronze statue of Buddha meditating on a lotus, enshrined in a majestic setting.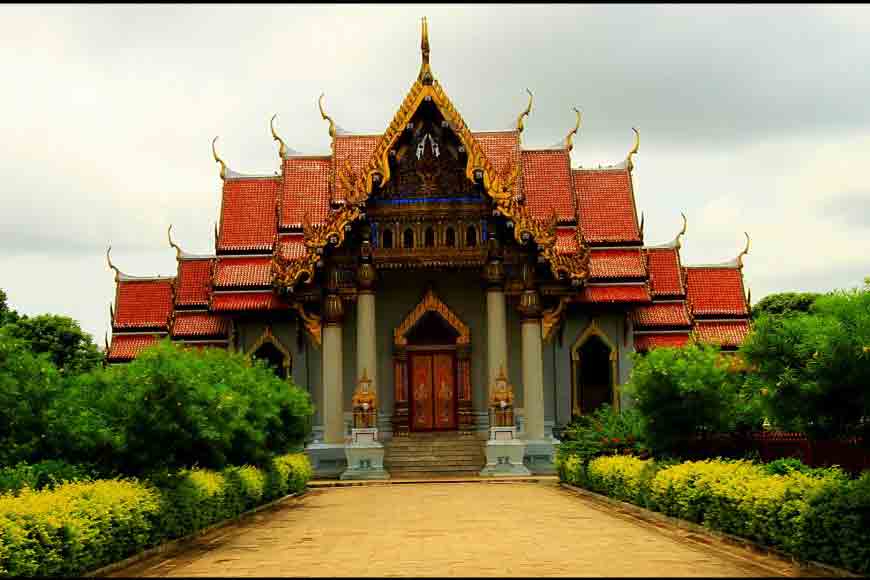 Thai Budhha Monastery
Those with inclination towards visiting monasteries, have even more similar places to cherish, such as the Vien Giac Institute (Vietnamese Monastery) and Bhutanese Monastery. Located just behind Kaalchakra Maidan, the Vietnamese Monastery has been recently built, in 2002. There is a single pillar temple at its entrance that is signature to Vietnamese Buddhism. The Bhutanese Monastery is no less magnificent. Its inner walls are adorned by delicate clay carvings.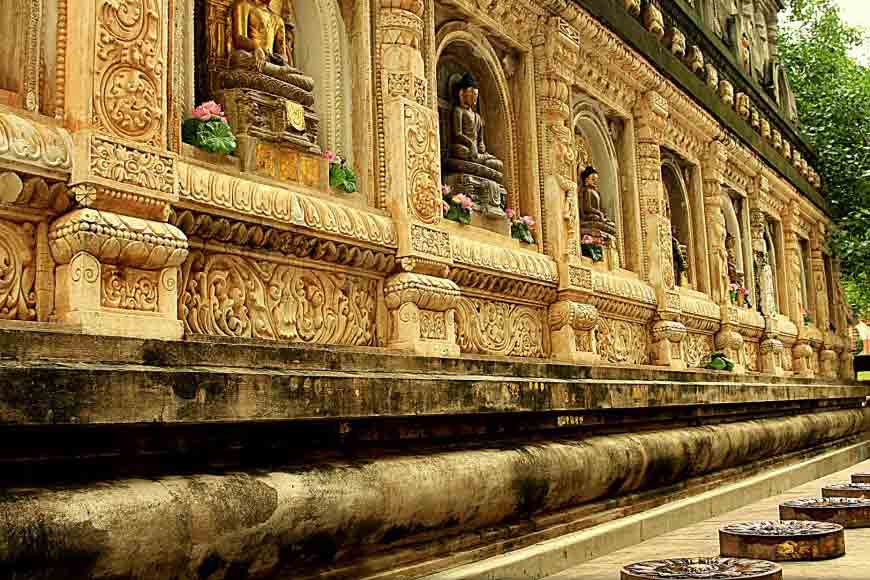 Carved artwork on Buddha Temple walls
The teachings of Buddhism propagate peace and brotherhood, teachings badly needed all over the world these days. As you quietly trod through the ancient paths, where Lord Buddha had once walked, you feel how perfect Bodhgaya is for spiritual amalgamation, where the experience of tourism is stretched to new dimensions.
(Photo courtesy - Riddhi Protim Lahiri)