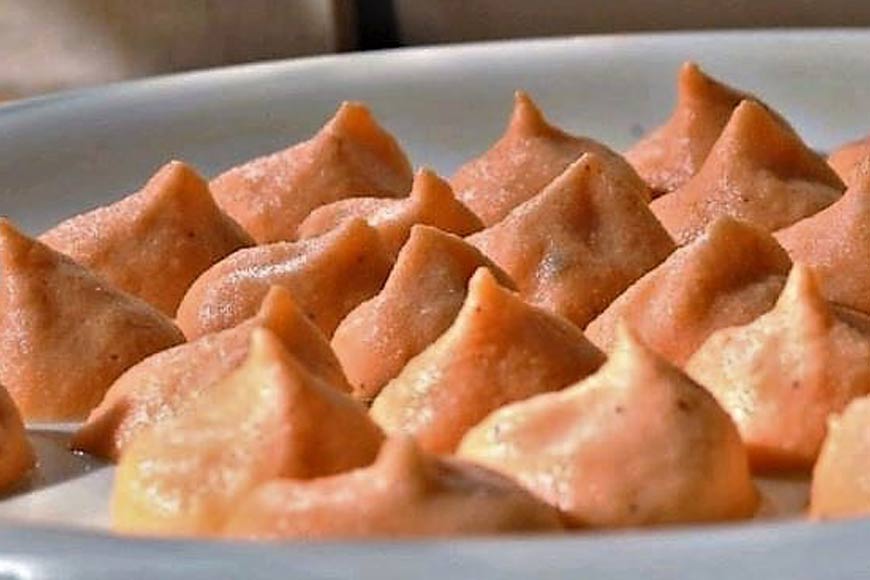 Bengal is synonymous with 'Mishti' (sweets). It is hard to find a Bengali who is not in love with their 'mishti'. Bengalis are incredibly proud of their indigenous sweets and their unique appeal. And for a good reason too — Bengali sweets have wooed Indians and foreigners alike. Sweets are an integral part of the culture and tradition of Bengal. Be it during the festivals or weddings or just greeting guests, Bengali sweets are always the stars of the show. Moreover, sweets have time and again made their appearance in Bengali pop-culture including movies and novels. Satyajit Ray's iconic movie, 'Gupi Gayen Bagha Bayen' had elaborate scenes featuring Bengali 'monda mithai' (sweets)! Almost every Bengali believes their 'mishti' to be more than just food; it is an emotion etched in the very essence of their being.
The prominent presence of sweets in Bengali cuisine can be noted throughout history. Ancient Bengal was known as 'Gauda Banga', a name believed to have originated from the term 'Gur' or molasses that were harvested in abundance in the region. The early Bengali sweets were made from the delicious jaggery or molasses and coconuts. The practice of using 'chhana' came much later with the colonial invasions. As a matter of fact, it remains a mystery why in traditional offerings to the deities, with the exception of Sandesh, no other chhana sweets make an appearance even to this day. Going back in time, we are familiar with the usage of 'monda mithai.' Interestingly, in the history of Bengal confectionary, mithai did not mean all kinds of sweets. Mithai was sweetmeats made for Bengal gram or moong dal besan, plenty of ghee, jaggery and sugar. Monda, on the other hand, comes from 'mondo' (lump), which used to be made from sugar. Amarakosha, a thesaurus in Sanskrit written by the ancient Indian scholar Amarasimha in around 4th century AD, mentions 'mondo,' a sweetmeat made with jaggery and honey. So, basically sweet lumps made from mounds of sugar combined with sometimes coconut sometimes thickened milk or cream are monda. 'Muktagachhar Monda' is a world-renowned sweetmeat that originated in Muktagachha, Mymensingh, Bangladesh. Similarly, Bankura is renowned for its 'Bori Monda.' This sweetmeat is yet to transcend its local border mostly due to lack of publicity but none the less, Bori Monda is an extremely popular sweetmeat in Bankura and its adjacent districts. Bori Monda's unique shape and taste makes it very special and now the 'Moira' (sweetmeat makers) community of Bankura are demanding a GI tag for this indigenous sweetmeat and they do have a valid reason to seek this recognition. The GI tag will also help the monda to establish its brand and expand its reach to conquer uncharted territories.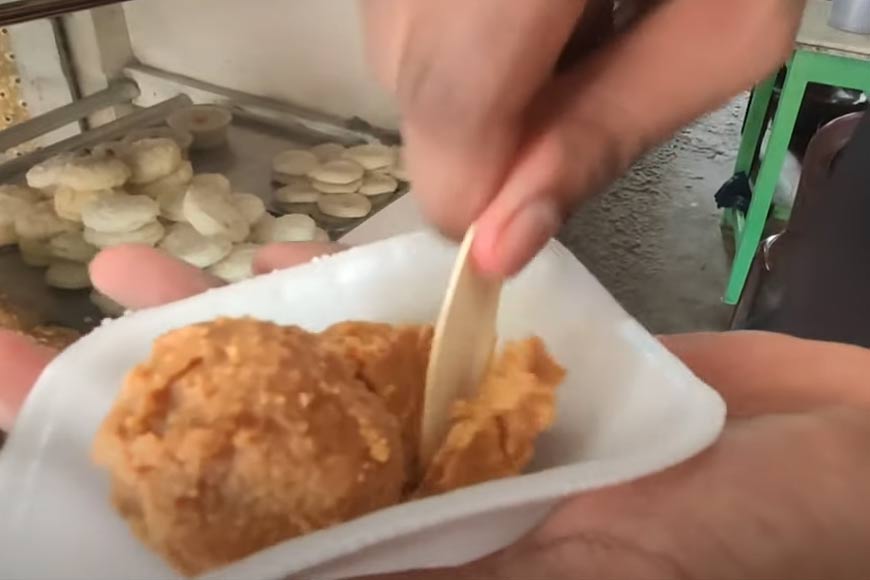 People of Bankura have a fetish for sweets and sweet dishes are an integral part of their daily food. The district abounds with bounteous sweet shops in every nook and corner and different sweets originating from various parts of the district have gained popularity. One such dessert is Bori Monda of Sonamukhi. This sweet was created more than 200 years ago and since then, it has become an integral part of all social dos at Sonamukhi and other adjoining districts of Bankura. This monda is a very popular dessert of winter. Although sugar is used throughout the year to make it, during winter the delectable flavour of 'nolen gur' (date palm jaggery) transports the sweet to a different level altogether.
Sonamukhi is an ancient town that gets its name from the local deity, Swarnamukhi Devi. Apart from the temples located in Sonamukhi, it is also famous as the birthplace of Kusum Kumari Devi and Haranath who are deemed to be the reincarnations of Chaitanya Mahaprabhu, the founder of Vaishnav sect.
Sonamukhi has a glorious history of being one of the leading producers of cotton, silk and indigo during the British rule in India. Therefore, it has been referred to as a weavers' village in many documents and literary books of the time. However, now the village is popular because of its terracotta temples and is thronged by tourists almost throughout the year. The most famous and unique one is the Sridhar temple which has 25 pinnacles. This feature of the temple renders it a unique quality. There are only five such temples in Bengal and Sridhar in Sonamukhi, constructed by Kanai Rudra, a weaver, is one of them. There are five Rasmanchas in Sonamukhi scattered in different parts of the town.

Some of the other famous ancient temples in Sonamukhi include the Laxminarayan Jiu Temple built in the year 1364 according to Bengali calendar, Swarnamukhi Temple, located in Shyambazaar area, the Gaja-Lakshmi shrine featuring a pair of elephants, the Giri Gobardhan and the renovated Radha Gobinda temples of Babuapara. Tourists who flock in Sonamukhi during winter go gaga over 'Bori Monda.' Finally, the sweet makers of the town have come together to seek the GI tag which will help spread the reach of this unique dessert.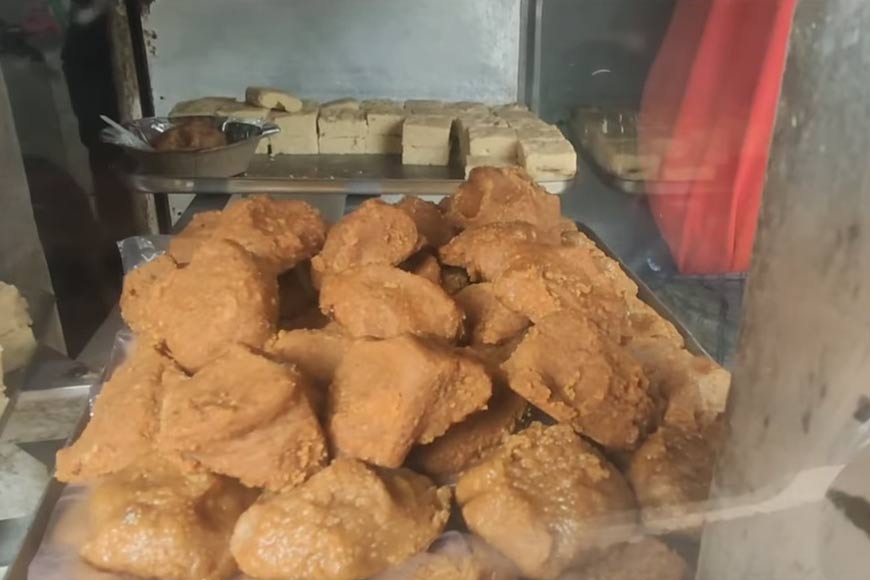 The method of making Bori Monda is very interesting. Bori, as we know, is a form of dried lentil dumplings popular in Bengali cuisine. This sweet is made by mixing cottage cheese (chhena), sugar, date palm jaggery and kheer together and then cooked on an earthen stove. When the mixture is ready it is poured and on a clean muslin cloth, dumplings are made, all ready to be served. Unlike most other sweets made from cottage cheese, Bori Monda is not dipped in sugar syrup, and there lies its uniqueness.
But sadly enough, despite the popularity of Bori Monda across Bankura district, it has not yet found its rightful place across the state and the country due to lack of publicity. This sweetmeat needs to be promoted at different carnivals like the annual Sonamukhi Mela and Bishnupur Festival, a unique fest that attracts visitors from different parts of the globe to fairs in other districts as well. Separate stalls need to be set up to familiarize gourmet with the unique taste of this sweetmeat. It is high time and Bori Monda should get the recognition it so deserves. Once Bori Monda's fame reaches the world stage, it will create a place of pride for our entire state. Why only Bankura, let both the connoisseurs of food and hoi poloi all over the world get an opportunity to savour Bori Monda, the pride of Bengal.