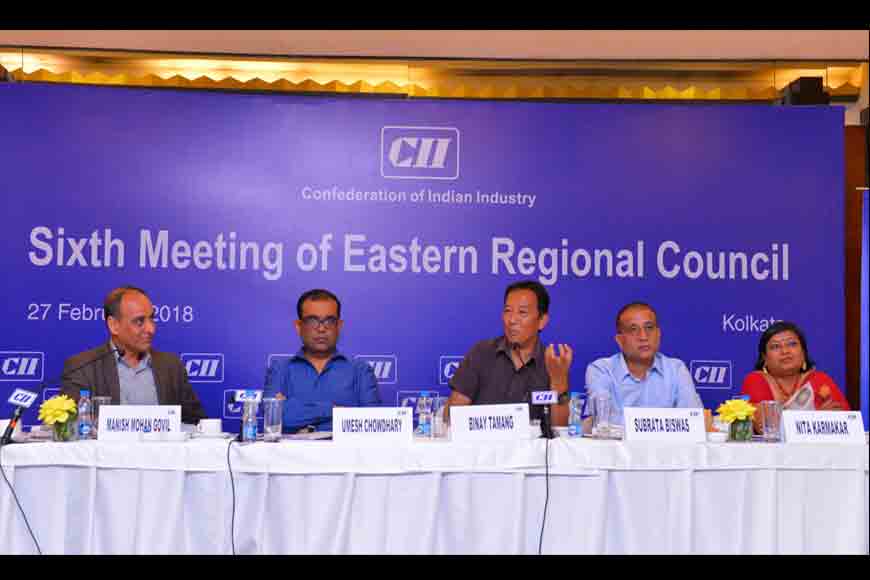 At a recent interaction with CII, Gorkhaland Territorial Administration (GTA) Chairman, Binay Tamang, said: "Darjeeling is a land of abundant natural and human resources and the authorities were focusing on eco-tourism, adventure tourism and heritage sites which could be converted to niche tourism products. He wished for CII's help to bring in more high-end hotel chains to the hills.
The first ever Darjeeling Business Summit, is slated to be held between 13-14 March 2018, where CII will partner the Government of West Bengal and GTA, to open windows of new opportunities for Darjeeling in terms of business and employment. Amar Rai, Hon'ble MLA said,"Darjeeling is hub of excellent public schools and the administration would like to sustain it and make the hills an educational hub." He added the forthcoming Hills Summit would help in this course.
Interacting with CII members, Subrata Biswas, Principal Secretary, GTA, said the top priorities of the administration in the hills is maintaining law and order, assure no "breakdown of essential services" like electricity, healthcare and education happen in the future. He added that the hill administration has identified sectors of immediate attention like employment of youth, utilization of all the properties and assets of GTA areas. This would be done, according to Mr Biswas, by having fruitful dialogues with the industry and implementation of projects through PPP and private modes.
The Principal Secretary said the administration is looking at infrastructure investments on a priority basis. He emphasized the team led by Tamang, is already looking into drinking water issues in Darjeeling and has identified 70 locations for hydro-electric power generation. Not only is the GTA looking at improvement of road infrastructure but they are also drawing up plans to construct bridges for shortening distances. Bagdogra would start morning and late night flights from 29 March 2018.
C Murugan, Secretary, GTA said the hills has a 'huge potential' in terms of agriculture produce, food processing, floriculture, horticulture and also sericulture. The organic agricultural produce of Darjeeling can be one of its unique strengths as well as an employment generator. The hills have ready land for various projects, including the Cinchona plantation area in Mungpoo. While, Umesh Chowdhary, Chairman CII Eastern Region assured Binay Tamang and GTA, that CII is committed to the growth and development of Darjeeling in particular and is working through its dedicated office in North Bengal with a strong membership base.