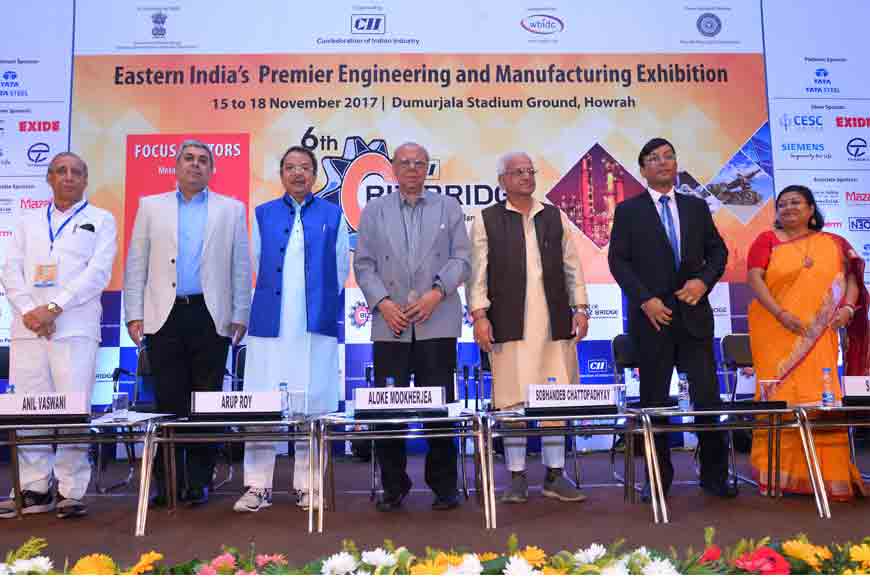 "Howrah has everything to lead Bengal's reindustrialization drive, in terms of skilled and cheap labour and technical finesse and expertise," said Arup Roy, State Minister for Cooperation at the inauguration of Biz Bridge -- an engineering & manufacturing exhibition at the Dumurjala Helipad Grounds. True, Howrah has always been a well-known industrial township since the days of the Raj. It was developed by the British as Kolkata's twin city on the other side of the Ganga.
Roy even feels that Bengal can take on the Chinese and beat them at the markets with products made in Howrah. CII had organizing Biz Bridge as a meet that would act as a catalyst to the twin city's industrial revival bid. There was a time when products made in Howrah were most sought after across the country. Most of the tools used in the making of the famed Howrah Bridge were manufactured in Howrah and it was also a city that supplied a highly skilled labour force.
Biz Bridge 2017 acted as a platform where MSMEs, including many from Howrah, interacted with top executives and technical experts from organizations and companies such as Railways, Tata Steel, Tata SEZ, Texmaco, Tata Metaliks, GRSE, Philips Haas, Siemens, CESC, Exide, TSPDL, Balmer Lawrie, Andrew Yule, TWL, Megatherm, F Harley, Shanti Gears, Premium Transmission, EPPS, Yamikazi Mazak, and also government organizations such as WBIDC and CSIDC.
Mr S K Sanyal, President, Howrah Chamber of Commerce and Industries, thanked CII for its initiatives towards the growth and development of the industry. "We are happy that this edition of Biz Bridge is being held in Howrah and we look forward to many such initiatives," he added. "As manufacturing grows in Eastern India, West Bengal truly has the potential to become the industrial hub due to its strategic location," added Sandeep Kumar, Managing Director of Tata Metaliks. "Biz Bridge has always been a flagship initiative of CII and I believe that holding this edition in Howrah will enthuse the Industry at large."