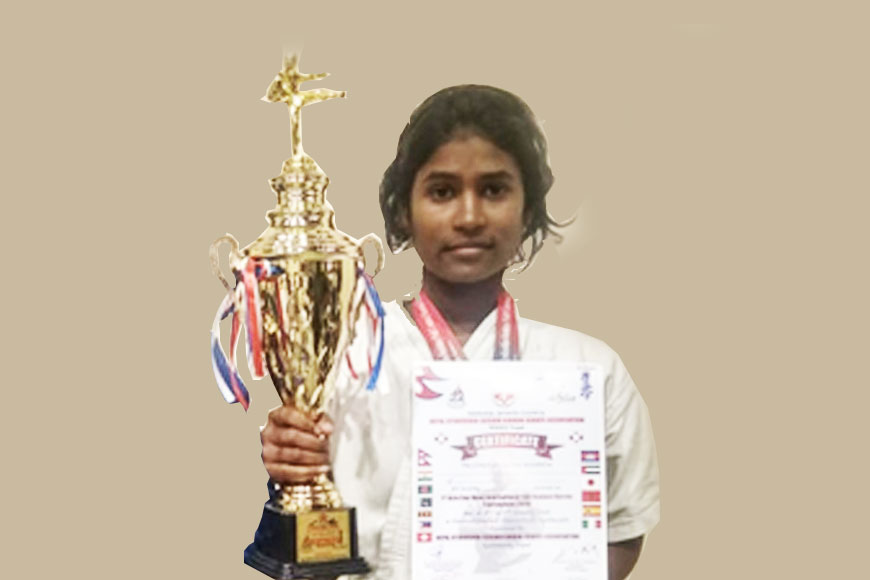 Champa Naiya on days went without dinner. She hardly had a proper breakfast before going to a karate practice session. Yet, this determined Class XII student of Canning could do what many cannot. She has ranked 3rd in the Asia Cup Karate Championship and made India proud on a global sports circuit. This year Nepal hosted the Asia Cup Open International Contract Karate Tournament on 24th and 25th January. Around 10 countries from Asia participated in the tournament and Champa stood 3rd among all these participants, some of whom have been trained by the best of coaches with better facilities than Champa can ever dream of.
A resident of an obscure village in Canning, Champa is a student of Dwarikanatah Balika Vidyalaya and fought abject poverty since childhood. Her father is a poor mason and tries to meet both ends raising 5 daughters and a son. Champa is the youngest. Even her mother goes out to work as a domestic help to run the family. In such a situation only grit and courage helped Champa to go beyond boundaries. After her studies, twice a week she used to take a train and reach Garia to her coaching camp. Canning's Juktibadi Sanskritik Sansthya came forward to help her continue with the sports, for they knew this girl had a lot of talent and would make Bengal proud someday. Even her coach Feroze Ali Safui took no money from her.
Her trip to Nepal was funded by the Panchayat Pradhan of Matla Block. Champa is grateful to all these well-wishers without whom she would not be able to continue the sports in the first place. In her own words: 'They are my messiahs. And there are many poor girls like me with a lot of talent in the villages of Bengal, who have to leave midway due to lack of funds.' We are proud of you Champa. May you scale more heights with your karate moves.