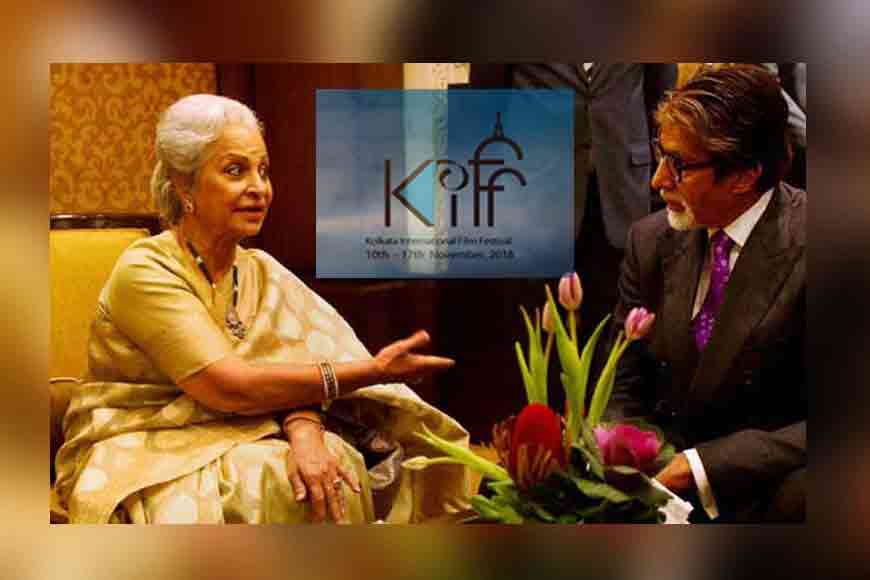 Their association in Bollywood dates back to 1971, when they were first cast in Reshma aur Shera directed by none other than Sunil Dutt. Since then, they have done eleven films together which was lapped up by the audience. Yes, we are speaking of Amitabh Bachchan and Waheeda Rehman and you will again get to see them together at the 24th International film festival at Kolkata that starts today. Their chemistry on-screen has always been breathtakingly mesmerizing and much to the delight of film buffs of Kolkata, the chemistry might again be reignited at the opening ceremony of Kolkata International Film Festival 2018.
Every year the onset of autumn creates a spur of excitement among film-buffs because of the much-awaited Kolkata Film Festival. This annual event is the second oldest international film festival in India. The 24th Kolkata International Film Festival is all set to offer a supreme cinematic treat and overwhelm you with myriad emotions. This year's festival will feature 171 feature films, 150 short films and documentaries from seventy countries from every corner of the world, which would be screened at sixteen different auditoriums between November 11-17.
This year, Australia and Tunsia are special focussed countries with twenty-six films from Australia to be screened. A high-powered Australian delegation are attending the festival from today. Famous award-winning Australian director, Philip Noyce, who made a mark with films like Patriotic Games, Rabbit- Proof Fence and Salt and Clear and Present Danger will be honoured with a retrospective.
Apart from this, KIFF 2018 will be also be commemorating 100 years of Bengali Cinema and will be bringing them to a global audience. Antony Firingi- featuring Uttam Kumar and Tanuja, which is still adored by the audience worldwide, will be the inaugural film. A film directory will also be published which will feature valuable information about Bengali films from the period of 1917-2017 and interesting celluloid ventures which will enable the readers to explore the journey of Bengali cinema and look at it from a different light. On November 15, Hiralaler Bioscope based on the first Bengali director, Hiralal Sen will be staged at Madhushudhan Mancha. Modern-day singers will also pay homage to the singers of the yester-years in the Jalsaghar section.
For the first time, in the history of KIFF, this event will be covered by International Radio Station. Eleven famous global archivists will conduct workshops on film restoration and preservation during the festival. This year's film festival will be bigger and better, according to the authorities as the number of films to be screened is the highest by far, a whooping 321! The best film would be awarded a prize money of Rs 51 lakh, the best director will awarded Rs 21 lakh and both will receive 'Royal Bengal Tiger' trophy.
Besides Amitabh Bachchan and Waheeda, other eminent personalities like Shah- Rukh Khan, Jaya Bachchan and Sanjay Dutt will also grace the occasion, along with Australian directors Jill Bilcock, Simon Baker and Philip Noyce. Manto director Nandita Das and famous Iranian film-maker Majid Majidi will also be on stage.
The eight-day festival is likely to be blissful to film- enthusiasts like every other year. Snehashish Mitra, a former resident of Kolkata who now lives in Delhi will be coming to the City of Joy, just to be part of Kolkata Film Festival. "Kolkata, my home-town is a unique cultural hub and there is no other city like this. I will be attending the festival from 10th November itself, and will try to watch as many films as possible. I cannot afford to miss the opening ceremony because of the duo Waheeda ji and Bachchan. Bollywood has a major contribution to my film-loving experience. I have grown up watching their films and it is always great to see such path-breaking actors who have reached the pinnacle in their fields together on the same stage," said Mitra.
So, for all film enthusiasts, the excitement starts today!