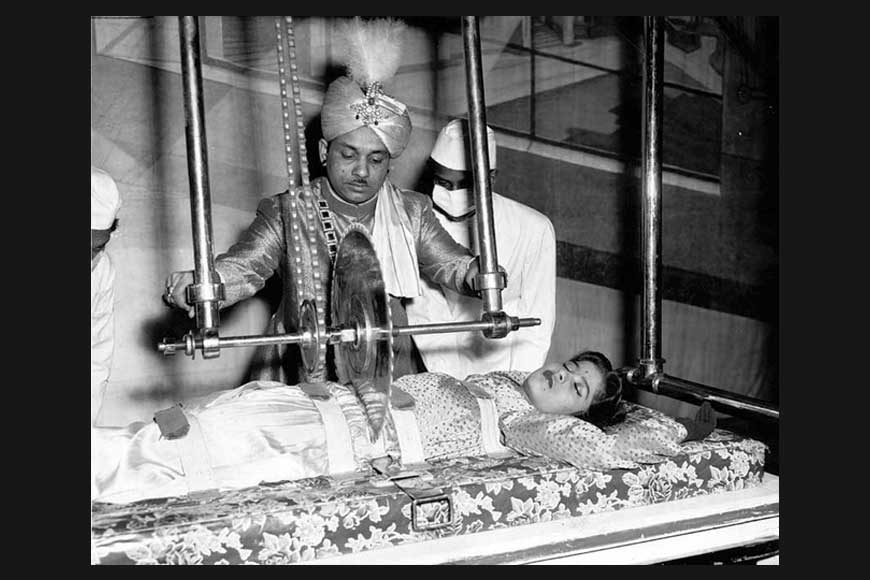 The date was April 9, 1956. It was 9.15pm. BBC's switchboard suddenly lit up with calls from hundreds of viewers convinced they had just witnessed a gruesome murder live on their television screens. An enigmatic Indian magician named P.C. Sorcar had hypnotized a teenaged girl, laid her on a table and sliced her body in half with a massive buzz saw, as if she was a slab of meat on a butcher's table. The conservative British audience was shocked beyond belief.
This was meant to be the grand finale to that evening's top-rated Panorama programme, but something appeared to have gone terribly wrong. When the magician rubbed his assistant's hands and tried to revive her, she did not respond. As he shook his head and covered her face with a black cloth, presenter Richard Dimbleby stepped in front of the camera and announced the programme was over.
As the credits came up, the phone lines at the Lime Grove studios went into meltdown. Viewers were alarmed. The scene remained deeply entrenched in public memory. People discussed the incident and wanted to know about the horrible accident/ murder. BBC's official explanation for concluding the show abruptly was that Mr Sorcar's set ran overtime. But those who knew Sorcar professionally, would swear that he was a master of timing. Anyone who had followed his career knew better. So, to leave his assistant, Dipty Dey, severed by a razor-sharp steel blade, was the ultimate deception, a 'magic' that made him the topic of hot discussion.
The story made the front-pages the following day, with headlines screaming 'Girl cut in half - Shock on TV' and 'Sawing Sorcar alarms viewers.' The controversy surrounding the Panaroma show catapulted him to instant fame and stardom in UK and the entire Western magic scene. Sorcar's strategy succeeded. He had reserved London's Duke of York theatre for a three-week season, but bookings were patchy initially. So, when the opportunity to appear on Panorama came, Sorcar was determined to exploit it. In fact, immediately after he appeared in Panorama, his season at the Duke of York sold out.
Born Protul Chandra Sarkar on February 23, 1913, in Ashekpur, a nondescript village in the Tangail district of Bengal (now Bangladesh), PC Sorcar was a mathematical prodigy, but the world of magic was his real calling. He started his career by performing in clubs, circuses and theatres. Sorcar was an enterprising, adventurous and articulate showman who is credited with having taken 'Indian magic' to the world, after stripping it of implications of the occult and black magic. Breaking into the international circuit was a tough task at that time. Indian magicians were looked down upon by their Western counterparts as being crude and unskilled. In 1950, he accepted an invitation to perform at the combined convention of the International Brotherhood of Magicians and the Society of American Magicians in Chicago. He was the recipient of the prestigious Sphinx Award twice, once in 1946 and again in 1954. This award is said to be the highest international award in the sphere of magic, comparable to the 'Nobel Prize.'
He travelled the globe as India's cultural ambassador with a grand entourage. He performed to packed theatres and stadiums in Japan, China, Australia, Russia, the US and Europe, often on live TV. Sorcar's first show in Japan in 1932 (devised by Netaji Subhas Chandra Bose, who was working with the Japanese to raise money for the freedom movement) was a huge crowd-puller. He rose to international fame in the 1940s and remained at the top for more than three decades. In 1964, Sorcar was conferred Padmashree Award by the Government of India.
Sorcar soared above other magicians for his flamboyance, his stage effects and his chutzpah. He took Indian magic to newer heights, presenting western-style tricks in elaborate oriental settings with a unique flair. Sorcar is best remembered for his Indrajaal or The Magic of India show that was premiered in Paris in November 1955. With more personnel, more variety, and more equipment than anyone else touring at the time, it redefined what Western audiences expected from an Indian magician.
Stage décor formed an integral part of his show. Theatres would be false-fronted to look like the Taj Mahal and hired circus elephants raised their painted trunks to welcome audiences as they arrived. The entire production was slick, with exquisitely painted backdrops, numerous costume changes, sophisticated lighting and a well-oiled production team that ensured the show's frenetic pace never flagged.
Sorcar's houseful shows were not just about magic, but also a road show for India. Everything from the rope trick to hypnotism – familiar tropes in narratives about Indian magic – inspired his acts. And he wore his turban and sherwani with pride.
On January 6, 1971, Sorcar performed his Indrajal show in the city of Shibetsu on the island of Hokkaido. This show was going to be fatal for his failing health condition. As he left the stage, he suffered a massive heart attack. The end came too soon for 'The World's Greatest Magician (nee Showman).' He left his son, P.C. Sorcar (Junior) an incredible legacy that lives on through his granddaughter now.