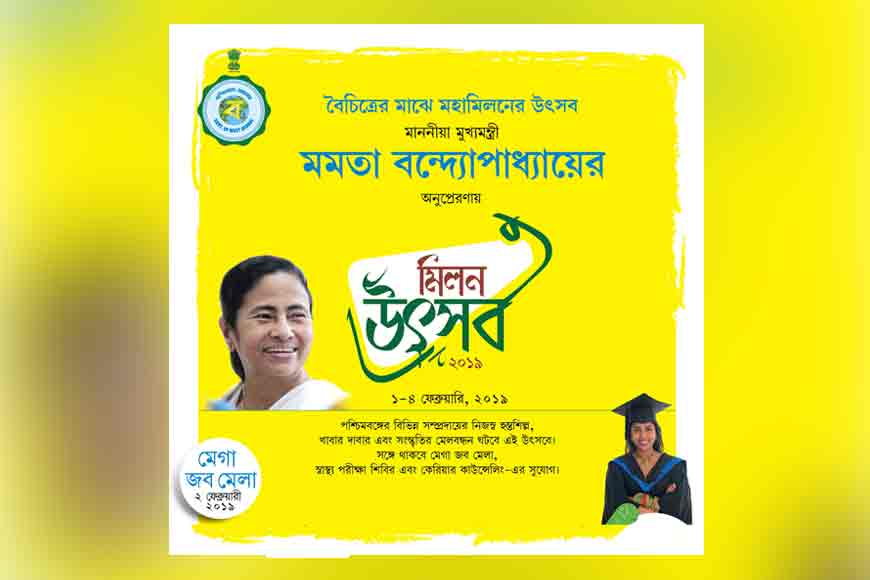 Rabindranath Tagore had once celebrated the true essence of Bengal and India with his words: Dibe aar nibe milabe milibe jabe na firey (none ever leaves the shores of this state, all are welcome to this land of convergence). Keeping that essence of love and brotherhood alive, chief minister of West Bengal, Mamata Banerjee has organized a unique festival to showcase unity in diversity of Bengal. Bengal is that state where Hindus, Muslims, Sikhs, Parsis, Christians, Chinese, Zoroastrians, Buddhists and many more have survived over centuries in peaceful co-existence. Everyone has imbibed the values of the other, food and culture of the other and celebrated their individuality amidst the love that the land of Bengal has always offered.
Keeping in mind this inclusive culture of Bengal, the West Bengal Minority Development and Finance Corporation (WBMDFC) has organized the Milan Utsav at the Park Circus Maidan that will be inaugurated today. It is not just a cultural and food fest, rather it will help youths to track career options with a mega Job Fair on the grounds. Stalls giving free career counselling sessions will be operational. The Milan Utsav will also showcase some of the choicest food options from a wide range of cuisines in Kolkata.
The cultural confluence of various minority communities of Bengal and their exclusive cuisines will be a part of the celebration. If you go ga-ga on the bakkarkhani, nihari, paya, nankhatai, kanji, biryani and kebabs of Muslim chefs, do not forget to dip into the cakes, chicken and mutton roast, rose cookies, vindaloo, bread pudding, caramel custard made by the Christian community. The Sikh community of Kolkata has come up with their own makai ka roti, sarson ka saag, aloo paratha, muli paratha, Cauliflower paratha, lassi, halwa etc. Not to forget the thriving Jains, who will bring on your plates the delicious dhoklas, khandui, unjiu, thepla. The Parsis will whip up dhansak, fish patia, papeta-par-eedu, dar-ni-pari, malido, lagan-nu-custard. Even the Buddhist community is being represented by cooks who will serve Tibetan momo and various sweets etc.
Moreover, a health check-up centre has also been set up for the benefit of visitors who can undergo free check up at the venue. So why wait? Drop in at the Park Circus Maidan to know your career graph and match it with a tour on gastronomical delights. Needless to mention, enjoy the community feeling that Bengal is so well-known for, in a country that is reeling at present under a constant fear of apathy and tension. Come, celebrate Bengal and its myriad 'people' and cultures. After all, this is the land where everyone is welcome!