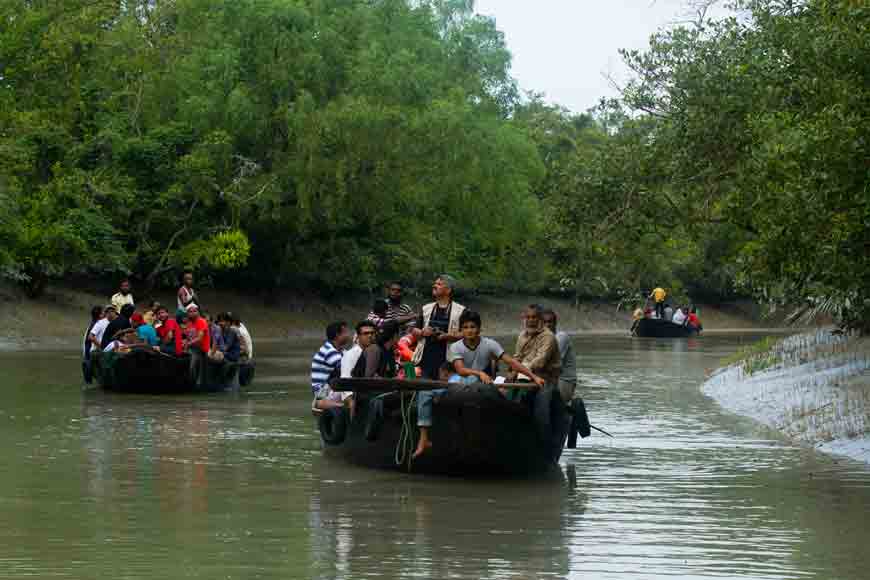 I woke up in the morning, a day before Christmas. I saw my mother with a really happy look on her face, talking on the phone. When the call ended, she told me we were going to spend Christmas in the Sundarbans this year. I was sad because I would not be able to celebrate Christmas with my friends. A second later, however, I was happy as I thought I might see a tiger or a crocodile there. Then my mother also told me that there would be a bonfire on the occasion of Christmas. I ate breakfast and packed my bag. Then we were off.
When we reached the port, it was lunchtime. I had my lunch on the launch. I saw some Little Egret and Great White Egrets and different varieties of fish jumping in and out of water. We also went to Bhagwatpur Crocodile Breeding Center where we saw many baby crocodiles (hatchlings), adult crocodiles and had the rare chance of seeing a Gharial (gavial). There was some type of starred tortoises kept in baskets. Then at night we arrived at Bonnie Camp, an isolated island in the Sundarbans. There was a big 'Chak Keora,' a type of mangrove tree. We had to decorate it for Christmas. I was assigned the job to put the stars on the tree and I did it perfectly. We had dinner and went to sleep. I was wondering what Santa would gift me for Christmas.
I suddenly woke at midnight. I saw Santa, Rudolph, the red-nosed Reindeer and Santa's sledge. He kept many presents under the tree. In the morningas I woke up, I went running to see my gift from Santa. It was a Nerf Blaster and I named it "Nutron". It was real fun. Then we went home and on the way, I could hear Santa's loud laughter, HO HOHO!
It was a unique Christmas experience for me and I will treasure it throughout my life.
Shreyan Dutta Roy
Class IV
Birla High School