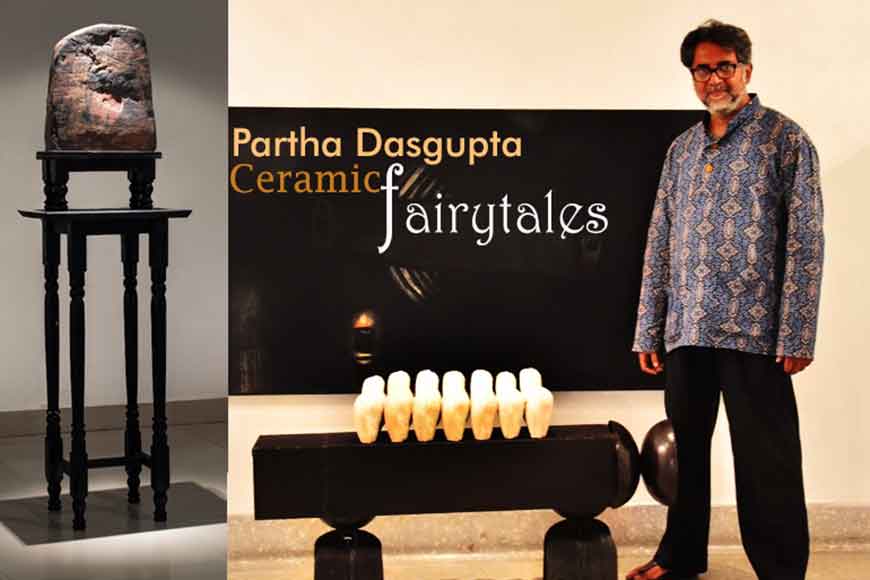 Last year Maya Art Space in Kolkata hosted an exhibition of artist Partha Dasgupta's ceramics creations titled "Amrit". "Mrit" was used in reference to "mrittika" which, in turn, means earth/clay in Sanskrit. On the other hand, the significance of "a" lied in the quality of being able to transcend or surpass. In other words, the term symbolised a kind of creation in which the characteristic spirit of the earth remains fresh, and yet the creation surpasses its medium to gain immortality. And the exhibition in question truly dispelled any doubt in the viewer's mind regarding the veracity of such a claim.
Even till a few days ago ceramic was equivalent to the material required to make everyday decorative items for home and office spaces. The art of ceramics was, however, completely dragged out of its comfort zone and elevated to surprising new heights by artist Partha Dasgupta. His work resonated with the culture of building burnt clay structures, the sweet smell of terracotta work on temple walls, the pattern of aamsotto frames, the earthy interiors of the village school and the texture of the age-old books of the rural story-teller. At the same time, there seemed to be an overarching nostalgia for the relics of the ancient Harappa civilization. As a result, beyond the classical arrangements, an undercurrent of a rustic, untamed tune could be heard continually. And, of course, there was a concerted effort at blurring the established boundaries of media.
Art conversed with sculpture at every step of creation. Large scale canvases lent each ceramic piece a distinctive import. However, the artwork on the pieces was never compromised with. And the various experimentations with knots, terracotta, colours and patterns jointly contributed to the ceramic pieces being qualified with an entirely new dimension.
Furthermore, Dasgupta also revolutionised the very definition of what sculpture entails. Metal plates of various sizes bearing myriad ornamentations intertwined with ceramic to create artistic innovations. The exhibition was dominated by the juxtaposition of two opposing elements – black and white. Special mention must be made of the written narrative accompanying the exhibition penned by Sunanda Sanyal – a professor at Lesley University in the US. His insightful synopsis reiterated a need for spectators to change the way they experience art. It also recognised the spirit of the age regarding transcending the limitations of the medium of an artwork.
Indeed, with Dasgupta's exhibition, Kolkata became witness to a profound attempt on an artist's part to break free of boundaries imposed by materialistic as well as artistic norms, and creating something completely fresh by the forces of memory and innovation.
Translated by Mayurakshi Sen