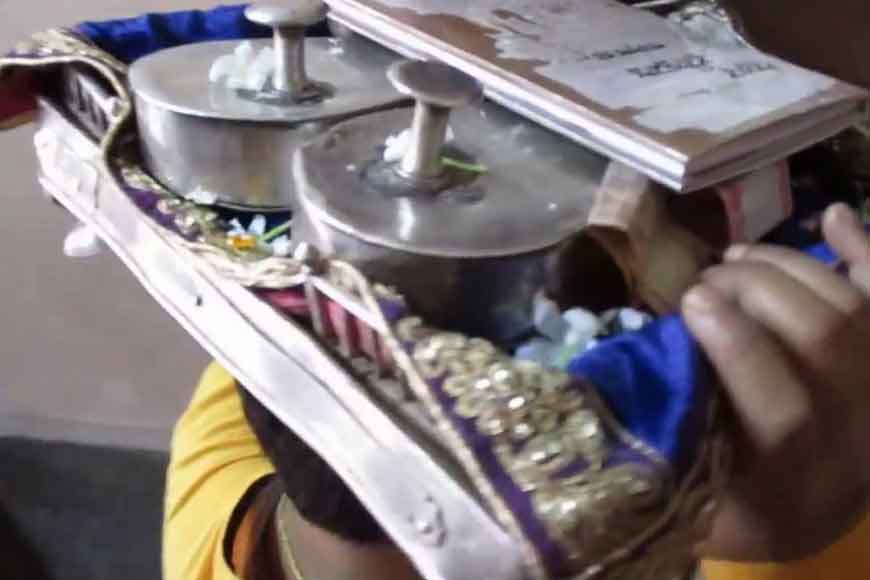 Imagine Chaitanya Dev's silver wrapped slippers creating a bond between Epar Bangla and Opar Bangla! In real life that's what happened recently. To maintain the harmony and good relation between two Bengals, Chaitanya Dev's slippers have been sent to a shrine in Chittagong where it will be kept for sometime. This is indeed a rare exchange programme between the two sides of the border. Chaitanya's pair of footwear wrapped in silver travelled to Bangladesh for the first time. The Nabadwip Bishnupriya Samity was in charge of these slippers. Under strict vigilance, the pair had been sent to Bangladesh for 4 days. The footwear was previously kept in Tripura, Assam, and Vrindavan, but never sent out of India.
Previously, there was a debate on whether these slippers really belonged to him. It is said that after taking 'sannyas,' Nimai left the shoes at his home. But why? That's because he could not take his wife's permission before taking sannyas. After a year, he returned to Adwaitacharaya Ashram in Shantipur. Then he went back to Nabadwip to keep his pair of footwear. After listening to the songs and kirtan on the road, Bishnupriya came out of the house to see Chaitanya but Chaitanya wasn't supposed to see his wife's face, so kept looking towards the sky. Bishnupriya bowed and touched his feetand after that Chaitanyaleft, keeping his footwear at that place. The footwear is kept at Nabadwip Mandir and it is looked after by the present descendants of Bishnupriya. However, the editor of Nabadwip Archaeology Council, Shanti Ranjan Deb opposes this theory.
Deb believes just to make Bhagwad Gita a little impressive, people keep adding stories to it and it spreads. This is one such story. As per Deb, there is no mention of these slippers in any authentic document. He said Chaitanyadev came to Nabadwip after 3 years of taking sannyas but did not enter his house. He had left the pair before taking up sannyas.
But what is important is not when Chaitanya Dev left the slippers, but how these slippers are today forging a bond between Epar Bangla and Opar Bangla.