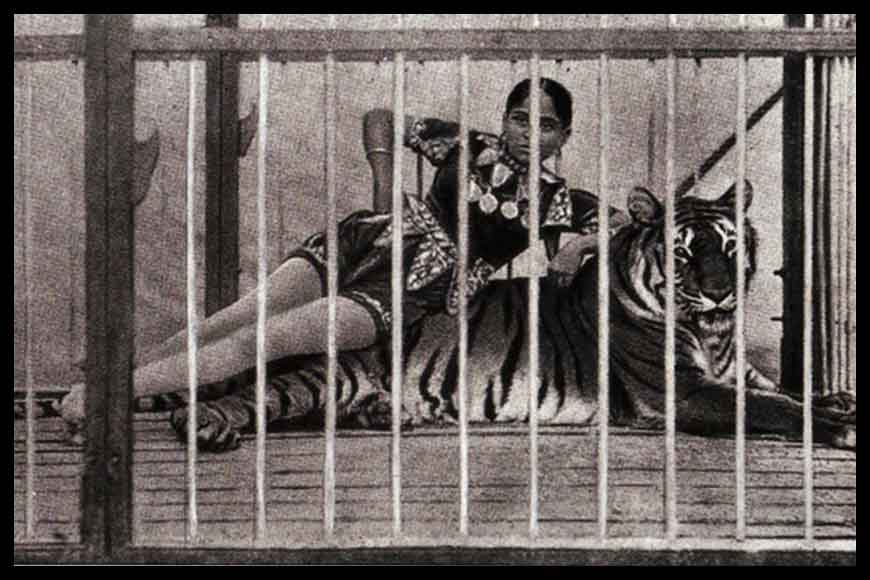 She was the courageous tiger woman of yester years. Her name was Sushila Sundori, though no one was aware of her real name. Born in 1879 to a sex worker of Rambagan, the famous red-light area frequented by the babus of Kolkata, she wanted to do something different than her fate permitted. Thus, a young Sushila instead of getting into the profession of her mother, stepped onto the arena of Great Bengal Circus.
She was truly a brave-heart. There was perhaps, nothing that would scare or threaten her. She was the first Indian woman to have performed in a circus. Be it gymnastics or trapeze, Sushila Sundori was an expert in everything. Most importantly, she was known for her daring acts with tigers and was adept in training them. She could easily enter the cage of a ferocious tiger without an iota of fear and could be seen reclining herself on a tigress. Almost a century ago, this was a rare and unimaginable sight and the audience would be stunned at her feats. She could also ride a horse. Sushila's sister, Kumudini was also a performer at Priyanath Bose's Great Bengal Circus. Both arrived on stage riding a horse and were usually the star performers.
Sushila had a relationship with Priyanath Bose's another favourite student, Ganapati but she did not leave her old group and join Ganapati's group for the sake of love. Such was her level of commitment. But it was said that Ganapati could not concentrate without Sushila. In November 1896, Great Bengal Circus was invited to display their act at the Durbar of Rewa, Madhya Pradesh. The Prince of Rewa was so mesmerized with Sushila Sundori's performance, that he gifted the circus a pair of Bengal tigers who were later named Laksmi and Narayan. Sushila tamed these tigers who were believed to have brought luck to the team. She had a unique way of showing her daring acts with tigers. She would enter the cage with utmost ease and engage in an arm wrestle with them and make the animals show their jaws. Consequently, she could recline on the tigers and pose for photographs. People used to come from far off places just to experience the incredible 'Bagbondi khela' of Sushila Shundori.
When one of Sushila's trained tigers died, she attempted to perform the daring act with another tiger, who wounded her so badly, that she became invalid. But her daring feats will be remembered forever.