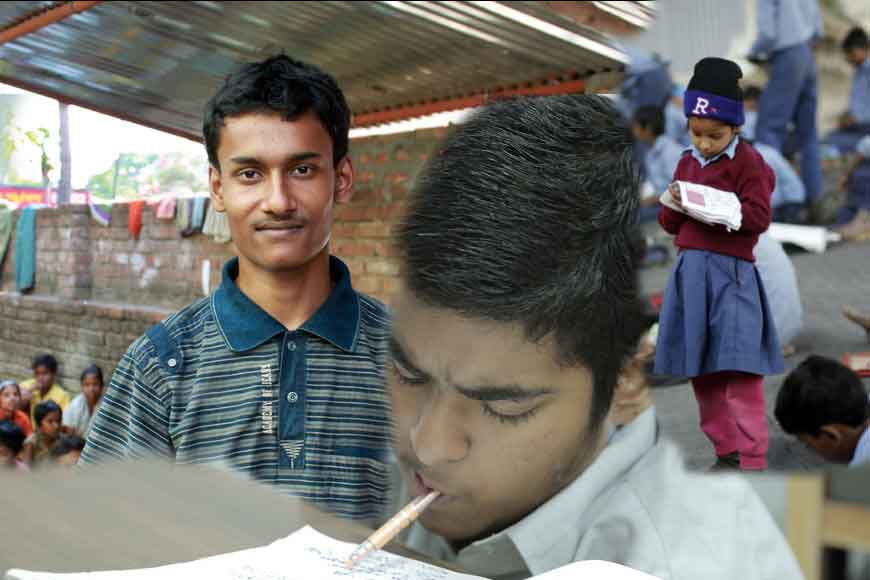 Babbar Ali of Murshidabad is the World's Youngest Headmaster
Babbar was just 16, when he fought against all odds including pangs of poverty to educate children in his neighborhood. A student of Cossimbazar Raj Govinda Sundari Vidyapeeth, Murshidabad, Babbar from the age of 16, started an evening school for children after his own school hours. Babbar Ali is now Headmaster of Anand Shiksha Niketan, where 800 students are enrolled and he himself is also a student at 12th standard. The school is run in a temporary concrete structure without any major infrastructure. Babbar provides free education to all kids who come from faraway places to learn the basic lessons of life.
He is the headmaster to all these kids and shares his knowledge with children whose parents do not have the means to tutor them. For a child who himself comes from a family where parents work hard to make both ends meet, it is so very inspirational that a child takes up the education for other children. GB salutes Babbar on Children's Day.
Tuhin Dey of West Midnapore is 'Stephen Hawking of India'
Tuhin Dey is no ordinary teenager. This 17-year-old is affected by amyotrophic lateral sclerosis (ALS), a motor neurone disease that has reduced the mobility of joints just like it did to Stephen Hawking. Despite being wheelchair bound, his determination is a lesson for anyone. Hailing from West Midnapore district of West Bengal, he cleared his 10th board exams without any assistance and now aims to get into IIT.
Tuhin uses his mouth to hold the pen to write and his chin to operate the laptop. Due to his ALS, he depends on a computerised voice system for communication. Since his birth he has undergone more than 20 surgeries. But that did not deter this boy from studying hard. An extraordinary student of merit, he has his sight set on becoming a cosmologist.
GB salutes this boy's determination and wishes him all success in future.
Saifa Khatun of Howrah is youngest student to appear in Madhyamik 2019
The West Bengal Board of Secondary Education (WBBSE) has allowed a 12-year-old girl -- who never enrolled in school, and instead, studied at home to sit for the Madhyamik Examination 2019 as an external candidate. Saifa Khatun qualified the eligibility test conducted by the WBBSE for external candidates in August, and her case is unprecedented in the history of Madhyamik Examination in the past two decades as she is only 12 years old.
The minimum age to appear in the examination is 14 years. Khatun's father Mohammed Ainul had moved the WBBSE to allow her to sit for the Madhyamik Examination 2019. Despite coming from a very poor family, who do not even have a television set at home, Saifa was determined to study and his parents supported her. Saifa wishes to be a doctor.
As she appears at the age of 12 for Madhyamik, GB wishes her all the success for the examination.