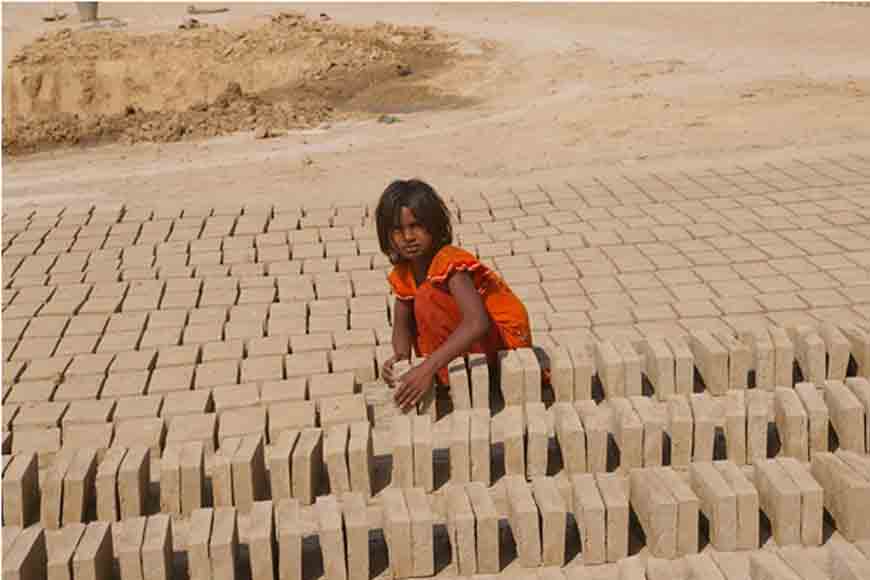 A barefoot girl in tattered clothes carrying burnt bricks to the factory area. A boy with an ashen face lying on the lap of his juvenile sister, a crumb of bread in his dirty hands. Another trying to balance a row of bricks on his small head. Well, these are snapshots from any of the 250-400 brick kilns that dot the northern and southern fringes of our city and many more that are distributed across Bengal. Brick kilns are places where a child has no childhood. Children's Day for them is a distant dream!
"Engaging children under 14 years of age in brick kilns, is a clear violation of child rights, not only because it goes against the existing requisites of Child Labour Prohibition & Regulation Act, but also it directly contradicts the spirit of Right to Education Act," says Calcutta High Court lawyer Prasanta Bishal. "These children migrating with their families remain out of school for several months and hence run the risk of dropping out," he added.
In April 2015, the National Green Tribunal's Kolkata bench asked the district magistrates of North and South 24 Parganas to shut down more than 600 illegally operating brick kilns. The NGT bench also fined the Murshidabad district administration Rs.5000 for not filing a proper affidavit on the brick kilns in the district. Most of these kilns are illegal and they even use bonded child labourers. A recent data shows:
• In South 24 Parganas there are 250 brick kilns of which only 9 are authorized.
• In North 24 Parganasthere are 361 brick kilns of which only 86 are authorized.
• As per Union government reports on migration around 37% of India's population are migrant labourers and many are child labourers employed in brick kilns, agricultural sector and also in manufacturing sectors.
• Among the children working, most of them are from Jharkhand and Bihar, who come with their parents in search of jobs to Bengal.
• In 2015, the International Labour Organisation (ILO) put the number of Indian child workers aged between five and 17 at 5.7 million.
However, the child labourers of brick kilns are inhumanly treated. Take for examples children working in Barasat brick kilns, need to mould 200-300 bricks a day. Some of them are not even 13-14 years of age! An adult can make 500 bricks a day, a kid can make 200 to 300. There are again families who work here and carry their children with them as they have no other place to keep them. None of these children go to school, as they keep migrating and many of them are forced to work, to add to their family's income.
Environmentalist Dr. Pulak Lahiri says: "As most families work together in these factories, babies have to be brought along too. Let alone, children being forced to work, they are even left behind in the scorching sun and the dust from brick factories choke their lungs. This dustis extremely harmful for kids leading to respiratory complications. They do not get basic medical attention too." True, as Dr. Lahiri points out, the kilns have so-called health centres, but they are mostly closed or have a nurse who probably comes once a week.
The touts or brokers, known as 'sardar' of the brick kilns make the most money. They recruit seasonal labourers from their own native villages, including children below 14 years and at times they just get food instead of money against the work. They give advances to labourers, who are to be recruited. Once the labourer receives the advance, he pledges his labour and must then work to repay his debt. At times to repay that debt they even use their children as bonded labourers. That's how the complete vicious cycle works.
However, state government has strict rules regarding employment of children in brick kilns, none of which are followed. For 13-year-old Pampa Mondal, carrying a load of 88 pounds on her head is routine. Shiraz is a 12-year-old from Uttar Pradesh, who controls the fire inside the brick kiln.At the sites, young boys and girls can be seen standing in thigh-deep mound of water, clay, straw, ash and coal dust, kneading the mix. They are also involved in transporting moulds to the baking centre and in drying bricks under the sun. The brick kiln owners say they are helpless if parents involve their children in the work.
Alarmed by the situation, the Bengal government along with UNICEF had launched an initiative towards eradication of child labour in 26 brick kilns in Haroa block and help such children of migrant labourers return to school. Yet, most of these children are still seen engaged in the hazardous jobs and yes, they have no childhood!