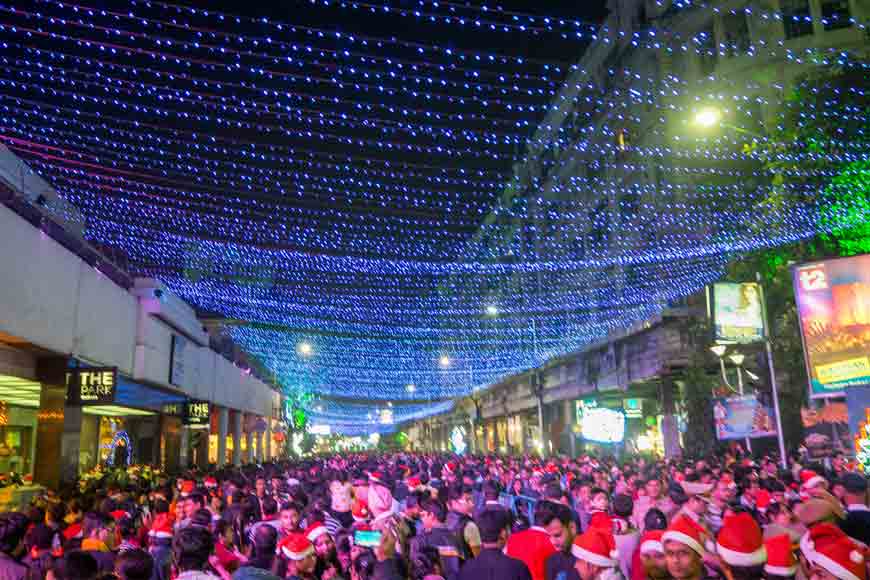 In my opinion, there is no other city in India where Christmas is celebrated with so much pomp and joy, than in my own city - Kolkata. The shimmering lights, Christmas carols, scrumptious food, the lighted trees, the high spirits of people, aroma of fruit cake and pastries, make the City of Joy livelier and brighter during the Christmas season. Kolkata's Christmas fervor makes the festive mood extravagant as not only Christians but people from different communities celebrate the festival with joy, and offer prayers during the midnight Mass in the churches.
With the cool weather at this time of the year, Kolkata sets out to party like never before - dressed in the finest woolens and fancy jackets. Almost every club has its own share of Christmas programmes of song and dance, where party animals swing to music beats and young and old alike mingle with unadulterated joy.
Christmas and Park Street are synonymous in Kolkata. Live performances at Allen Park, the food extravaganza, courtesy food kiosks dishing up an array of items, the lively crowd, pulsating music and songs, different stalls selling Christmas goodies, the beautiful twinkling lights, makes Park Street the most lit-up place in Kolkata and is a must watch for all revellers! The enthusiastic spirit of people is the wow factor! It is THE best place to celebrate Christmas in town!
Wine, fruit and plum cakes, fresh bread, turkey and duck roasts, the Christmas special buffet at various restaurants are long awaited by connoisseurs! One should book a table in advance to munch these special delicacies! A lot of restaurants offer a variety of special Christmas dishes which are a must try! As a resident of Park Street, I cannot ask for more as I am there right in the middle of all the action.
Ronit Ghosh
La Martiniere for Boys
Class VIII