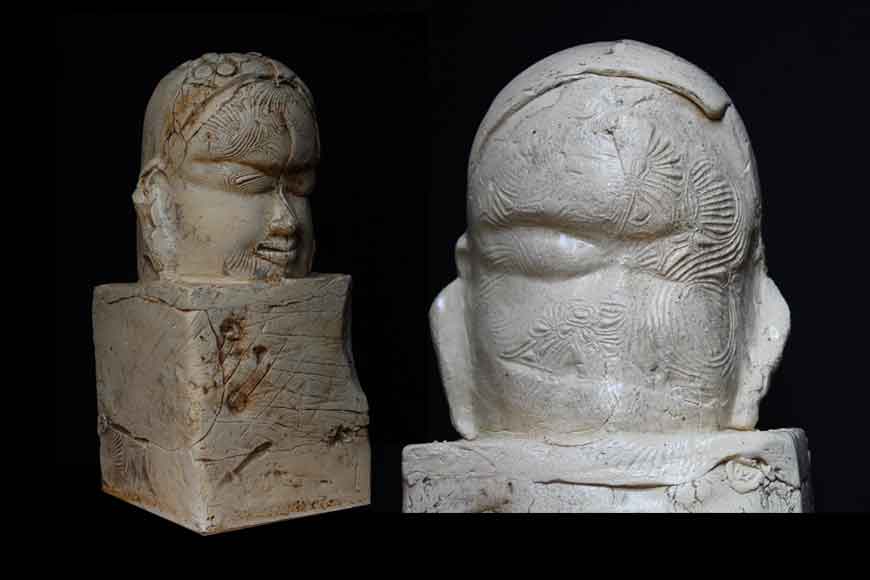 The very mention of 'Clay and brush' envisages the image of an intimate dialogue between clay and colours. Clay is the raw material or base of the creation and colours bring to life those creations. These two aspects have coexisted harmoniously and are an integral part of traditional folk art down the ages.Thescope for broadening the sphere of traditional artis vast,but there is very little space for experimentation. When these two aspects amalgamate with unbridled imagination, then creation springs to life and sways rhythmically to the essence of existence.
Kolkata will be witnessing one such artistic symphony from November 4, when an exhibition ofpaintings and ceramics begins at Weavers' Studio at 94, Ballygunge Place. The exhibition will showcase the works of Partha Dasgupta and Asim Paul.
The jugalbandiof these two artists, like two soloists typically from different musical traditions, work in the teacher-student (guru-shishya)tradition in two different spheres, but are like 'entwined twins.'Both have been working with clay, paint and brush for years now. Partha Dasgupta, for instance, an alumni of Government College of Art and Craft and Kala Bhavan, Santiniketan, has been working in diverse mediums for the past 25 years and his works have been widely appreciated by connoisseurs of art, both in the country and abroad. He dabbles with paints on canvasses and creates ceramic sculptures but above all, he is renowned for his innovative Durga idol creations annually.
Asim too, has immersed himself in creativity and with his hard work and dedication, he has etched out a place for himself in the world of art. No wonder, both Dasgupta and Paul have been invited to participate at the Jaipur International Triennial, scheduled to be held next year. This will be the first international triennial of ceramics to be held in the country. Prior to that mega event, Weavers' Studio will provide a sneak peak of their respective genres for the city connoisseurs of art. There is more to the exposition. Dasgupta is a renowned artist whose incredibly original thematic Durga creations have been raved not only by professional artists and sculptors but also by the masses. Dasgupta has been making documentary films on various aspects of Durga Puja for years and now he has a sizeable number of films to his credit. He made a magnificent documentary of artist Jayashree Burman sculpting a Durga idol. This will be screened at the venue on November 5 at 6 pm. Clay and brushes are inherently entwined in the entire creative process of Durga idols.