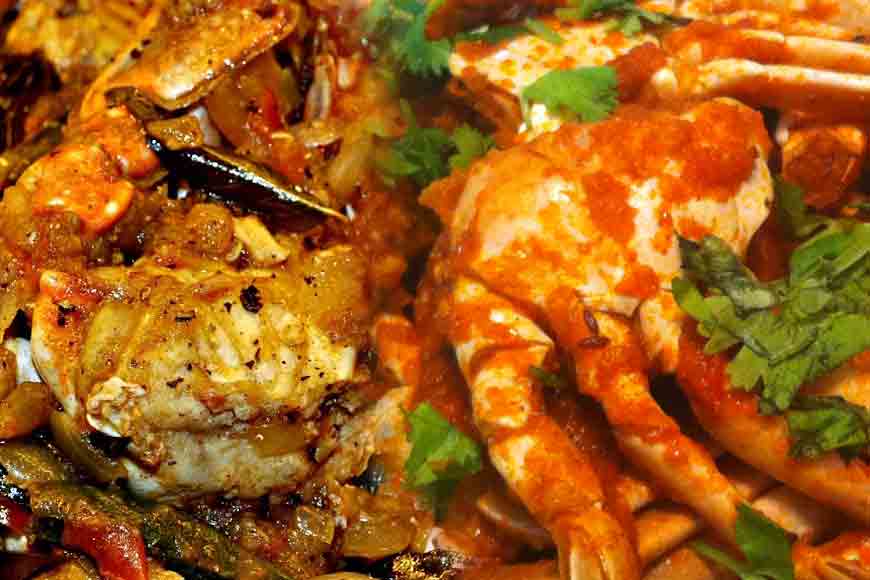 Ahaare Bangla organized by the Animal Husbandry Department of Bengal has a new surprise this year! Coloured crabs. These are rare crabs that are usually a delicacy in countries like Japan, Korea, China and Australia. They were never fished in India. But recently fishermen are getting large number of these coloured crabs (that are different in taste and form from the crabs we eat regularly) off shores of Digha. So much so, that the Fishery Department are even thinking of exporting them to the Middle East, where they are in high demand.
To introduce Kolkatans to this new world delicacy,different dishes cooked with coloured crabs will be available at food stalls of Ahaare Bangla. Later, these crabs will also be available in the wholesale markets across Bengal from the Benfish stalls and also mobile vans. These coloured crabs are considered to be exotic and are made into expensive dishes in five star hotels across India. The state government wishes to cash on this demand and start both exporting the crabs abroad and also supply them to hotels across India. The fishermen off Digha and Mandarmani coasts who are netting these crabs in large numbers will be now brought under the umbrella of State Fisheries Department, to control their catch.
So, this weekend head for Ahaare Bangla and enjoy this exotic dish!