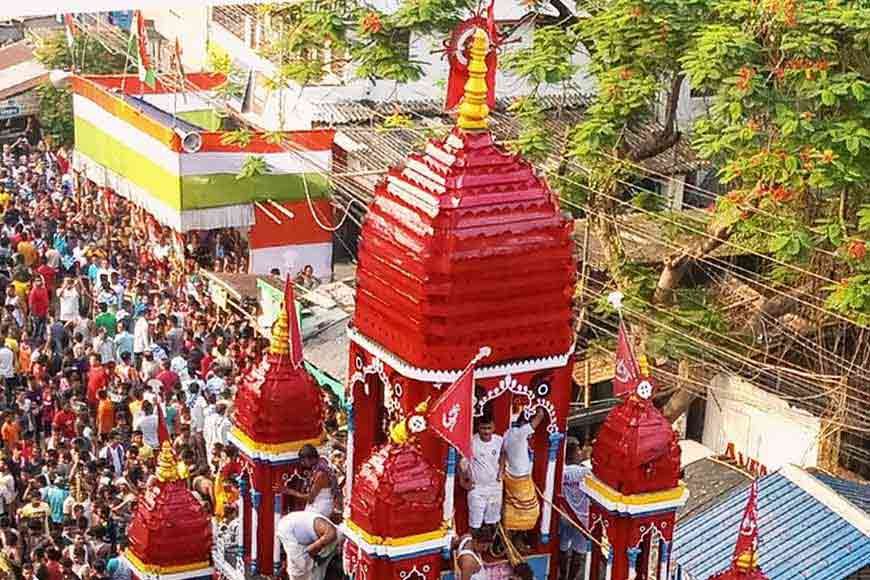 Mahesh Jagannath Temple authorities have decided to postpone this year's annual Rathayatra due to Covid-19 pandemic. Nothing could have been more upsetting than this news for thousands of devotees who throng to Mahesh annually from all corners of the globe to participate in the biggest and oldest chariot festival (Rathayatra) in the world after Puri. But this was needed for health concerns of masses. This is the first time in the history of this 624-year-old festival, that such a move has been initiated. This verdict comes close on the heels of the possibility of putting on hold the Rathayatra at Puri this year.
This ancient chariot festival started way back in 1396 and since the very beginning, Mahesh drew a large crowd from far and wide. In fact, Bankim Chandra Chattopadhyay's novel, Radharani has a vivid description of this fair held at Mahesh during the Rathayatra. According to lore, a hermit named Drubananda Brahmachari went to Puri to offer Bhog (food) to Lord Jagannath, but the priests there drove him out of the temple. Drubananda was crestfallen and decided to fast until death. The Lord could not bear to see his devotee suffer thus and appeared in his dreams. Jagannath Dev asked the hermit to go to Mahesh where he would get a large trunk of daru-brahma (neem trunk) floating in the Hooghly River to carve the idols of the siblings, Balaram, Jagannath and Subhadra.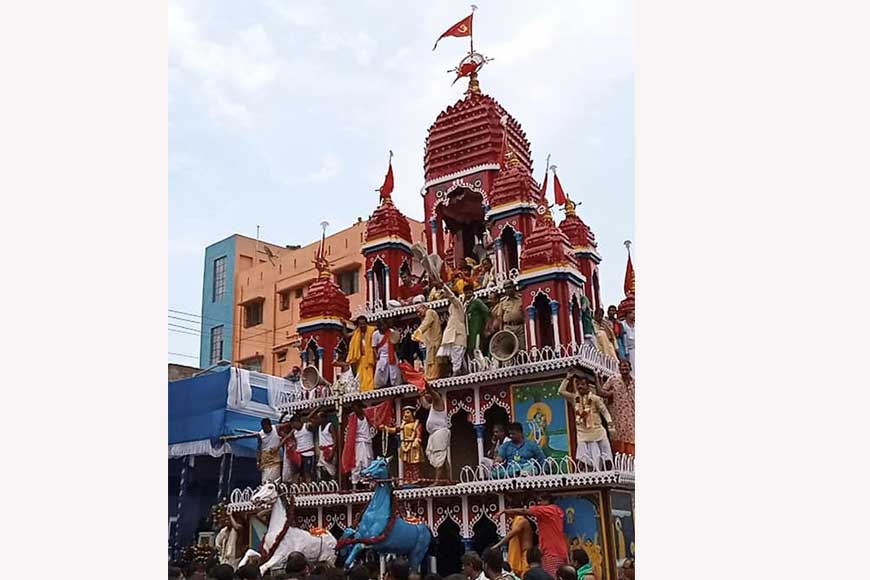 Rathayatra at Mahesh
The Brahmachari did as he was instructed in his dreams and set up a temple dedicated to Lord Jagannath at Mahesh, then a small, non-descript village. The original temple was later replaced by a much larger and sprawling structure built by Nayanchand Mallik of Pathuriaghata in 1755. The chariot festival was a later addition initiated in 1396 by Kamalakar Piplai, one of the earliest disciples of Mahaprabhu Sri Chaitanya. He became the chief priest (Pradhan Sevayet) of Lord Jagannath in the temple at Mahesh and since then, male members of the Piplai family have been officiating as chief priest of the temple for generations.
The temple witnesses thousands of footfalls round the year. Devotees throng the shrine to offer their prayers and get a glance of the deities inside the sacred sanctum from outside but on the day of Rath and Ulta Rath (the journey of the celestial bodies to Gundicha Temple and return from there on their chariot), Lord Jagannath, Balaram and Subhadra come down to be with the hoi polloi. Anyone and everyone offer their prayers directly to the Lord. They can touch the idols, put garlands on them and seek their blessings directly.
According to recent reports, most parts of the Hooghly district was declared as COVID-19 containment zones by the state government. All wards of the municipalities of Uttarpara Kotrang, Dankuni, Srerampore, Rishra, Konnagar, Baidyabati, Champadani, Chandannagar, Bhadreshwar have been identified as COVID-19 containment zones. Hence the Mahesh authorities could not take the risk.
Story Tag:
Festivals of Bengal, Mahesh Rathayatra